Duquette and Showalter address O's future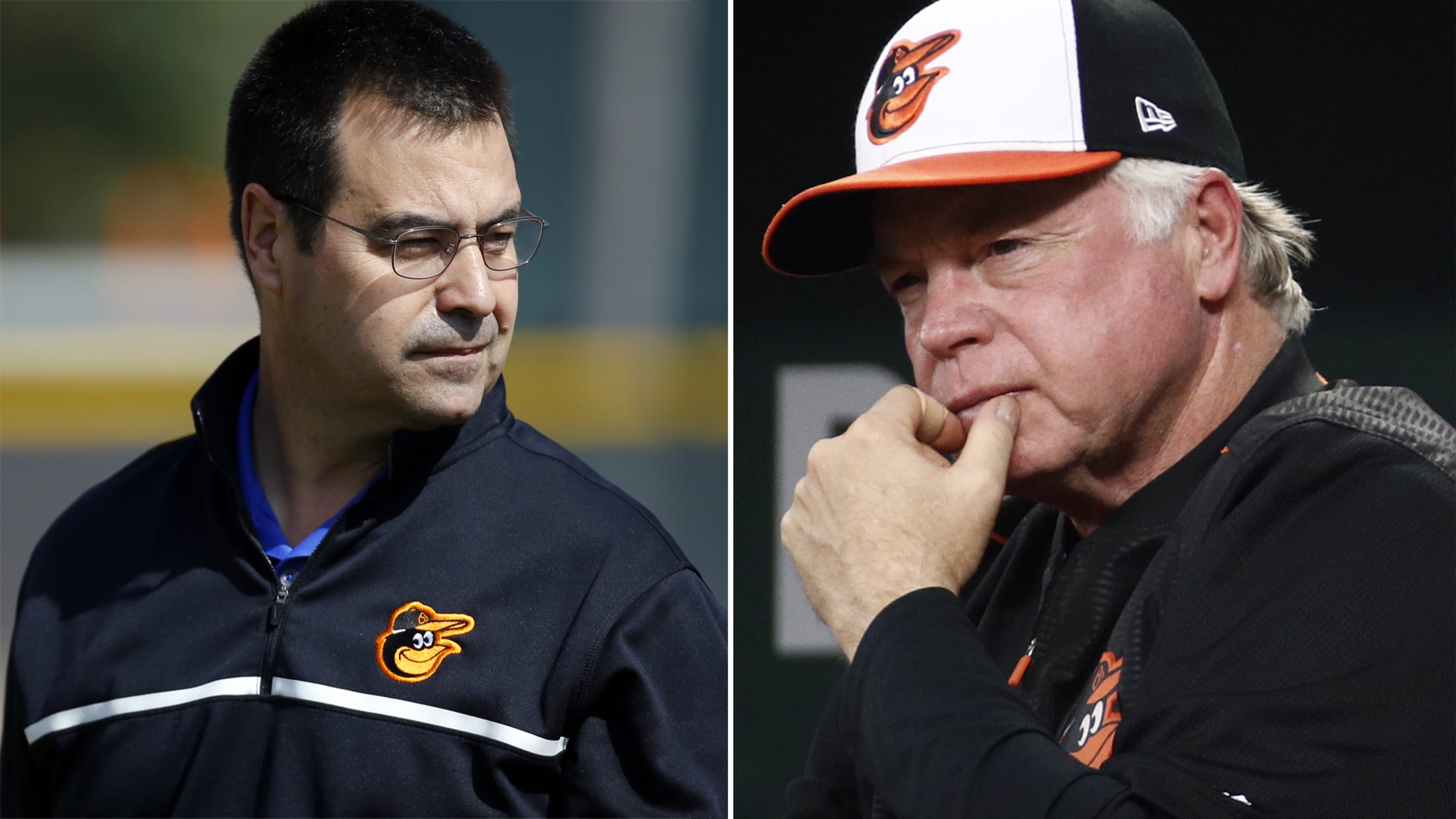 BALTIMORE -- Speaking at the annual "State of the Orioles" session at Camden Yards, executive vice president of baseball operations Dan Duquette, along with manager Buck Showalter, addressed a variety of issues facing the club, and outlined a vision for the future of the franchise."I would expect that the club
BALTIMORE -- Speaking at the annual "State of the Orioles" session at Camden Yards, executive vice president of baseball operations Dan Duquette, along with manager Buck Showalter, addressed a variety of issues facing the club, and outlined a vision for the future of the franchise.
"I would expect that the club would take the payroll down next year and the year after and reinvest those resources in younger ballplayers," said Duquette, a key part of a front office that has already traded Manny Machado and Zach Britton for a combined eight prospects. "We should be able to do that and get back to competitiveness."
At one point, Duquette was asked why the club has been so hesitant to invest on international free agents, and he said it was a matter of trying to win now.
"[It was] ownership decisions to try to extend the competitive window of the current group of players," Duquette said. "We made a conscious choice to put the money into the players on the Major League team. … We have some ground to make up. It's going to take some time."
Whether Duquette or Showalter, whose respective contracts expire at season's end, will be around for that is the elephant in the room. The pair both sidestepped the question of whether they'd gotten assurance from ownership that they would help oversee the rebuild.
"It's an honor every day for Dan and I to get a chance to do this," Showalter said. "Everybody would love to have the job that is as much fun to go to every day. We have our ups and downs as a team, and it's painful sometimes. I'm thankful -- and I know Dan is, too -- for every chance to work in professional baseball and, more importantly, to work in Baltimore."
Second baseman Jonathan Schoop and right-hander Kevin Gausman have both come up in trade talks, and Duquette did little to appease the group assembled Saturday, many of whom were hopeful that they wouldn't have to say goodbye to any more players. After Baltimore dealt Brad Brach to the Braves on Sunday, Duquette said Adam Jones will not be traded before the Deadline.
When the smoke of Tuesday's non-waiver Trade Deadline clears, the Orioles will take a good, hard look at their new crop of players. There should be some new faces at Camden Yards soon, with Duquette noting that outfield prospect Cedric Mullins is "just about ready" for the big leagues.
"We took a run at it. It didn't work out," Showalter said of a seven-year run that included three postseason berths. "So now it's time to put something out there, not just for a year, but for a long period of time that you guys can be proud of."