Straily tagged in shortest start of season
Reds righty struggles with command, allowing two HRs to Bryant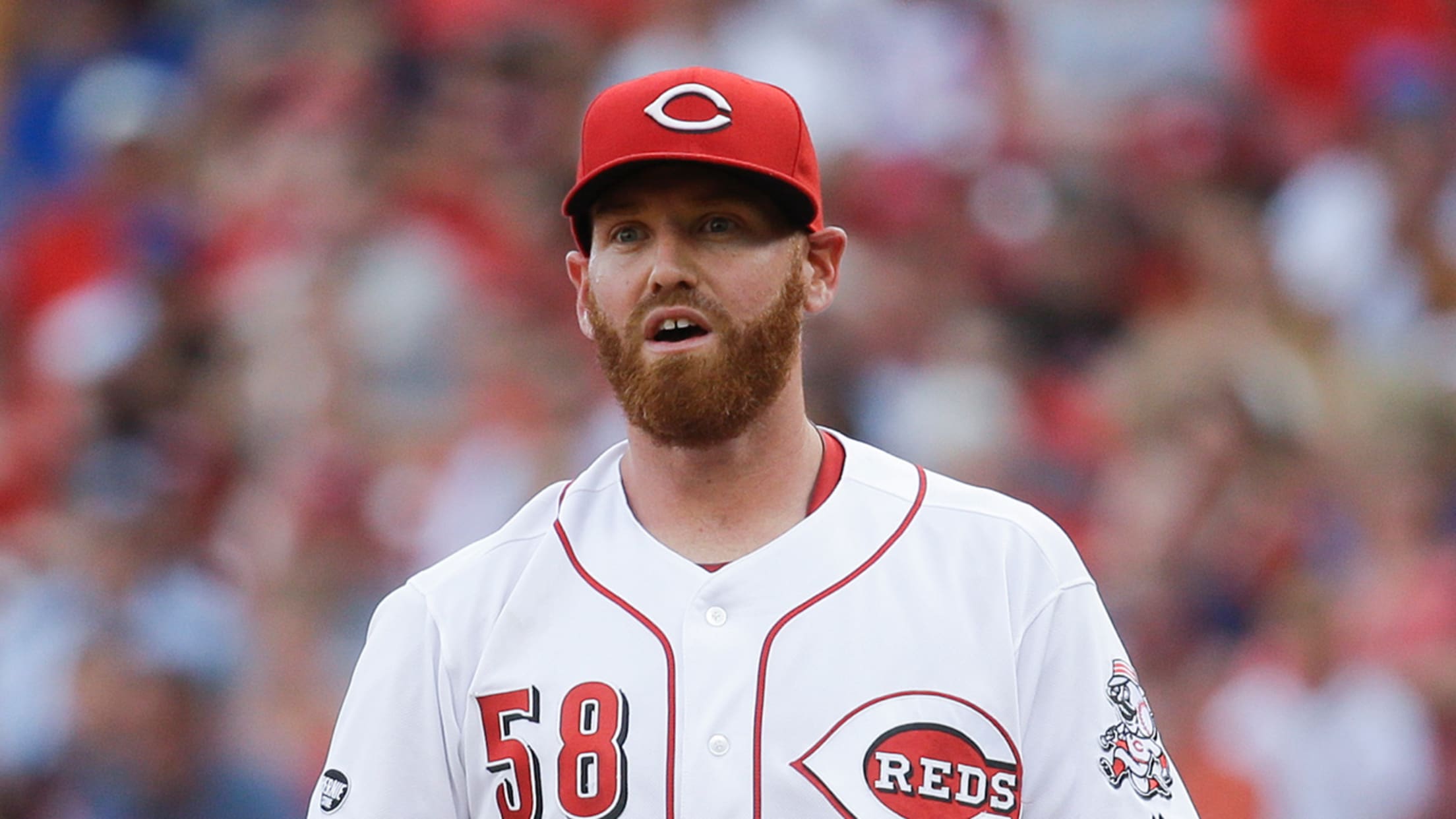 Dan Straily allowed two of Kris Bryant's three home runs on Monday night. (John Minchillo/AP) (John Minchillo/AP)
CINCINNATI -- What Dan Straily watched on video from inside the Reds' clubhouse Monday night only confirmed what he had experienced on the mound."It was terrible execution. Terrible execution. That was the whole night for me. It was just terrible execution," said Straily, whose night had ended nearly three hours
CINCINNATI -- What Dan Straily watched on video from inside the Reds' clubhouse Monday night only confirmed what he had experienced on the mound.
"It was terrible execution. Terrible execution. That was the whole night for me. It was just terrible execution," said Straily, whose night had ended nearly three hours before he spoke with the media at his locker following an 11-8 loss to the Cubs at Great American Ball Park.
Straily lasted just 3 2/3 innings, a season-low among his 14 starts, and he gave up a career-high seven earned runs on nine hits.
Kris Bryant did most of the damage against Straily, producing one of his two doubles, two of his three home runs and five of his six RBIs before Straily was pulled. That early shower led to his early video review.
"I had a long time in here," Straily said, "so I had a chance to watch the game already, from what I was in of it, and yeah, it was just terrible execution the whole night."
Straily wasn't the only pitcher to struggle with command and location Monday. Even Cubs starter Jake Arrieta, who no-hit the Reds at GABP on April 21, had a tough night on the mound.
Cincinnati scored five runs on four hits against Arrieta, which was a season-high for runs allowed by Chicago's ace. It was the most runs he's allowed since he gave up six runs on May 23, 2015, at Arizona, but only three of those runs were earned. Monday was the most earned runs allowed by Arrieta since Aug. 6, 2014, when he allowed nine at Colorado.
"So much of it comes to pitching with accuracy," said Reds manager Bryan Price. "You saw it even with Arrieta tonight. He wasn't real crisp with his command and that led to some long at-bats. That was the same thing for Dan. There were some elevation mistakes that were hit hard. There were a lot of balls on the barrel tonight."
Straily (4-5) has been an effective and reliable starter since entering the rotation on April 18 against Colorado, when he went five innings and allowed one run on two hits. He's produced seven quality starts and, before Monday, opponents were hitting just .207 against him this season. Straily had gone at least six innings in nine of his starts, but he never found his control on Monday.
Straily induced a 6-4-3 double play grounder off the bat of Miguel Montero to end the third inning and squash a potential big inning for the Cubs. In the fourth, with the game tied at 3, he was an out away from leaving a pair of runners on without giving up a run, but Jason Heyward singled to center field to drive in Chris Coghlan from second base.
Bryant was the next batter. He deposited a Straily slider 444 feet away, according to Statcast™, for a 7-3 Chicago lead.
"It's frustrating. I try to throw the ball down and away and I miss up and in. I try to throw a slider down and away and I throw it right down the middle. It was just terrible pitches," Straily said. "The nice thing is that's something that's easy to correct. You can correct bad execution really easily. I'm just going to forget this one as fast as possible and get ready for [my next start at Washington] Saturday."
Kevin Goheen is a contributor to MLB.com.