Murphy: Classic 'should be a lot of fun'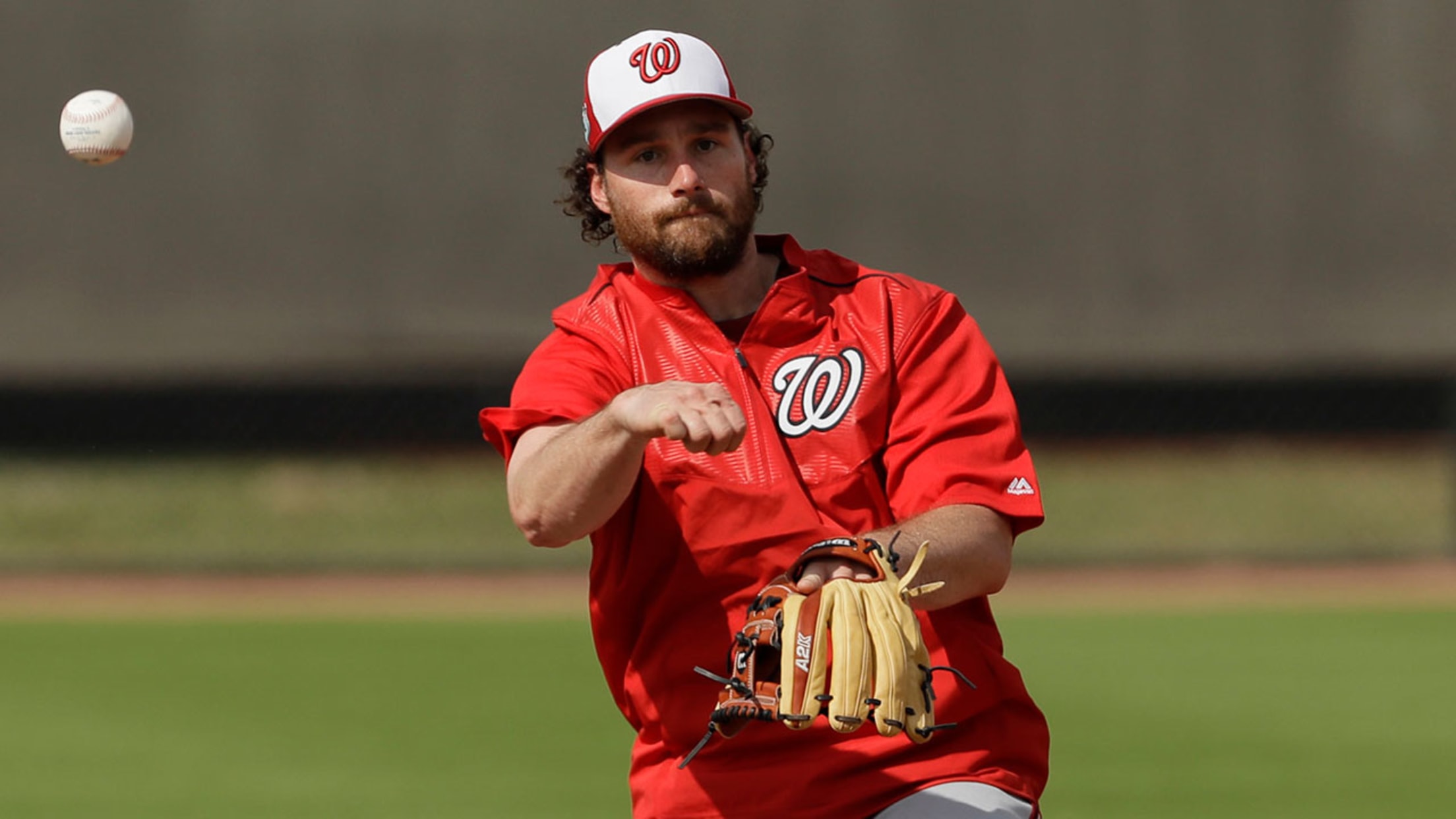 Daniel Murphy plays second base for the Nationals, but isn't sure whether Jim Leyland will play him at the keystone or at designated hitter for Team USA. (AP)
WEST PALM BEACH, Fla. -- Daniel Murphy played seven innings at second base and went 0-for-3 in Sunday's 4-2 loss to the Twins, his final Grapefruit League tune-up before he joins Team USA on Monday.He will be one of the six Nationals players in Major League camp who will participate
WEST PALM BEACH, Fla. -- Daniel Murphy played seven innings at second base and went 0-for-3 in Sunday's 4-2 loss to the Twins, his final Grapefruit League tune-up before he joins Team USA on Monday.
He will be one of the six Nationals players in Major League camp who will participate in this year's World Baseball Classic, including Team USA teammate Tanner Roark; right-hander Rafael Martin and left-hander Oliver Perez for Team Mexico; left-hander Enny Romero for Team Dominican Republic; and catcher Jhonatan Solano for Team Colombia.
"Should be a lot of fun," Murphy said. "Really looking forward to playing with some of the best players in Major League Baseball. Not only with them, but against them. The rest of the teams seem to be truly talented right now, so should be a lot of fun. I never had the opportunity to wear red, white and blue, and represent my country."
:: 2017 World Baseball Classic ::
Murphy was not entirely sure what his role would be on Team USA -- whether he would play second base or serve as the designated hitter -- but he says he will be ready to do whatever manager Jim Leyland needs him to do.
"We wanted to get his legs ready," Nationals manager Dusty Baker said. "Because he hurt his legs last year, and he's a legs hitter, puts a lot of pressure on his legs. We just wanted to get his legs underneath him."
Murphy, who has not played in more than 143 games since 2013, focused on strengthening his lower body this offseason in an effort to avoid some of the hamstring issues that slowed him down last season. But he did not worry about the impact playing in the Classic could have on him the rest of the season.
"I don't foresee it being a problem," Murphy said. "The good fortune of being on this ballclub last year, in 2016, is we played in some pretty high-pressure ballgames. It seems like the library of experiences is there and so hopefully I can pull in those. It's March, but we're still ready for baseball."
The World Baseball Classic runs from Monday through March 22. In the U.S., games will air live exclusively in English on MLB Network and on an authenticated basis via MLBNetwork.com/watch, while ESPN Deportes and WatchESPN will provide the exclusive Spanish-language coverage. MLB.TV Premium subscribers in the U.S. will have access to watch every tournament game live on any of the streaming service's 400-plus supported devices. The tournament will be distributed internationally across all forms of television, internet, mobile and radio in territories excluding the U.S., Puerto Rico and Japan. Get tickets for games at Marlins Park, Tokyo Dome, Gocheok Sky Dome in Seoul, Estadio Charros de Jalisco in Mexico, Petco Park, as well as the Championship Round at Dodger Stadium, while complete coverage -- including schedules, video, stats and gear -- is available at WorldBaseballClassic.com.