Nava feeling 'a lot better' after back surgery
Veteran will remain in Bradenton, Fla., during 10- 12-week recovery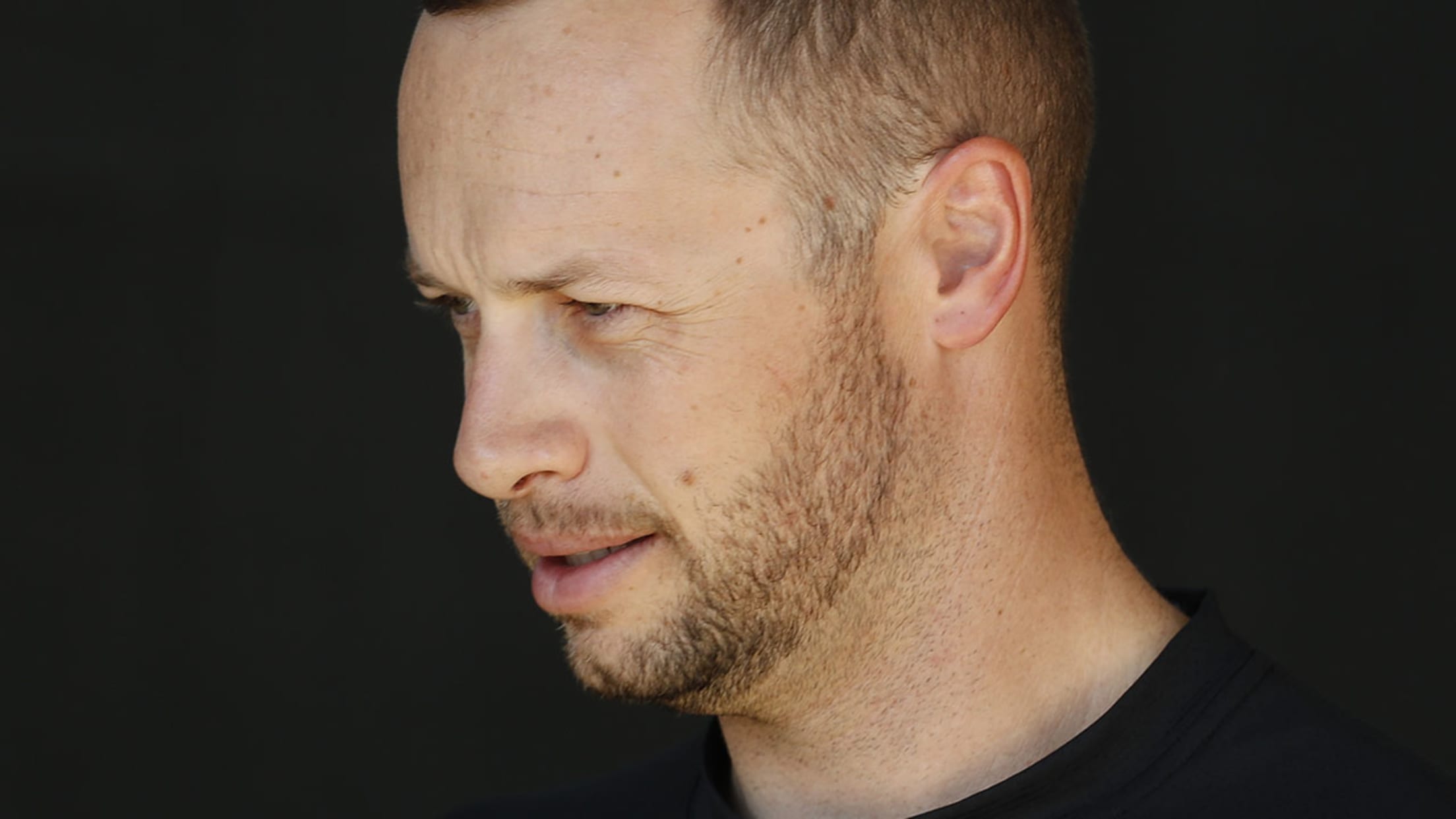 Pittsburgh Pirates' non-roster invitee Daniel Nava walks towards the batting cages during baseball spring training, Friday, Feb. 16, 2018, in Bradenton, Fla. (AP Photo/John Minchillo) (John Minchillo/AP)
BRADENTON, Fla. -- Outfielder Daniel Nava returned to LECOM Park on Thursday morning, determined to make the best of his situation after undergoing back surgery last week.The good news, Nava said, is his back feels "obviously a lot better" after a microdiscectomy, which cleaned up a disc that had fallen
BRADENTON, Fla. -- Outfielder Daniel Nava returned to LECOM Park on Thursday morning, determined to make the best of his situation after undergoing back surgery last week.
The good news, Nava said, is his back feels "obviously a lot better" after a microdiscectomy, which cleaned up a disc that had fallen out of alignment to remove pressure on a compressed nerve. He's no longer experiencing the discomfort that persisted throughout last season -- when the 35-year-old missed time with a back strain -- and this past offseason.
"Not what I was hoping for, but I've got to look at it from the positive perspective," he said. "The pain's gone, and it explains a lot of things that have happened the past couple years with my body. Hopefully I'm 35 years young rather than 35 years old."
Nava said the pain had been tolerable until the Pirates' first workout of Spring Training. He was held out of the club's workout on Feb. 20 and did not return to the field.
• Spring info | Tickets | Schedule
"It wasn't until, unfortunately, the first day that I got out -- we were doing a lot more movement, a lot more running -- that I said, 'This is just flat-out wrong,'" he said. "'I can't do what I need to do.'"
:: Spring Training coverage presented by Camping World ::
Nava, a veteran in camp on a Minor League contract, had surgery in Arizona on Feb. 27. The typical recovery time is 10-12 weeks. Nava said he will take it slow the first few weeks and remain in Bradenton for the duration of his rehab.
"I want to be around baseball. When I'm healthy, I'm going to be playing baseball," Nava said. "So mentally to be around that -- but also physically to see it and maybe stand in and see stuff -- I need to do that. It's not the offseason anymore."
Nava entered camp as the favorite to lock down a spot on the Bucs' Opening Day bench as a fourth outfielder, but that is now out of the question. He hasn't yet discussed his future with the front office or manager Clint Hurdle, but he hopes there will be an opportunity when he's ready to return.
"I'm not part of that in the current mix. Obviously I want to be part of it in the near future," he said. "There's far too many things to focus on before we get to that. But hopefully that's a discussion we will have."
Game report
The Pirates made four errors in the first three innings, including three throwing errors, but powered their way past the Tigers as Starling Marte, David Freese and Bryce Brentz each homered in an 8-3 win on Thursday at LECOM Park. Felipe Rivero, George Kontos, Edgar Santana, Kyle Crick and Jack Leathersich each delivered a scoreless, hitless inning of relief work.
"We were able to play above the errors today with the bats," Hurdle said.
Around the horn
• Opening Day starter Ivan Nova threw 65 pitches in four innings against Pirates Minor Leaguers at the Pirate City complex on Thursday. Jameson Taillon will pitch at Pirate City on Friday.
• Left-hander Kevin Siegrist is "getting closer" to making his Pirates debut, Hurdle said. Siegrist threw a 26-pitch live batting practice session on Sunday, and he may pitch in a game as soon as this weekend. Siegrist signed a Minor League contract and reported to Pirates camp on Feb. 24.
• The Pirates had two special guests in camp on Thursday: Steelers coach Mike Tomlin and GM Kevin Colbert, making their annual visit to Spring Training.
"Every year we find some time to get together. We're both kind of cross-pollinating different things with analytics and figuring some things out," Hurdle said. "I had some questions for them during their football season. They have some questions for us now that we're cranking up baseball season. We're just comparing notes. I always appreciate Mike's lens on things and the way he talks and works with his men."
Up next
The Pirates will hit the road on Friday to play the Phillies at Spectrum Field in Clearwater, Fla. Left-hander Steven Brault is scheduled to start for Pittsburgh against Jerad Eickhoff. Also expected to pitch for the Bucs are right-handers Dovydas Neverauskas, Richard Rodriguez, Casey Sadler and Tyler Jones. Adam Frazier, Gregory Polanco, Jordan Luplow and Josh Bell are expected to be in the Pirates' starting lineup.
First pitch is scheduled for 1:05 p.m. ET. Watch the game live on MLB Network or MLB.TV, or listen live via an exclusive webcast on Pirates.com.