Mendick a self-professed jack of all trades
Utility man hopes to play all nine positions someday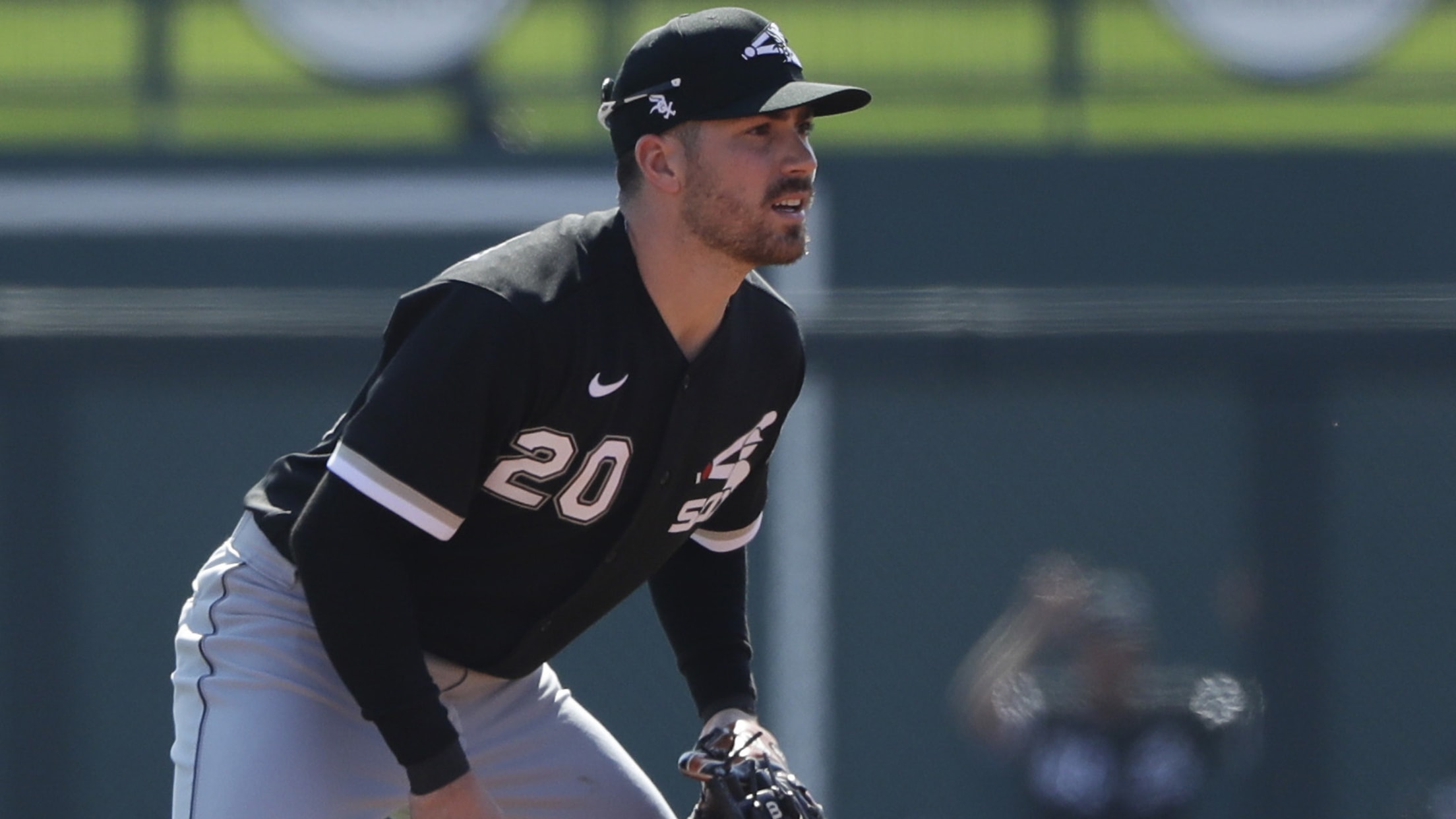 CHICAGO -- Yoán Moncada almost certainly will be the White Sox Opening Day starter at third base on July 24 against the Twins at Guaranteed Rate Field if he returns from the injured list soon enough to get physically prepared. But if it's not Moncada, the starting nod could go
CHICAGO -- Yoán Moncada almost certainly will be the White Sox Opening Day starter at third base on July 24 against the Twins at Guaranteed Rate Field if he returns from the injured list soon enough to get physically prepared.
But if it's not Moncada, the starting nod could go to Danny Mendick, who certainly has a compelling story.
The White Sox picked Mendick, 26, in the 22nd round of the 2015 Draft out of University of Massachusetts-Lowell. At 5-foot-10 and 189 pounds, the right-handed hitter was not exactly a big league lock, but he hit .308 with two home runs and four RBIs in 16 games after arriving from Triple-A Charlotte last September. Now he has more of a feeling of belonging.
"Last September definitely was more surreal," Mendick said. "Now it's more realistic and feels like home."
A self-professed jack of all trades, Mendick will capably assume the primary utility role once Moncada returns. He already has played second base, shortstop and third base in the Majors and does consistent pregame work to get ready in the outfield.
Even if he opens the season as the starting third baseman, he won't abandon his pregame work around the field. His ultimate goal is to play all nine positions.
"I haven't worked on [pitcher and catcher], although I do try to throw some strikes sometimes. If I'm ever needed in the late innings, I'll be ready," he said. "I'd love to play all nine positions someday. I'm going to keep working on it, and maybe I will."
"He does a lot of things. He's a blue-collar player," said third-base coach Nick Capra. "He goes out there and does what he's supposed to do. Fundamentally, he's sound. We can put him pretty much anywhere on the diamond. Gives you a good at-bat. He's a good addition for us."
After playing 554 games in the Minors, Mendick has a clear mantra.
"To be honest, I never want to play another game in the Minor Leagues," he said. "I'm going to do everything I can to stay here and enjoy the big leagues, because it is a different atmosphere."
Back in March, during Spring Training, Mendick wouldn't consider himself a lock for the 26-man-roster. He still doesn't feel that way approaching the 60-game season, even with the Opening Day roster expanding to 30.
"Oh, I keep it the same," he said. "I try to keep it where I feel like I'm always fighting for a job. I hope I keep that my whole career, because whenever you get complacent, it seems like things go downhill from there. I never want that to happen. I want to go out there and compete every single day with my teammates and against everyone else.
"Whenever they need me, I'm ready. So third base, shortstop, second ... if someone goes down, I'll be there."
Mendick did plenty of baseball work in Arizona during the downtime caused by the coronavirus pandemic. He also played a great deal of golf to help stay in shape.
"A lot of golf was played, but the focus was on baseball," said Mendick with a laugh. "I worked on my game a little bit. I would say I'm a scratch golfer."
Shooting anywhere from 72 to 74 was pretty commonplace for Mendick, who shot as low as 68.
"It's been good," he said. "You gotta have a plan B, you know what I mean?"