Robertson hopes to throw off mound soon
Reliever has been tossing from flat ground in Florida; Pinch, Hit & Run comes to Philly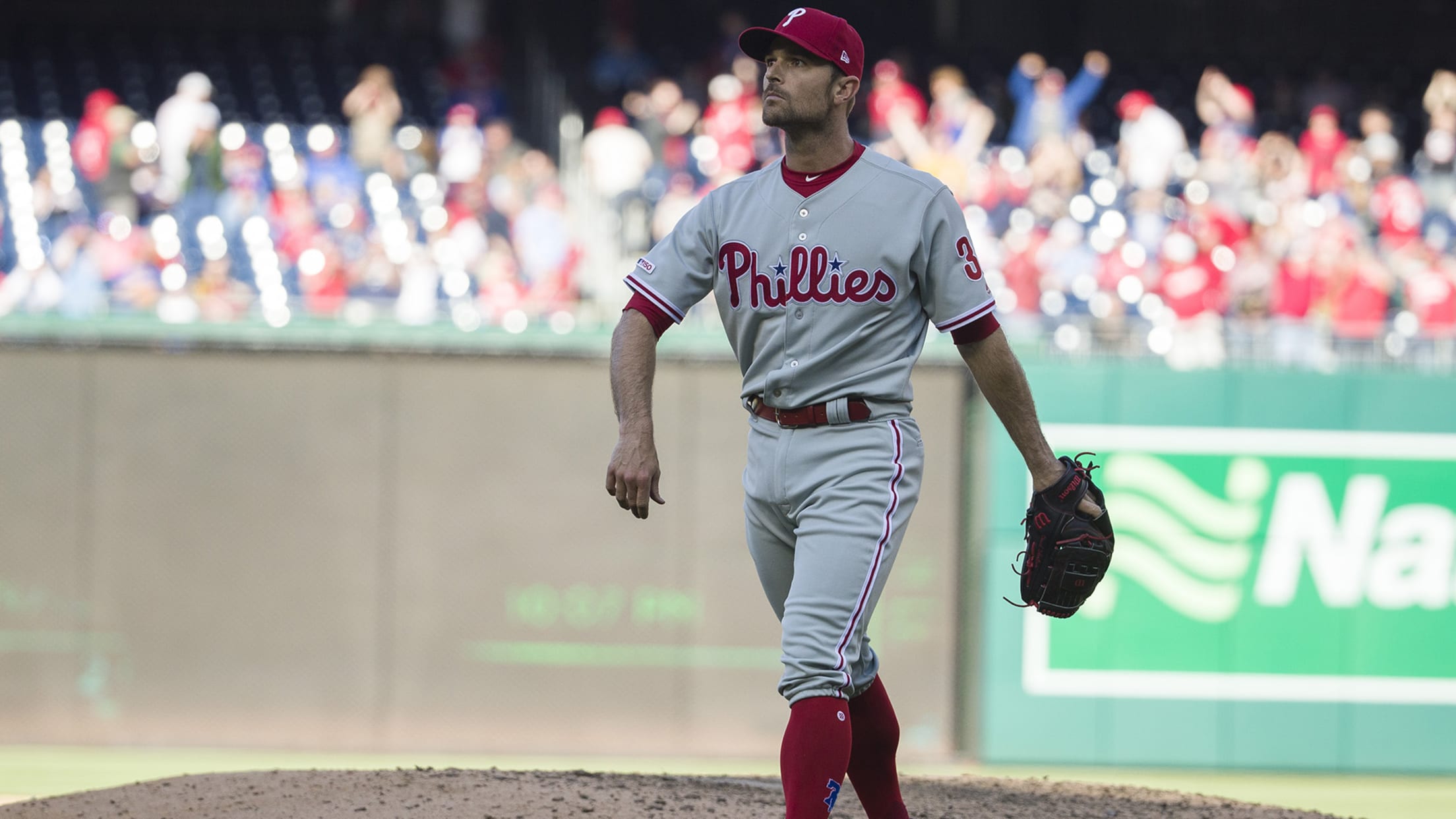 PHILADELPHIA -- Phillies right-hander David Robertson found himself in the mood to chat on Saturday at Citizens Bank Park because he finally had some good news to share about his recovery from an injured right elbow. Robertson started throwing recently in Clearwater, Fla., and he hopes he could begin throwing
PHILADELPHIA -- Phillies right-hander David Robertson found himself in the mood to chat on Saturday at Citizens Bank Park because he finally had some good news to share about his recovery from an injured right elbow.
Robertson started throwing recently in Clearwater, Fla., and he hopes he could begin throwing off a mound in 10 days to two weeks. If everything continues to go well, he thinks there is a chance he could be back before the All-Star break. If not then, Robertson said he is confident he will be back before the July 31 Trade Deadline.
"I threw the first day and it wasn't great," Robertson said. "Said, 'Well, try again, take a day off and throw again.' Next time I threw, I felt great. I was feeling much better. I have been making progressions ever since. And now I would say I have thrown full speed. I just have to get my arm back in shape a little bit. It's been a long layoff. I don't know how long it is going to be. I am hoping sooner than later."
Phillies manager Gabe Kapler offered other injury updates Saturday:
• Jerad Eickhoff has an impingement in his right shoulder and will not throw for three weeks.
• Adam Haseley (strained left groin) could begin a rehab assignment Monday with Double-A Reading.
• Tommy Hunter (strained right forearm) could make another rehab appearance Sunday.
• Pat Neshek has a Grade 2 strain of his left hamstring. There is no timetable for his return.
Pitch, Hit & Run
Major League Baseball held its Pitch, Hit & Run competition on Saturday at Citizens Bank Park. The top 12 qualifiers in baseball and softball from Pennsylvania and New Jersey competed in advance of the national finals next month in Cleveland.
The winners: Riley Montrey from Columbus, N.J. (age 7/8 softball), Taylor Robinson from Dauphin, Pa. (age 9/10 softball), Mariah Valentin from Atco, N.J. (age 11/12 softball), Mikayla Corsey from Runnemede, N.J. (age 13/14 softball), Jaden Freeze from Brown Mills, N.J. (age 7/8 baseball), Michael Yanello from Peach Bottom, Pa. (age 9/10 baseball), Kyle Shupp from Beavertown, Pa. (age 11/12 baseball), Daniel Beldowicz from Jackson, N.J. (age 13/14 baseball).