Wright to be honored by New York's BBWAA
deGrom, Nimmo among others to receive awards in January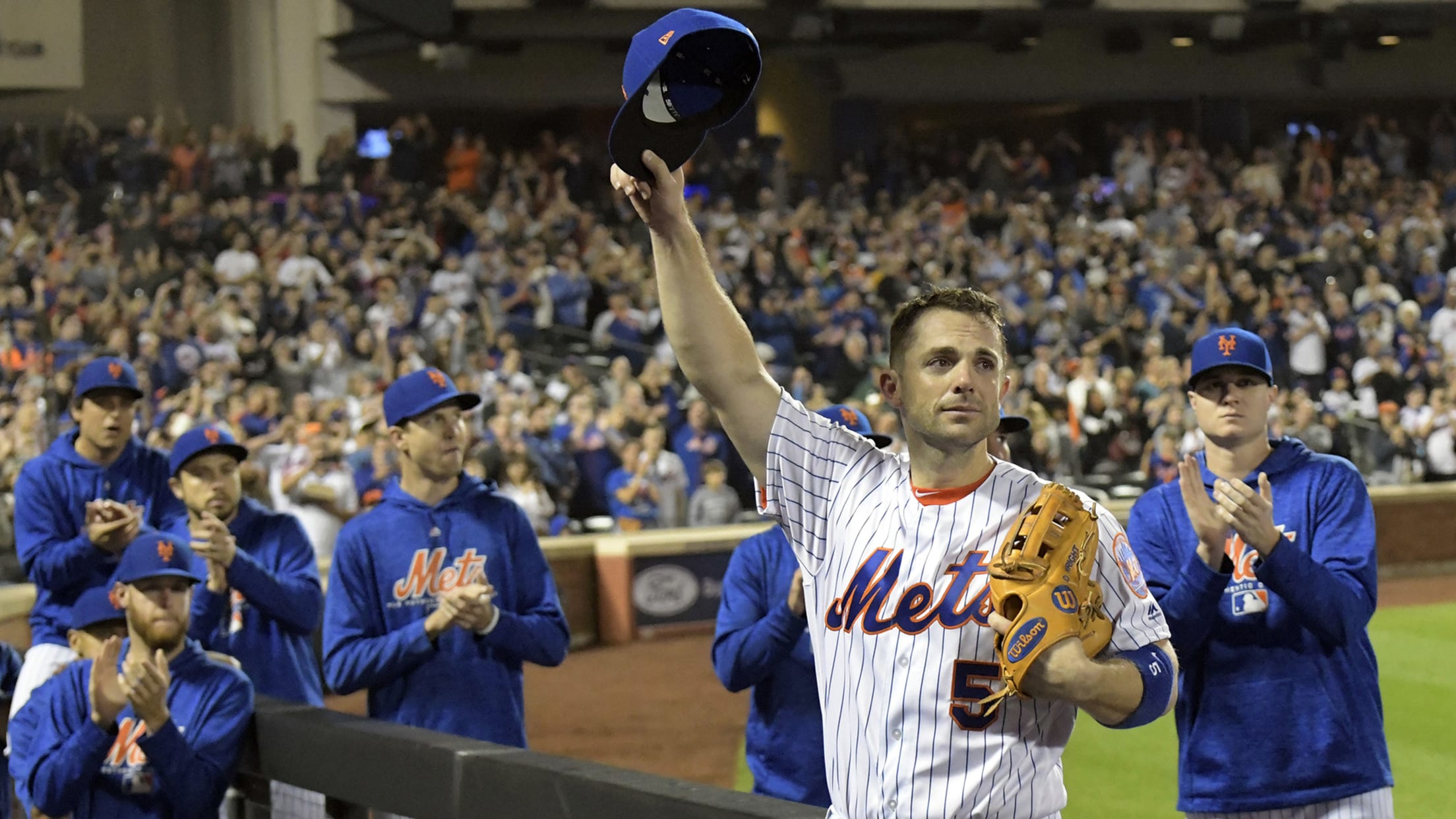 New York Mets third baseman David Wright (5) acknowledges the fans as he leaves the field after coming out of a baseball game during the fifth inning against the Miami Marlins, Saturday, Sept. 29, 2018, in New York. (AP Photo/Bill Kostroun) (Bill Kostroun/AP)
NEW YORK -- David Wright's career can't be complete without at least one more award.The New York Chapter of the Baseball Writers' Association of America on Friday voted Wright to receive its Joe DiMaggio "Toast of the Town" Award, given annually to the player who makes the most significant impact
NEW YORK -- David Wright's career can't be complete without at least one more award.
The New York Chapter of the Baseball Writers' Association of America on Friday voted Wright to receive its Joe DiMaggio "Toast of the Town" Award, given annually to the player who makes the most significant impact on the New York baseball scene. Wright previously won the award in tandem with Jose Reyes in 2006, and he has also been honored with the chapter's Joan Payson-Shannon Forde Award for community service. Wright played the final game of his career on Sept. 29 at Citi Field.
Several other Mets will receive awards at the chapter's Jan. 26 dinner in Manhattan. Jacob deGrom, who is likely to collect his National League Cy Young Award at the event, will also receive the Sid Mercer-Dick Young New York Player of the Year Award. Brandon Nimmo will take home the Ben Epstein-Dan Castellano "Good Guy" Award, former general manager Sandy Alderson will earn the Arthur and Milton Richman "You Gotta Have Heart" Award and longtime PR man Jay Horwitz, who moved to a role in alumni relations in September, will receive the William J. Slocum-Jack Lang Award for long and meritorious service.
In addition, the chapter will honor the 50th anniversary of the 1969 World Series champion Mets with its "Willie, Mickey and the Duke" Award, given annually to a group of players linked in baseball history. Several members of the '69 team are expected to attend the dinner.
More information about the event, including ticketing, is available at nybbwaa.com.
Stay-at-home dad
ESPN approached Wright this offseason about joining its team as a baseball analyst, according to the New York Post, but he declined the offer. While Wright has expressed interest in remaining in baseball in some capacity, he may spend this winter out of the public spotlight.
Front-office shakeup possible, but unlikely
Mets special assistant Omar Minaya will remain in the front office under new general manager Brodie Van Wagenen, according to a report in the New York Post. Van Wagenen has also invited assistant GM John Ricco and another special assistant, J.P. Ricciardi, to stay, though the futures of those two remain unclear. One source indicated he expects them to return, but that could change.
If Ricco departs, it would be a blow to the organization. The Mets' longest-tenured staff member, Ricco has been in his current position since 2006.
Go west, young GM
Among Van Wagenen's first orders of business as GM is to meet with Peter Alonso, the organization's second-ranked prospect per MLB Pipeline, who is currently playing in the Arizona Fall League. Van Wagenen plans to travel west on Saturday, giving him time to meet with Alonso in advance of the GM Meetings that begin Monday in California.
The Mets must decide if Alonso or Dominic Smith is at the center of their long-term plan at first base. Whom they choose could affect their offseason plans.
A time to give
Multiple charitable initiatives are on the Mets' calendar in November. Pitcher Steven Matz, who was the Mets' Roberto Clemente Award nominee this season largely for his work with FDNY, NYPD and other first responders, is expanding his Tru32 program with a bowling event on Thursday in Manhattan. Tickets and information are available at strikeswithsteven.com.
On Nov. 14, the team will holds its 13th annual coat drive from 10 a.m. to 6 p.m. at the Citi Field Mets team store. Fans donating new or gently used coats will receive a voucher redeemable for two tickets to select Mets home games in April or May 2019. Further details are available at mets.com/coatdrive.
Roster moves
The Mets made a flurry of roster moves on Friday as they embark upon the first phase of their offseason. They reinstated outfielders Yoenis Cespedes and Juan Lagares, catcher Travis d'Arnaud, infielder T.J. Rivera and pitchers Eric Hanhold and Bobby Wahl from the 60-day disabled list. Those moves are procedural; Cespedes and d'Arnaud, for example, are unlikely to be ready for Opening Day, but cannot stay on the DL all winter.
To make room, the Mets outrighted several others off their 40-man roster. They lost infielder Jack Reinheimer to a waiver claim by the Cubs. Pitchers Rafael Montero and Jamie Callahan and infielder Phillip Evans elected free agency. New York also sent pitcher P.J. Conlon to Triple-A Syracuse.