Moore stays focused on big picture for Royals
World Series-winning GM encouraged despite club's slow start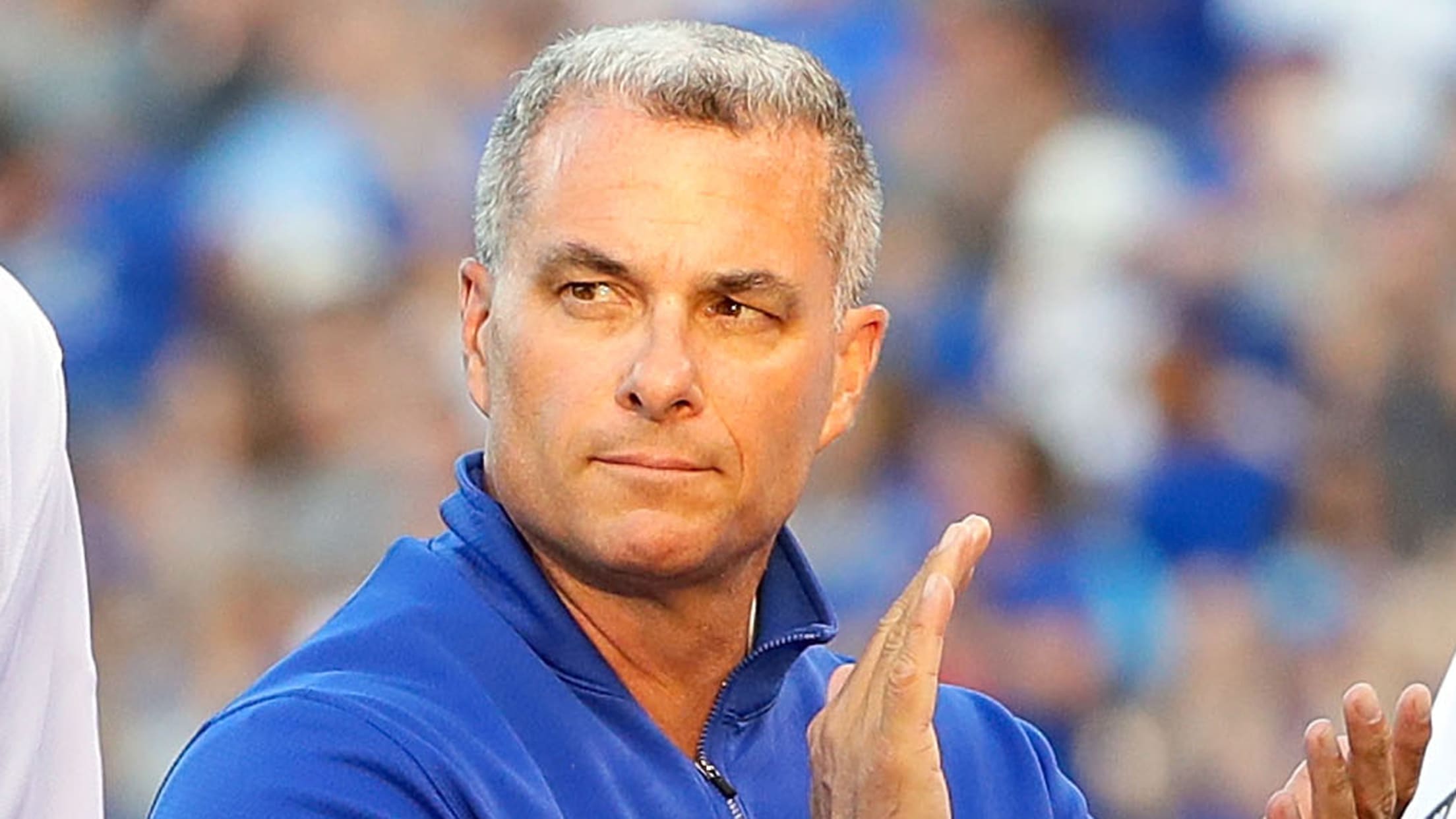 KANSAS CITY -- Coming out of Spring Training, expectations for the Royals weren't exactly soaring.The club had lost numerous free agents, including Eric Hosmer, Lorenzo Cain and Mike Minor. And Royals general manger Dayton Moore had made it clear in the offseason that the rebuild was on. Hard times were
KANSAS CITY -- Coming out of Spring Training, expectations for the Royals weren't exactly soaring.
The club had lost numerous free agents, including Eric Hosmer, Lorenzo Cain and Mike Minor. And Royals general manger Dayton Moore had made it clear in the offseason that the rebuild was on. Hard times were ahead.
But no one, including Moore, expected a 14-31 start, one of the worst in franchise history.
"No one is satisfied with the record, and that includes me," Moore told MLB.com before Saturday's 8-3 loss to the Yankees at Kauffman Stadium. "Look, I live and die with every pitch just like the fans do. I've had a lot of sleepless nights over this. I take it personally when we lose."
But the job of any GM is to keep an eye on the big picture. Moore said repeatedly in the offseason that his primary goals for the 2018 season were to shave payroll -- the Royals have trimmed nearly $40 million this season -- and restock the farm system.
In truth, this year's Royals weren't exactly constructed for a postseason run. Moore, of course, would never concede that.
"I've never been one to predict the number of wins and I'm not going to start now," Moore said. "Baseball is too unpredictable. I just don't think this team has put all the pieces together. We started out with the rotation being very good, and the bullpen struggled. Then the bullpen came around and the rotation has struggled the last 10 days.
"Nobody is satisfied with our current record. But there have been some positive signs. The guys are playing hard, they're committed, they're grinding out at-bats, not striking out much. The bullpen has settled in pretty nicely. Jakob Junis and Eric Skoglund have done well in the rotation.
"Brad Keller has been very good. Kevin McCarthy and Jason Adam and Tim Hill have been good. Kelvin Herrera has been very good. Whit Merrifield has been playing well as has Mike Moustakas. [Salvador Perez] is getting some big hits. Alex Gordon has been hitting. Jonathan Jay has shown what a pro he is. Jorge Soler has been tremendous."
And some of those pieces will be vital moving forward when the rebuild is complete in three or four years, players such as Junis, Skoglund, Keller, Adam and Hill.
The others could be valuable assets at the non-waiver Trade Deadline, though Moore hesitates to look that far ahead right now.
How active will Moore be at the Deadline?
"It all depends on where we're at when that time comes," Moore said. "Honestly, we've never been a team that has traded many guys off the 25-man roster. We'll see where we are. There's no reason to make advance decisions on that."
The front office presently is spending countless hours preparing for the MLB Draft on June 4 when the Royals will have five picks among the Top 58 selections. That many high picks certainly could turbo charge the rebuild and Moore knows it.
"The Draft is important every year and this year is more significant with us because of all the picks," Moore said. "The Draft is a phase of the rebuilding process that is very important."
Moore also points to the lower levels of the Royals' farm system that is developing the next wave of talent. Prospects such as Khalil Lee, Nick Pratto, Seuly Matias and MJ Melendez are making solid impressions.
"Very rarely do I go to bed without having known how our Minor League players have done that night," Moore said. "We're very encouraged by the growth. We think we have a strong crop of players at the lower levels. There's certainly a lot of hope there."