Payroll raise keeps KC contending
Club president Glass says front office always looking to improve team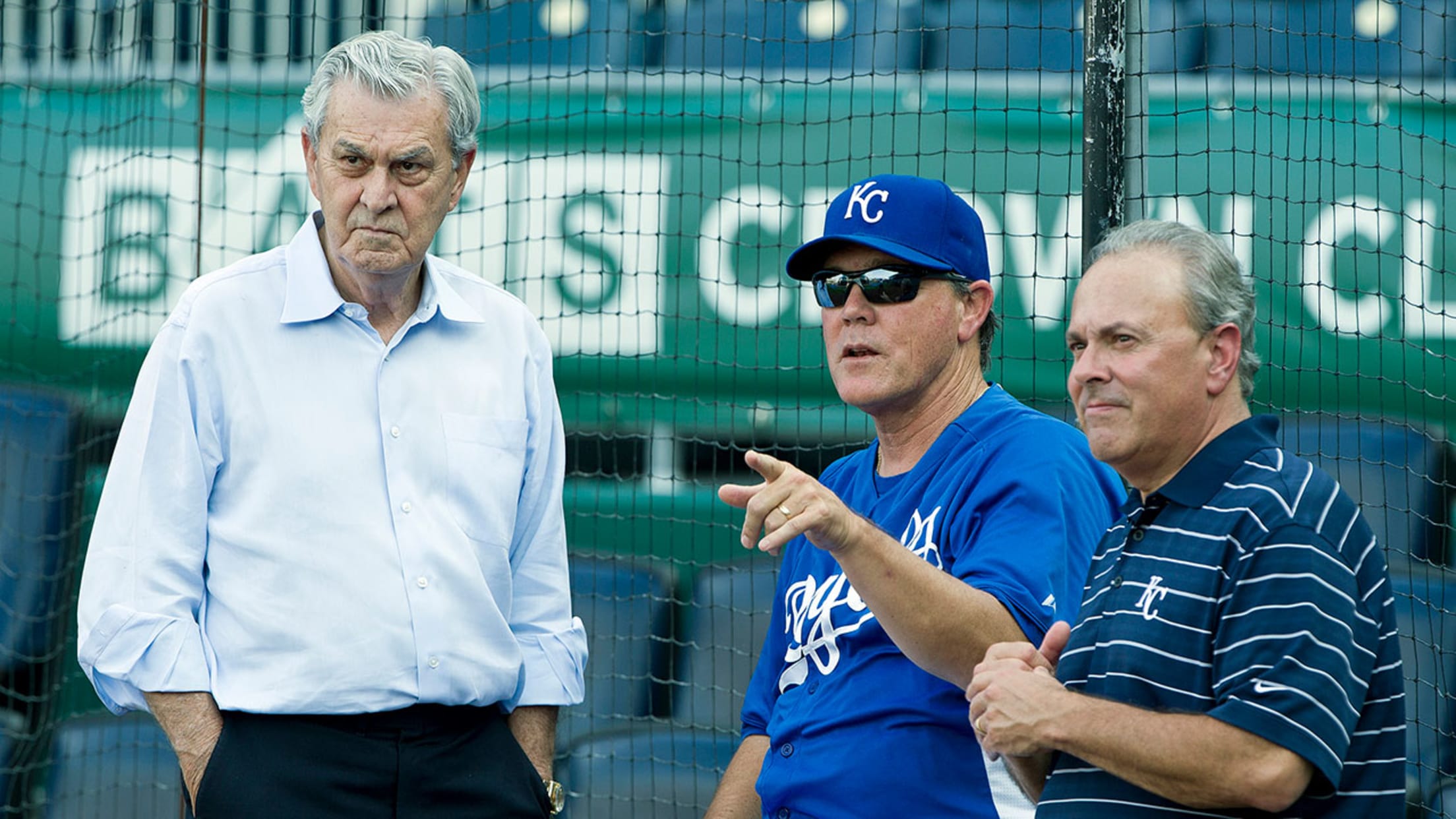 Team owner David Glass, left, manager Ned Yost, center, and president Dan Glass. (Getty Images)
SURPRISE, Ariz. -- That Royals' mandate to trim the payroll in 2017 started with the best of intentions.But thanks to the sales jobs of general manager Dayton Moore and club president Dan Glass, the Royals' payroll for 2017 might exceed the 2016 payroll. And the team should again be in
SURPRISE, Ariz. -- That Royals' mandate to trim the payroll in 2017 started with the best of intentions.
But thanks to the sales jobs of general manager Dayton Moore and club president Dan Glass, the Royals' payroll for 2017 might exceed the 2016 payroll. And the team should again be in position to compete for another World Series title.
There's little doubt that the tragic death of Royals starter Yordano Ventura altered ownership's financial plan. The death of Ventura left the team with a giant hole in the rotation. And in the last few weeks, Royals ownership hasn't hesitated to increase payroll in order to keep the team competitive in 2017.
The process has been pretty simple: Moore and his staff come up with potential solutions for the roster, Moore makes his case to Glass, who then makes his sales pitch to his father, Royals owner David Glass.
This scenario played out in recent weeks when the Royals signed designated hitter Brandon Moss (two years, $12 million), right-hander Jason Hammel (two years, $16 million) and left-hander Travis Wood (two years, $12 million).
Last year's franchise-record payroll of $145 million was trimmed to nearly $135 million after the trades of closer Wade Davis and outfielder Jarrod Dyson.
Now, however, the 2017 payroll could exceed last year's record payroll.
Give Dan Glass credit for a great sales job.
"Dayton and I talk about ways to improve the team all the time," Dan Glass told MLB.com via phone. "We talk about what our needs are."
Dan Glass refers to his father publicly as, "The Chairman."
"The Chairman, we've got to talk to him about it," Dan Glass said. "He pretty much draws the line in the sand each year and it's our job to present the case to do more.
"But this was a different situation. It was a different winter. We as an organization went through a lot.
"It's my job to present the logical scenario for why we need to do this. In this case, we needed to fill out our rotation. It wasn't a difficult sell."
What also makes 2017 unique is that the Royals have several players -- Eric Hosmer, Mike Moustakas, Lorenzo Cain and Alcides Escobar -- who could be free agents after this season.
"We have an opportunity here to win again with this core of players," Dan Glass said. "We don't know how many we can keep, but we'll keep as many as we can. But before that, we feel like we have an opportunity to win another championship this season.
"We'll do whatever we can to win another championship. That is our goal every year. This is a very good team."