These 3 NL Cy Young favorites start today
deGrom, Nola, Scherzer all take the hill amid tight race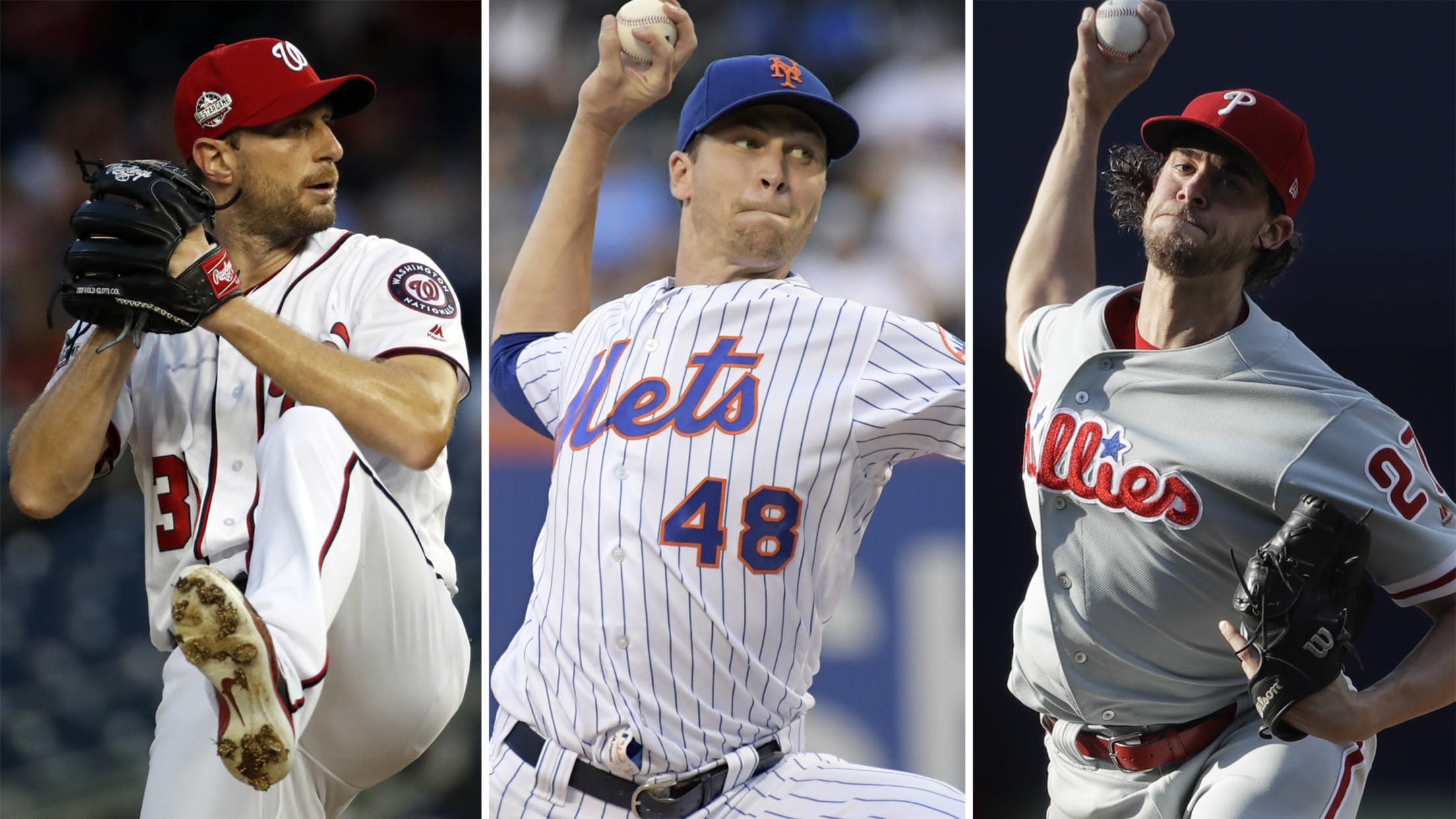 The National League Cy Young Award won't be decided this afternoon, but with a highly competitive race entering the home stretch, the top three candidates each will be on the mound with an opportunity to state his case.At 1:05 p.m. ET, the Nationals' Max Scherzer and the Phillies' Aaron Nola
The National League Cy Young Award won't be decided this afternoon, but with a highly competitive race entering the home stretch, the top three candidates each will be on the mound with an opportunity to state his case.
At 1:05 p.m. ET, the Nationals' Max Scherzer and the Phillies' Aaron Nola will clash in Washington. And at 1:10 p.m., the Mets' Jacob deGrom takes the mound at Citi Field against the Giants.
To get prepared for this pitching-heavy afternoon, here is a look at where these three All-Stars stand in their pursuit of the coveted hardware.
Who is the front-runner?
It's a close race, to be sure. But MLB.com's Cy Young Award poll offers a clue of how voters might be thinking.
• All-time NL Cy Young Award winners
In the most recent edition, which came out Aug. 7, Scherzer received 20 of 27 first-place votes from MLB.com writers and finished first with 121 points. deGrom (76 points) got the other seven first-place votes, and Nola (46) came in third. Arizona's Zack Greinke was the only other pitcher to get any votes.
None of the top three has relented since then. Scherzer has allowed one run over 20 innings going back to Aug. 7, deGrom two earned runs in 21 2/3 innings after throwing a complete-game shutout on Saturday, and Nola one run in 13 innings.
What do the "traditional" stats say?
Love it or hate it, some voters still base their decisions, at least in part, on the same back-of-the-baseball-card numbers that have been in use for decades.
In particular, wins are bound to be a controversial sticking point in this year's voting. Scherzer leads the NL with 16, two ahead of Nola. But deGrom, saddled with paltry run support for much of the year, is just 8-7 for a Mets club that sits well below .500 overall.
Will Baseball Writers' Association of America (BBWAA) voters hold it against him? While the wins stat has fallen further and further out of favor in recent years, only one Cy Young Award-winning starting pitcher has ever had fewer than 15 victories in a non-strike year: Felix Hernandez, who went 13-12 in 2010.
Meanwhile, Scherzer also has the edge in strikeouts, having piled up 234 of them. deGrom (204) and Nola (160) follow behind. However, deGrom (1.71) holds about a half-run edge in ERA over Scherzer (2.11) and Nola (2.24).
What do the advanced metrics say?
Voters interested in digging deeper will have a lot to chew on when it comes to these three right-handers.
• Scherzer has struck out 34.5 percent of hitters he has faced, leading the NL by a wide margin over deGrom (31.2 percent), who holds a slight edge in walk rate (5.5 percent vs. 6.0 percent). In terms of keeping the ball in the ballpark, deGrom (0.43) and Nola (0.45) rank first and second in the league in homers allowed per nine innings, with Scherzer trailing at 0.88.
• Fielding Independent Pitching (FIP) focuses on those numbers -- the things a pitcher has the most control over. deGrom (2.08) leads the NL in that category, with Scherzer (2.59) and Nola (2.73) ranking third and fourth behind D-backs lefty Patrick Corbin.
• FanGraphs' version of wins above replacement (WAR) for pitchers is based on FIP and has deGrom (6.6 WAR) leading all NL players -- not just pitchers -- in value. Scherzer (5.9) comes next, followed by Corbin (5.3) and Nola (5.0). The Baseball-Reference version of the stat, which is based on runs allowed per nine innings, instead has Scherzer (8.5), Nola (8.0) and deGrom (7.6) occupying the top three spots among all NL players.
What does the schedule look like?
A lot of things can happen to alter these pitchers' schedules the rest of the way. Injuries can intervene, or with off-days, their clubs could choose to skip other starters' turns to get the Cy Young candidates more work.
That said, assuming that after Thursday this trio continues to start every five games for the rest of the regular season, here is how each pitcher would line up:
• Scherzer (seven starts): vs. Phillies, at Phillies, vs. Cardinals, vs. Cubs, at Braves, vs. Mets, vs. Marlins
• deGrom (eight starts): vs. Giants, at Cubs, at Dodgers, vs. Phillies, at Red Sox, at Phillies, vs. Braves, vs. Marlins
• Nola (eight starts): at Nationals, vs. Nationals, at Marlins, at Mets, vs. Marlins, at Braves, at Rockies, at Braves
Scherzer currently has one more start (26) than the other two candidates, but the Nats still could get him eight by skipping another pitcher's turn just once.
If these schedules hold up, however, deGrom will have his work cut out for him. He's lined up for starts against each of the NL's top three offenses in terms of runs per game (Braves, Cubs, Dodgers), plus a road date at Fenway Park. Scherzer could have a chance at a strong closing argument with home dates against the Mets and Marlins. Nola would get two shots at Miami -- the NL's lowest-scoring team -- but would have to finish with two matchups against top-ranked Atlanta plus a trip to Coors Field.
Numbers to know
Scherzer: He could become only the fifth pitcher to win the award four times, joining Roger Clemens (seven), Randy Johnson (five), Steve Carlton (four) and Greg Maddux (four). His OPS at the plate (.667) is more than a hundred points higher than his OPS allowed on the mound (.564).
deGrom: If his 1.71 ERA holds, it would be the sixth lowest posted by a qualified pitcher since the mound was lowered following the 1968's "Year of the Pitcher." deGrom could join Pedro Martinez in 2000 and Clayton Kershaw in '14 as the only pitchers to produce an ERA below 1.80 with at least a 30 percent strikeout rate.
Nola: He has allowed two runs or fewer in 20 of his 25 starts, including zero or one in 14 of those. Entering Wednesday, the contending Phillies were 18-7 in his starts and 50-50 in all other games.