Nicknames, bright gear part of Players Weekend
New event to take place during all games from Aug. 25-27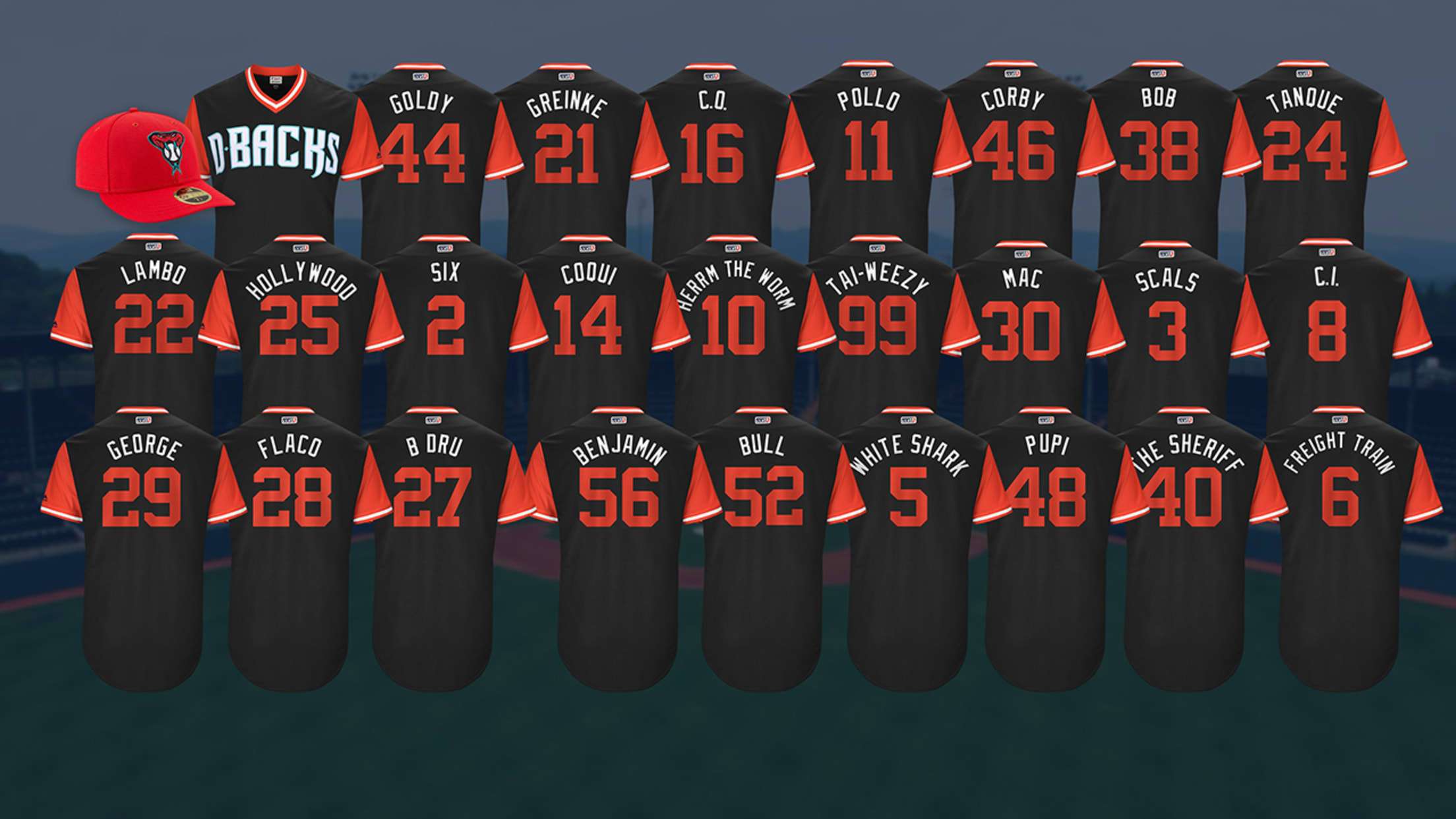 PHOENIX -- Known by fans simply as Goldy, D-backs first baseman Paul Goldschmidt will finally have a jersey to match during the inaugural Players Weekend, Aug. 25-27, when Major League players will wear colorful, non-traditional uniforms featuring alternate designs and their nicknames on the back.• Players Weekend gear available at
PHOENIX -- Known by fans simply as Goldy, D-backs first baseman Paul Goldschmidt will finally have a jersey to match during the inaugural Players Weekend, Aug. 25-27, when Major League players will wear colorful, non-traditional uniforms featuring alternate designs and their nicknames on the back.
• Players Weekend gear available at MLBShop.com
For some players, deciding what to put on the back of the jersey was harder than others.
"It's pretty easy for me because I think that's probably what most people think is already on my jersey," Goldschmidt said with a smile.
Third baseman Jake Lamb will wear a jersey with "Lambo" on the back.
"I asked for Goldy or Freight Train, but they said no," Lamb joked, referring to Goldschmidt and outfielder David Peralta's nicknames.
Outfielder A.J. Pollock settled on "Pollo" after some of his earlier ideas were rejected.
"I think it's cool," Pollock said. "Some guys will have nicknames that are way out there, and some guys have nicknames that people aren't really aware of, so I think it's going to be fun."
Setup man Archie Bradley chose the nickname "Hollywood," which he said friends called him when he was younger.
"It's going to be cool to see all these names on the back and you have no idea where they came from or what they mean or the significance of them," Bradley said. "I think it's a little cool splash where guys can be a little more individual but at the same time still be part of the team and wear a D-backs jersey."
Seeing unknown nicknames for players throughout baseball will be part of what Goldschmidt enjoys about Players Weekend.
"I think it will be fun as a player to see what other guys across the league, what their nicknames are, because you don't know everyone's nickname, so that will be interesting," Goldschmidt said.
D-backs players will wear specially designed caps by New Era, unique socks from Stance and during pregame workouts and postgame interviews, they will wear T-shirts highlighting a charity of their choice.
Each player will wear a special patch on his sleeve showing the progression of a child evolving into a Major Leaguer. Under that logo is white space, and every player will mark a name of a person who they are grateful to for helping them advance their careers. The game-worn jerseys will be auctioned at MLB.com/auctions with 100 percent of the net proceeds donated to the MLB-MLBPA Youth Development Foundation, a joint effort established in July 2015 by MLB and the MLBPA with an initial commitment of $30 million focused on improving the caliber, effectiveness and availability of amateur baseball and softball programs across the U.S. and Canada.

The uniforms will first be worn by the Pirates and Cardinals during the MLB Little League Classic to be played in Williamsport, Pa., on Aug. 20 during the 2017 Little League World Series. That game will take place at Bowman Field, home of the Williamsport Crosscutters, a Phillies affiliate in the short-season Class A New York-Penn League.
Here's a list of nicknames that some D-backs are expected to sport on the back of their jerseys on Players Weekend:
• Paul Goldschmidt: "GOLDY"
• Archie Bradley: "HOLLYWOOD"
• J.D. Martinez: "FLACO"
• A.J. Pollock: "POLLO"
• Jake Lamb: "LAMBO"
• Fernando Rodney: "BENJAMIN"
• Taijuan Walker: "TAI-WEEZY"
• David Peralta: "FREIGHT TRAIN"
• Ketel Marte: "THE PIKE"
• Brandon Drury: "B DRU"
• Jeff Mathis: "SIX"