Lamet sparks memories of Jones, Shirley
Pitcher's game not only outstanding performance Thursday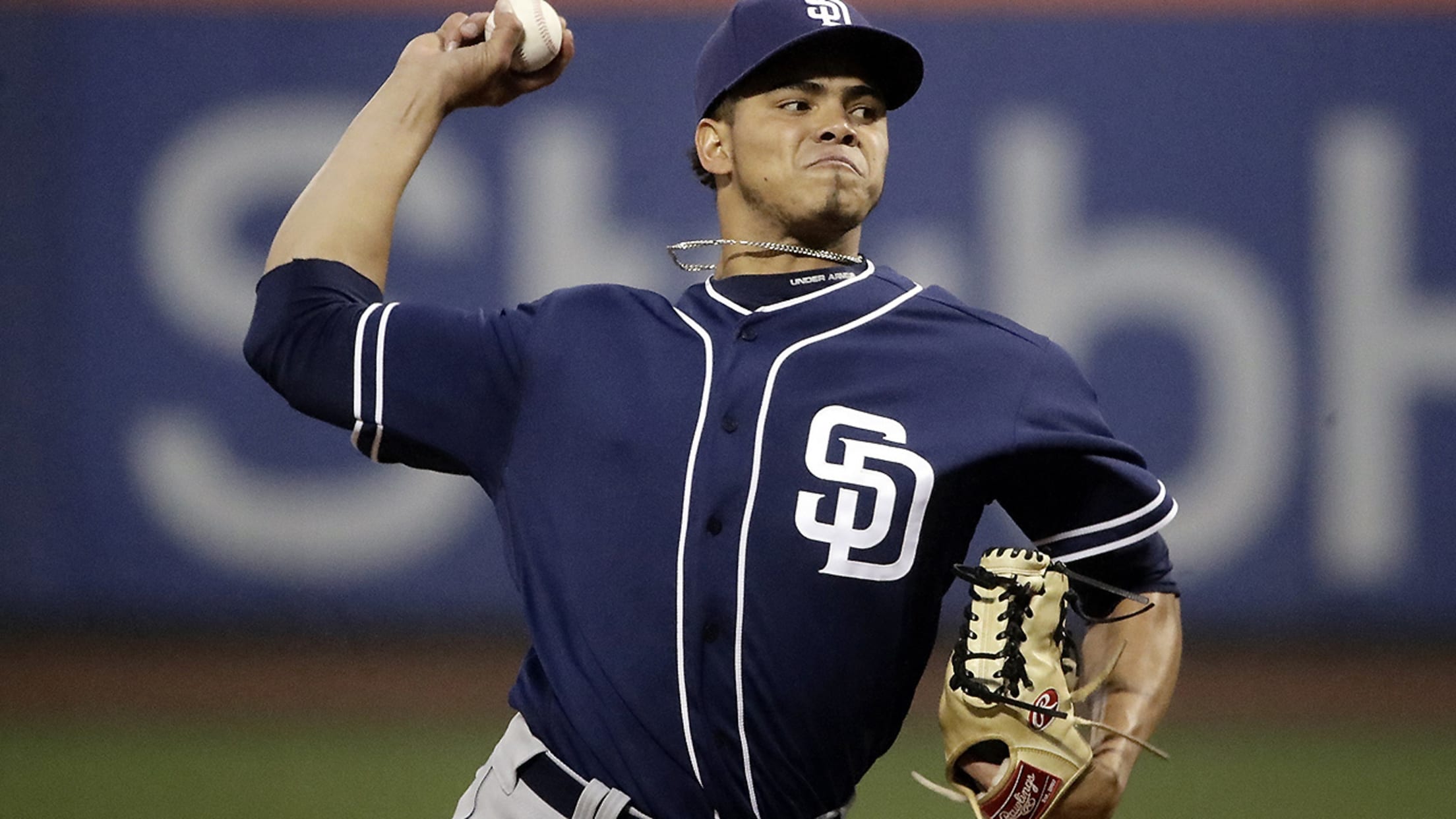 (Frank Franklin II/AP)
Obviously, Dinelson Lamet was the story of Thursday night's series-clinching win over the Mets in New York. I've seen a lot of Padres Major League pitching debuts in my time -- notably those of Jacob Peavy, Oliver Perez, Andy Benes and Mat Latos -- and Lamet's ranks among the best. Five innings
Obviously, Dinelson Lamet was the story of Thursday night's series-clinching win over the Mets in New York.
I've seen a lot of Padres Major League pitching debuts in my time -- notably those of Jacob Peavy, Oliver Perez, Andy Benes and Mat Latos -- and Lamet's ranks among the best.
Five innings in the rain on the road in New York. And the line -- one run allowed on three hits and two walks with eight strikeouts. The eight strikeouts are the most by a Padre making his debut since Bob Shirley struck out his franchise-record 11 Reds in his debut on April 10, 1977, in Cincinnati.
Shirley, who was 22 at the time, allowed four unearned runs on four hits and four walks with the 11 strikeouts in 8 2/3 innings.
Impressive debut. But not the best in Padres history.
I don't know how you top Jimmy Jones' Major League debut.
Jones, who was the third overall pick of the 1982 Draft, was 22 when he stepped on the mound at the Astrodome in Houston on Sept. 21, 1986. He threw a shutout. He allowed one hit and no walks with five strikeouts in a 5-0 Padres win. The only hit was a third-inning triple by opposing pitcher Bob Knepper in the third inning. It was the 11th in a chain of 28 one-hitters in Padres history.
Jones is now the pitching coach at the Padres Double-A affiliate in San Antonio and was the Padres' bullpen coach in 2012 following the death of Darrel Akerfelds.
Two other debuts stand out in my memory.
During June 2002, Perez and Peavy made impressive Major League debuts in a six-day span at Qualcomm Stadium.
On June 16, the 20-year-old Perez held Seattle to two runs on four hits and four walks with seven strikeouts in five innings. On June 22, Peavy, 21, held the Yankees to one run on three hits and two walks with four strikeouts over six innings.
NOTE WORTHY
Chase d'Arnaud was impressive in his first start at shortstop for the Padres Thursday night. He was 0-for-4 at the plate. But his relay throw from left-fielder Allen Córdoba cut down a run at the plate. He turned a tricky double play and he turned two difficult plays into outs.
Hunter Renfroe is 8-for-16 with four doubles and a home run for two RBIs and four runs scored in a four-game hitting streak. He has raised his batting average 27 points to .232 over the four games.
Jose Torres has allowed three runs (two earned) on seven hits and three walks with six strikeouts over 10 1/3 innings in his last eight appearances and since April 22, Torres has allowed five runs (four earned) on 13 hits and three walks with 15 strikeouts in 16 2/3 innings for a 2.16 ERA. The run has lowered his ERA from 7.56 to 4.13.
Matthew Szczur is 2-for-4 with two walks, two RBIs and two runs scored since taking over for the ailing Manuel Margot (calf injury) during Wednesday's game at Citi Field in New York.