Inbox: Do Astros need to add a slugger?
Reporter Brian McTaggart fields fans' questions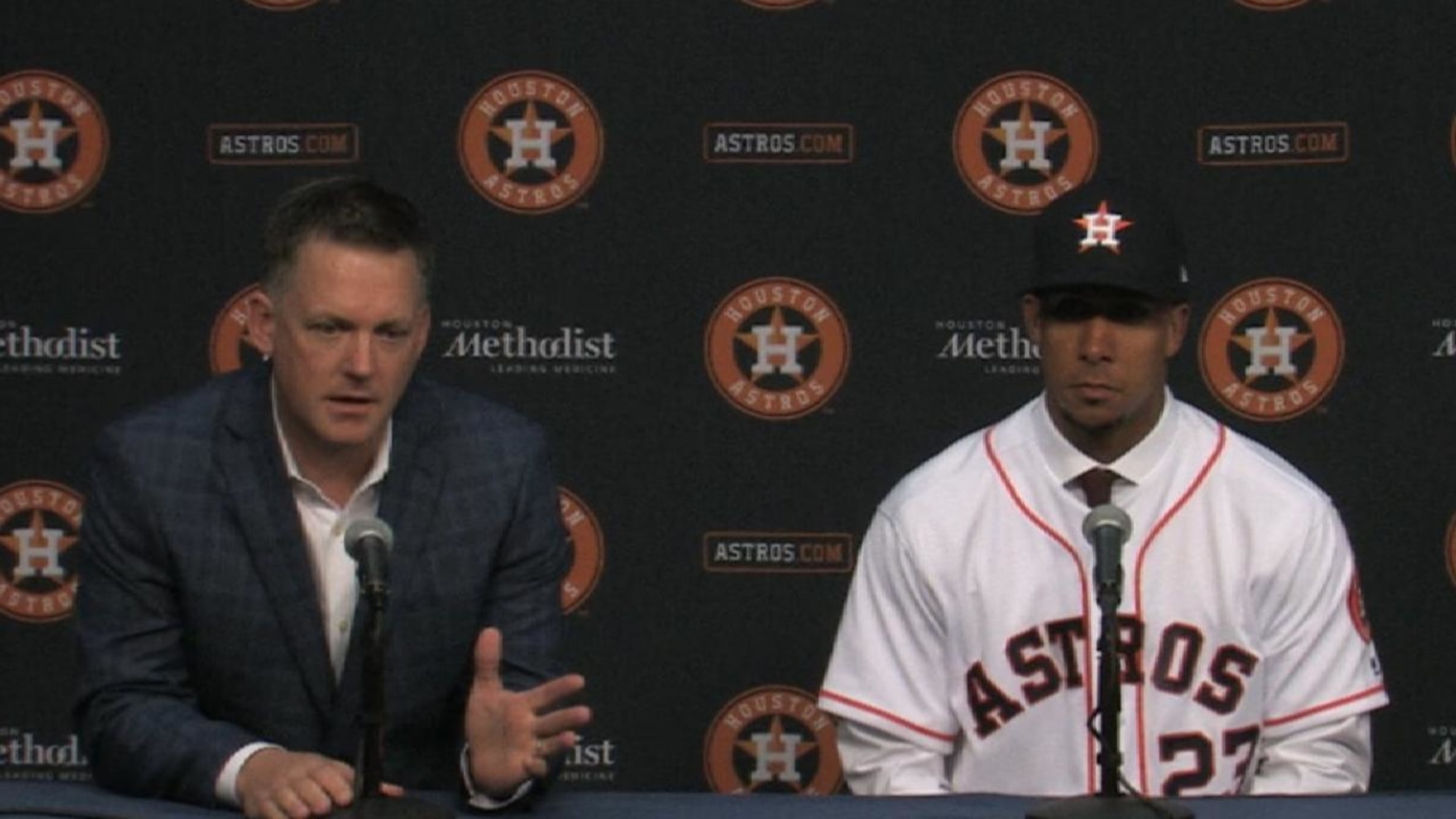 HOUSTON -- Let's get right to it. Spring Training starts next week, when Astros pitchers and catchers report in West Palm Beach, Fla., and you have questions. Here's what's on everyone's mind in this week's Inbox::: Submit a question to the Astros Inbox ::I do not think that the addition
HOUSTON -- Let's get right to it. Spring Training starts next week, when Astros pitchers and catchers report in West Palm Beach, Fla., and you have questions. Here's what's on everyone's mind in this week's Inbox:
:: Submit a question to the Astros Inbox ::
I do not think that the addition of [pitcher Wade] Miley was needed as much as another bat, especially at DH. [Paul Goldschmidt] or [Nelson] Cruz would have been a good choice, but they are unavailable. There are a lot of questions concerning the Astros stars from last year. [Jose] Altuve, [Alex] Bregman and [Carlos] Correa are coming off injuries and may not be as effective as we would like them to be. They need a big bopper. What is your take?
-- Craig, Houston
The Cardinals sent a big package to the D-backs for Goldschmidt, including a pair of former top prospects. Who knows if the Astros were ever in position to make such an offer? The Astros did have an offer out for Cruz, but he chose the Twins. It takes two to consummate an agreement. Miley is a reasonable addition because he comes relatively cheap ($4.5 million) on a one-year deal and deepens the rotation, especially if he pitches like he did last year with the Brewers. If it doesn't work, the Astros will give his spot to a younger pitcher, which is what they were going to do anyway had they not signed him.
As far as the offense goes, you're underestimating the addition of Michael Brantley. He's a great fit in the lineup because of his ability to put the bat on the ball and his pop. If he's healthy, he's an All-Star-caliber player. He impacts the lineup greatly. Yes, Altuve, Bregman and Correa are coming off injuries, but they're all young and I'd be willing to bet all three will perform at higher levels in 2019 if healthy.
What do you think the chances are that both Forrest Whitley and Kyle Tucker make the big league club right out of Spring Training?
-- Tyler D., College Station, Texas
We can't have an Inbox without a Whitley or Tucker question, right? The Astros have made it pretty clear they don't see Whitley starting the season in the big league rotation. Houston's candidates for the fifth spot in the rotation behind Justin Verlander, Gerrit Cole, Collin McHugh and Miley are Josh James, Framber Valdez, Brad Peacock and others. Whitley will benefit greatly from his first Major League camp and being around Verlander and Cole, but the suspension and injuries limited him last year. He could use a half-season of Triple-A innings before getting his shot, which almost certainly will come at some point later this summer.
Tucker is fighting for a spot in a crowded outfield that includes starters in Brantley, George Springer and Josh Reddick as well as Jake Marisnick and Tony Kemp. I don't see him making the club as a reserve, so barring an injury he'll have to go to Triple-A and perform well enough to force the Astros to make a spot for him on the big club.
In terms of both wOBA and wRC+, the Astros' seven worst hitters in 2018 were (in order from best to worst): [Max] Stassi, Reddick, [Evan] Gattis, Marisnick, [Brian] McCann, [Martin] Maldonado, and [J.D.] Davis. Four of those seven hitters aren't coming back but Stassi, Reddick, and Marisnick probably are. With that preface, what is the Astros' biggest weakness? Is it still catcher or is [Robinson] Chirinos good enough? Is it RF? If so, does that matter, or will Reddick play because he's one of the highest paid players? Is it 1B (as some national writers suggest)?
-- Jesse D., Houston
Catcher and designated hitter are their biggest weaknesses, through there's enough versatility on the club they can rotate enough people in and out of the DH spot to get at least Major League average production. Reddick needs a bounce-back season at the plate in 2019. He is making some swing changes to try to improve, and he knows Tucker is knocking at the door.
Chirinos has some pop and should benefit from a deep lineup and the ballpark, but there's certainly room for upgrade at catcher overall. Yuli Gurriel is the starter at first and didn't have a poor season last year. He hit .291/.323/.428 with 13 homers and 85 RBIs in 537 at-bats and played a Gold Glove-caliber first base. He's not Goldschmidt, but he's good enough, especially in this lineup.
Marisnick is one of the best defensive players in the game, but the offense is never quite there. And last season he bounced around the big club and Triple-A. Is this going to be his last chance to prove he can become offensively reliable? Or do the Astros strictly value him as the 'late-game defensive replace' role, and are they willing to use up a roster spot for that?
-- Michael V., Corpus Christi, Texas
They've shown in the past they're willing to keep Marisnick on the roster for his defense, and it's easy to understand why. That being said, he can't strike out in a third of his plate appearances as he did last year, which was the reason he was sent to Triple-A. Marisnick is out of options this year, which means it could be a make-or-break season for him in Houston.
Why [are] the Astros so stingy with salary arbitration? Our free agents are too good to lose.
-- George H., Kemah, Texas
Every team goes through the arbitration process to save some money, and arbitration-eligible players aren't free agents. The dollar amounts between what the teams offer and what the players want can seem small when you're talking about millions of dollars, but it all adds up. The Astros have lost a handful of arbitration cases in the last few years, including Carlos Correa this year, and have a big one next week with Cole, who's asking for $13.5 million coming off his best year. The Astros countered with an offer of $11.425 million. That's a significant difference the club thinks is worth heading to a hearing over.
Whatever happened to Derek Fisher? He has gone from "untouchable" to no longer part of the discussion.
-- Perry, Houston
Fisher still here and will be in big league camp again. There was a lot of talk about Fisher a year ago, but I don't think he was ever one of their untouchables. They nearly sent him to the Phillies a few years ago in the Ken Giles deal before concerns over Vincent Velasquez's elbow forced the deal to be reworked. Yes, Fisher's stock has fallen some and he no longer appears on prospect lists at age 25, but he still has some valuable tools with his speed and power combination. With Tucker and fellow prospect Yordan Alvarez knocking on the door of an already full outfield, making the big league roster will be a tough challenge for Fisher.
Which Astro will have a breakout season this year?
-- Jason D., Houston
My pick to click this year is Tyler White. This is a big year for him because he's out of options, but he's clearly outperformed the Triple-A level the last couple of years and is coming off a season in which he posted an .888 OPS in 66 games with the Astros. Considering there are still at-bats to be had at designated hitter, he's going to get his best chance yet to establish himself.
Brian McTaggart has covered the Astros since 2004, and for MLB.com since 2009. Follow <ahref="http: twitter.com/brianmctaggart"="">@brianmctaggart on Twitter and listen to his podcast.</ahref="http:>