Inbox: Where are Braves in Realmuto sweeps?
Beat reporter Mark Bowman fields fans' questions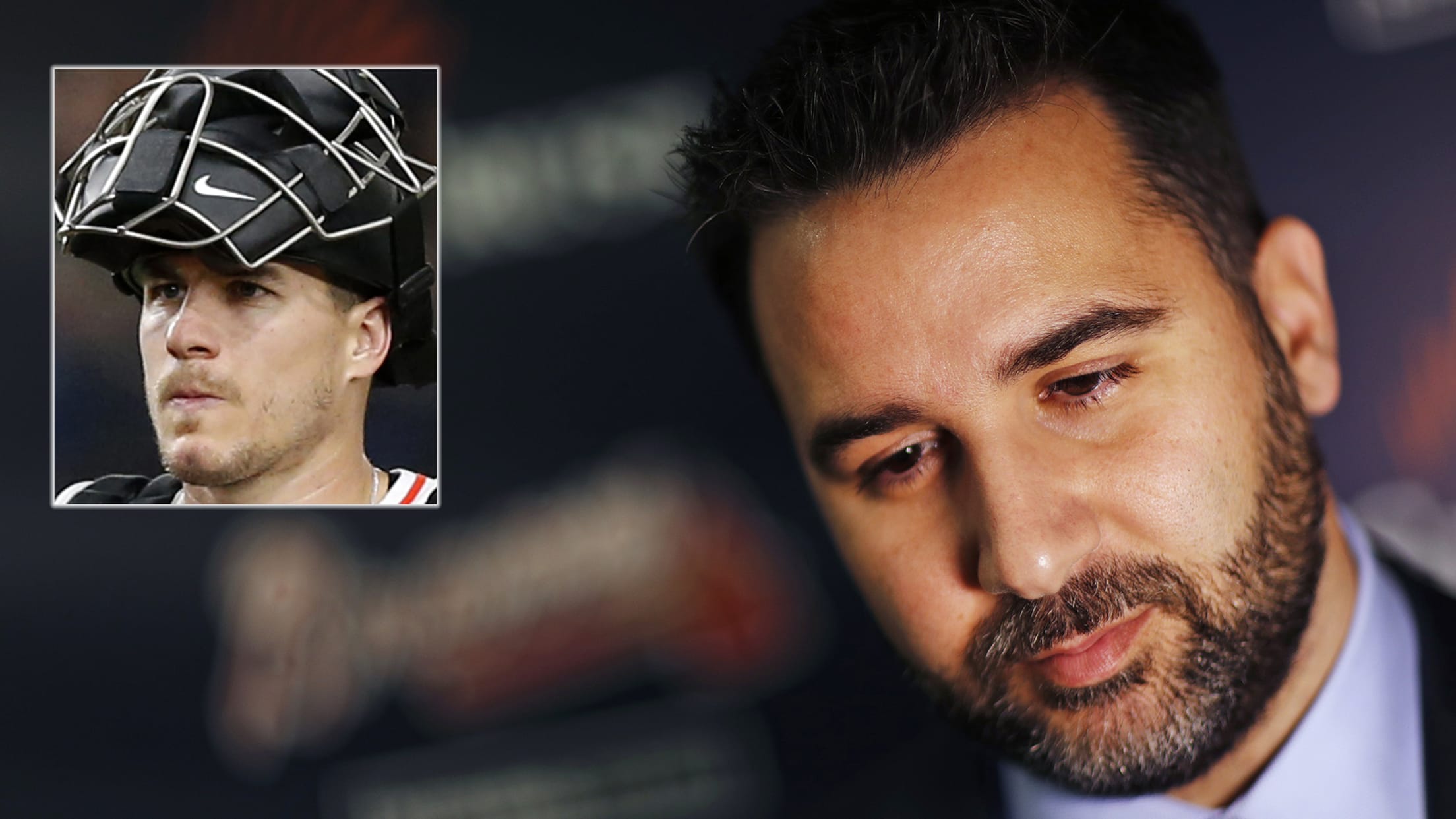 FILE - In this Nov. 13, 2017, file photo, Alex Anthopoulos speaks to reporters following a news conference introducing him as the new general manager of the Atlanta Braves baseball team in Atlanta. Anthopoulos says he hasn't ruled out signing a free agent but says he doesn't want to block prospects in the team's rebuilding process by adding a long-term contract. (AP Photo/David Goldman, File) (David Goldman/AP)
With pitchers and catchers reporting soon, when do you see the J.T. Realmuto sweepstakes coming to an end? -- @myothatwitta Whatever happens, it seems safe to say the Marlins have already overplayed their hand in an attempt to make up for what was not gained via last year's trades of
With pitchers and catchers reporting soon, when do you see the J.T. Realmuto sweepstakes coming to an end?
-- @myothatwitta
Whatever happens, it seems safe to say the Marlins have already overplayed their hand in an attempt to make up for what was not gained via last year's trades of Christian Yelich and Marcell Ozuna. My expectation is the return for Realmuto will not equal what Miami would have received had it dealt him in July or during the early portion of this offseason.
From the Braves' perspective, little has changed over the past six weeks. They've continued to check in to see if the cost has dropped or at least reached a point where it wouldn't include parting ways with a controllable everyday asset such as Ozzie Albies. Neither side has blinked and from my understanding, the two teams have not shared serious discussions since the first or second day of the Winter Meetings.
:: Submit a question to the Braves Inbox ::
Will the Braves ever spend like they aren't in a tiny market?
-- @thewrighttake
Sometimes when you spend just to spend, you end up with Kenshin Kawakami and two too many years of Derek Lowe.
When evaluating this offseason four or five years from now, the focus will not be on the dollars spent. Instead, it will be on what was gained or lost by not committing to the years many of the free agents sought. The Braves made it clear from the start of the offseason they were not interested in the long-term investment that would be tied to Bryce Harper or Manny Machado. Nor were they going to make the long-term commitment Dallas Keuchel or Craig Kimbrel sought during the early portion of the offseason. The Phillies valued Andrew McCutchen (three years, $50 million) much higher than the Braves, whose top outfield target seemed to be Michael Brantley. Even at dollar for dollar, the Braves couldn't necessarily match the Astros, who provide Brantley a chance to occasionally be a designated hitter and avoid having to pay state income tax.
If simply focusing on 2019, the Braves do have the financial flexibility necessary to address needs. One of their primary needs is to land a front-line starter. But if some of the internal assets develop, this may not necessarily look like a glaring need next year. If you commit to the final three years on Corey Kluber's deal, then you'd find yourself with a good problem next year. But he doesn't seem like he was ever truly available, and Keuchel's market has not dropped into Atlanta's comfort zone.
How much financial flexibility the Braves have next offseason will be significantly influenced by whether Josh Donaldson becomes a multiyear fit. Other potential free agents are Julio Teheran, Brian McCann, Tyler Flowers, Darren O'Day, Nick Markakis, Arodys Vizcaíno and Jonny Venters. You also have to account for the likelihood of having at least six players gain raises via arbitration.
Though Donaldson received a record one-year deal ($23 million), I can understand why many are still hoping for more, especially since Markakis returned for a $4 million salary. But if time proves the cards weren't right this year, many of these same fans will likely be happy to have a chance to be players with the next draw.
<b.> If you were running the Braves and were evaluating trade options for Realmuto (or any other high-profile player), what Braves prospect would you absolutely not want to part with in a trade? Ian Anderson? Kyle Wright? Cristian Pache? Austin Riley? Touki Toussaint?
-- @JohnWick38104 </b.>
I'm going to stick with Freddie Freeman and Ronald Acuña Jr. being the only true untouchables within the organization. But if forced to add two more from this list, I'll go with Anderson and Wright. Pache's limited sample size of power is a concern, but because he's just 20 years old and is already considered an elite defender, I'll say he's the next closest member of this group to being deemed untouchable. Riley's strikeout rate and Toussaint's walk rate create concerns about their respective long-term values.
Do you honestly see McCann and Flowers combining to give the Braves 162 games behind the plate?
-- @JBLittle3
Flowers served as the Braves' starting catcher for 69 of the 137 regular-season games remaining after he returned from the disabled list. This was equal to a pace of 81 starts. McCann logged 94 starts as the Astros' catcher in 2017. Both are older than 30, and McCann is less than a year removed from having his right knee repaired. But regardless of age or recent healthy history, Atlanta needs to gain more insurance at this position with the depth that will exist at the Triple-A level. They've expressed interest in Devin Mesoraco, but he is seeking the chance to begin the season at the Major League level. As things stand, the insurance at Gwinnett will consist of Raffy Lopez and Alex Jackson.
Mark Bowman has covered the Braves for MLB.com since 2001.