Los Angeles celebs celebrate Dodgers' win
Everyone in L.A. is a Dodgers fan tonight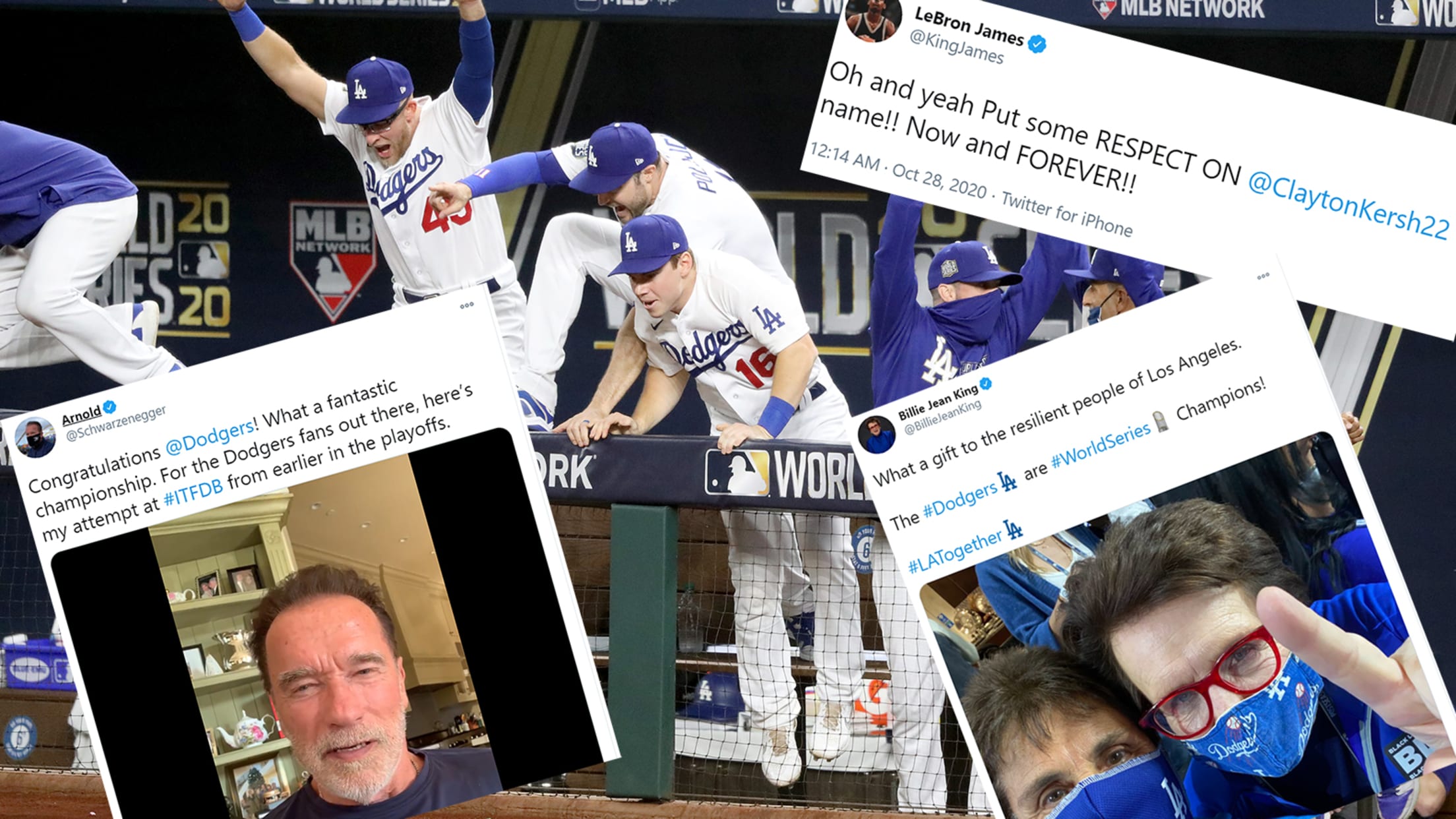 Los Angeles, baby! It's the city of stars! The sidewalks are all made of glitter and every single coffee shop has at least, like, four Oscar Award winners waiting in line. OK, so maybe the city isn't quite like that, but when the Dodgers won their seventh World Series title
Los Angeles, baby! It's the city of stars! The sidewalks are all made of glitter and every single coffee shop has at least, like, four Oscar Award winners waiting in line.
OK, so maybe the city isn't quite like that, but when the Dodgers won their seventh World Series title on Tuesday night, the stars did make sure to get on Twitter to celebrate with everyone else.
Naturally, Lakers star LeBron James, was back to tweeting in support of the Dodgers. And hey, you may say that James has only played in Los Angeles for about two years, but half the city is made up of recent transplants who have fallen in love with the Dodgers, so if anything that makes him a local.
Though he knows it probably can't happen this year because of COVID-19, the King wants a two-team parade:
Man can we PLEASE have a parade!!! I know I know we can't but DAMN I wanna celebrate with our @Lakers & @Dodgers fans!!! LA is the city of CHAMPIONS 🏆🏆

— LeBron James (@KingJames) October 28, 2020
He also wants to make sure that everyone respects future Hall of Famer Clayton Kershaw now that he's finally got his ring:
Oh and yeah Put some RESPECT ON @ClaytonKersh22 name!! Now and FOREVER!!

— LeBron James (@KingJames) October 28, 2020
Magic Johnson may be a part-owner of the team, but he's so pumped for both the Lakers and Dodgers:
Who would have thought my sister and I would win a championship in the same year?? @jeaniebuss as owner of the @Lakers and me as owner of the @Dodgers. Her father Dr. Jerry Buss is smiling down from heaven proud of both of us! 💙🤍💜💛

— Earvin Magic Johnson (@MagicJohnson) October 28, 2020
Longtime Dodgers devotee Larry King made his World Series celebration a family affair:
It's a good night ⚾️#Dodgers #WorldSeries pic.twitter.com/6iUFaVkGix

— Larry King (@kingsthings) October 28, 2020
Arnold Schwarzenegger gave his very best "It's time for Dodger baseball!" Vin Scully he ain't:
Congratulations @Dodgers! What a fantastic championship. For the Dodgers fans out there, here's my attempt at #ITFDB from earlier in the playoffs. pic.twitter.com/BLzHF8Dw9d

— Arnold (@Schwarzenegger) October 28, 2020
Tennis legend Billie Jean King was partying, complete with Dodgers facemask:
What a gift to the resilient people of Los Angeles.

The #Dodgers are #WorldSeries Champions! #LATogether pic.twitter.com/cUDBxhTYXF

— Billie Jean King (@BillieJeanKing) October 28, 2020
Kobe Bryant's daughter, Natalia, shared this heartbreaking image to Instagram:
Actor Rob Lowe also shared a photo from when he was at Dodger Stadium with Bryant: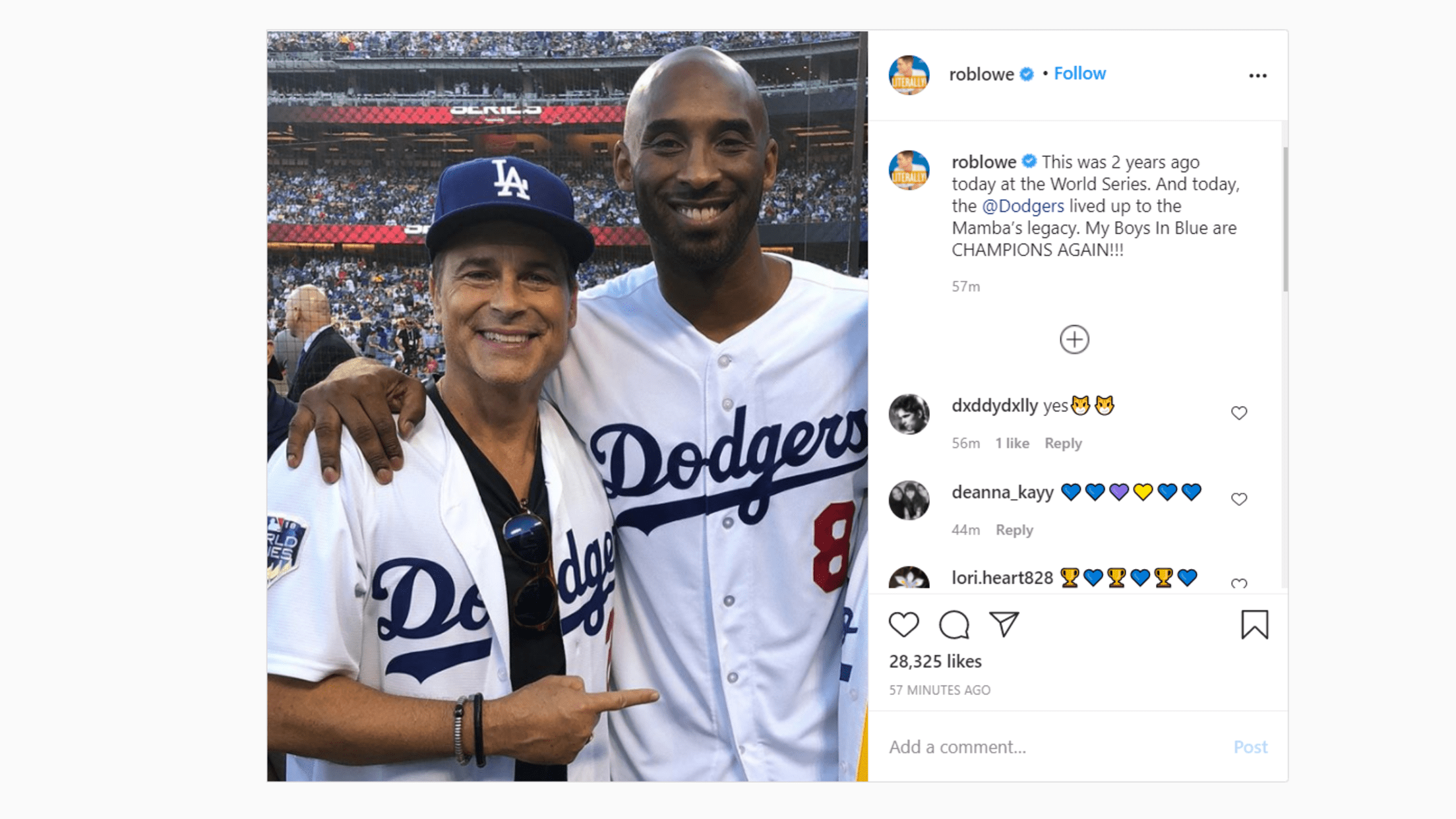 Actor James Caan's tweet was blunt and to the point:
#Dodgers End of tweet pic.twitter.com/TdsxkvXWyH

— James Caan (@James_Caan) October 28, 2020
Ashton Kutcher needed only two letters:
LA

— ashton kutcher (@aplusk) October 28, 2020
Comedian George Lopez went on a retweeting spree for his team, but also posted this photo with Game 6 closer, Julio Urías:
Congratulations @dodgers #WorldSeries Champions #juliourias #chingondelosmaschingones - shirt @georgelopezstore pic.twitter.com/2YfcQ5VMjJ

— George Lopez (@georgelopez) October 28, 2020
And Diplo, wearing some Elton John-inspired threads, fell in love with the team.
Somehow I ended up in Arlington Texas tonight, became a huge @Dodgers fan pic.twitter.com/StVSyXJLub

— Thomas Wesley (@diplo) October 28, 2020
Michael Clair writes for MLB.com. He spends a lot of time thinking about walk-up music and believes stirrup socks are an integral part of every formal outfit.