Mieses continues power parade with two-homer game for Tulsa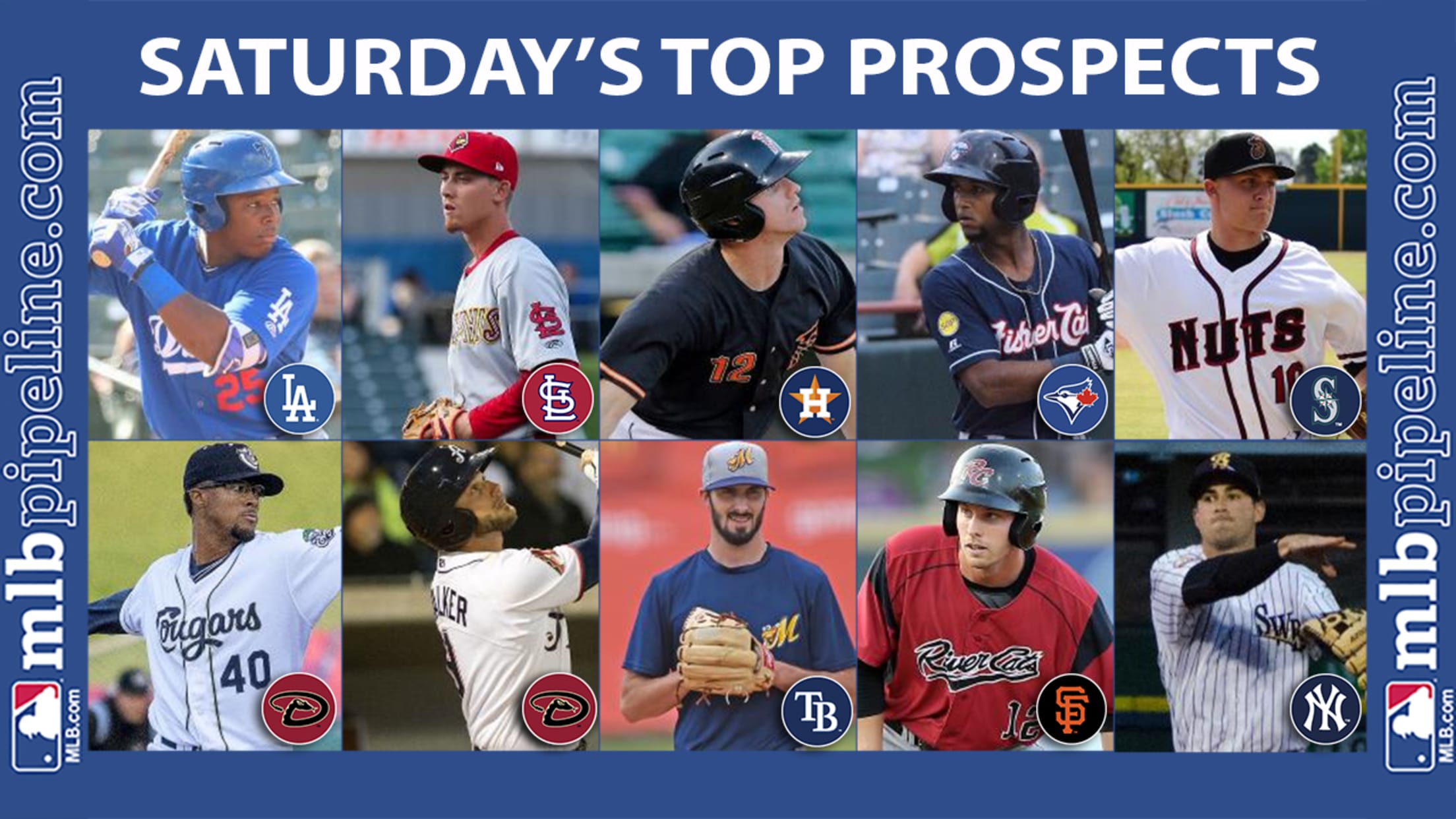 Johan Mieses' season couldn't have started much worse. The Dodgers' No. 26 prospect hit .100 in April and went from April 28 through May 8, a span of nine games and 25 at-bats, without a hit, dropping his average all the way to .068.But then Mieses, who belted a career-high
Johan Mieses' season couldn't have started much worse. The Dodgers' No. 26 prospect hit .100 in April and went from April 28 through May 8, a span of nine games and 25 at-bats, without a hit, dropping his average all the way to .068.
But then Mieses, who belted a career-high 28 homers to lead the Cal League in 2016, found his power stroke.
Mieses homered on Thursday, again on Friday and twice on Saturday in Double-A Tulsa's 9-4 win over Northwest Arkansas. The 21-year-old's breakout in the victory saw him go 3-for-4 with two homers, a double and four RBIs in what was his first multi-hit effort of the season.
MILB Video - Title: Mieses belts second homer - Url: http://www.milb.com/r/video?content_id=1385574383
"The power is as real as it gets when he connects," Drillers manager Ryan Garko told MiLB.com. "He hit two more tonight … he hit them a long way. He hit both of them as far as I've seen in this league."
MILB Video - Title: Watch: Mieses homers in 3rd straight game - Url: http://www.milb.com/r/video?content_id=1385518583
The four RBIs also marked a season-high for Mieses, who now has eight over his past three games.
The rest of the best performances from top prospects Saturday
• No. 60 overall prospectLuke Weaver (Cardinals' No. 3) finally gave up a run but still put together a strong start for Triple-A Memphis. Weaver allowed a solo homer in the fifth, halting his scoreless streak at 19 2/3 innings to begin the season, but that was the only offense El Paso could muster. Weaver threw 101 pitches (72 strikes) over seven-plus innings, giving up six hits and one walk while striking out nine. The 101 pitches and nine strikeouts both marked season-highs for the right-hander, who now has a 0.41 ERA through 22 innings.
MILB Video - Title: Watch: Weaver notches ninth strikeout - Url: http://www.milb.com/r/video?content_id=1386311083
• No. 75 overall prospect Derek Fisher (Astros' No. 4) wasted no time extending his hitting streak to 16 games, singling on the second pitch he saw. After that first-inning single, Fisher, who now has Triple-A Fresno's longest hitting streak since 2015, collected two more hits, finishing the game 3-for-5.
MILB Video - Title: Watch: Fisher extends hit streak to 16 - Url: http://www.milb.com/r/video?content_id=1386050783
• No. 85 overall prospectRichard Urena (Blue Jays' No. 4) put together his third consecutive two-hit game, going 2-for-5 with three RBIs for Double-A New Hampshire. Urena, a 21-year-old shortstop, has gotten off to a slow start this season, hitting .203 through 33 games.
• Mariners' No. 3 prospect Nick Neidert led Class A Advanced Modesto to a 2-1 win over Lake Elsinore with six innings of one-run ball. Neidert, who gave up just three hits, threw 57 of his 77 pitches for strikes and struck out 10, a season high.
• D-backs' No. 8 prospect Jon Duplantier continued his stellar season with another scoreless start. The 22-year-old gave up just two hits in five scoreless frames for Class A Kane County and has now held the opposition without an earned run in six of his seven appearances (six starts). Duplantier threw 57 of his 80 pitches for strikes, walked one and tied a career high with eight strikeouts.
MILB Video - Title: Duplantier's eighth punchout - Url: http://www.milb.com/r/video?content_id=1383676583
• Tanner Scott (Orioles' No. 11) posted another scoreless start, his fifth in seven turns, for Double-A Bowie. Scott held Richmond hitless for three innings, walked one and struck out four.
• Tyler Wade (Yankees' No. 11) hit his first homer of the year in a monster day at the plate for Triple-A Scranton/Wilkes-Barre. The 22-year-old shortstop went 4-for-6, his second four-hit game this season, with three RBIs and two runs scored. Wade drove in two runs with a double in the second and then collected his final RBI on a solo homer in the fifth.
MILB Video - Title: RailRiders' Wade goes yard - Url: http://www.milb.com/r/video?content_id=1383685983
• Cody Ponce (Brewers' No. 15) spun a career-high eight scoreless innings in Class A Advanced Carolina's 4-3 win over Winston-Salem. Ponce gave up seven hits but kept the Dash off the scoreboard with no walks and seven strikeouts. Over his past two starts, Ponce has given up just one earned run and struck out 15 in 15 innings.
• Athletics prospects Matt Olson and Renato Nunez put on a power display in Triple-A Nashville's win over Albuquerque. The duo, Oakland's No. 17 and 19 prospects, combined to go 5-for-8 with three homers and six RBIs. Olson, who drove in four and went deep twice, gave Nashville an early lead with a two-run homer in the first and then helped his club pull away with another two-run blast in the sixth. Nunez hit a two-run homer in the third and has gone deep six times in the past 11 games.
MILB Video - Title: Olson hits second homer - Url: http://www.milb.com/r/video?content_id=1385605583
• Austin Slater (Giants' No. 18) collected four RBIs for the second time in three days for Triple-A Sacramento. Slater was a perfect 4-for-4 at the plate with a homer and a double as the River Cats cruised to an 11-2 win over Colorado Springs. Slater, who is 8-for-13 (.615) over his past three games, was hit by a pitch in the first and walked in the fifth, reaching base a total of six times in the game.
• Tyler Marlette (Mariners' No. 25) provided the bulk of the offense for Double-A Arkansas, going 2-for-3 with five RBIs in a win over Springfield. Marlette put the Travelers on the board early with a two-run single in the first, drove in two more with a double in the fifth and then capped the performance with a sacrifice fly in the sixth.
MILB Video - Title: Marlette doubles home two - Url: http://www.milb.com/r/video?content_id=1384993383
• Rays' No. 27 prospectHunter Wood rebounded from a couple rough outings and put together arguably his best start of the year for Double-A Montgomery. Wood, who threw 61 of his 98 pitches for strikes, went five innings without allowing a hit and left after giving up one hit in six scoreless frames. Wood, who had given up 11 runs in his past 9 2/3 innings, walked two and struck out six.
MILB Video - Title: Watch: Wood records a K - Url: http://www.milb.com/r/video?content_id=1386085883
• D-backs No. 30 prospectChristian Walker hit for the cycle and matched his career high with 5 RBIs in Triple-A Reno's win over New Orleans. Walker, who now has 41 RBIs in 34 games, tripled in the first, homered in the fifth, singled in the ninth and doubled in the 11th.
MILB Video - Title: Watch: Walker hits for the cycle - Url: http://www.milb.com/r/video?content_id=1386311683