Maeda's solid start goes south quickly in 6th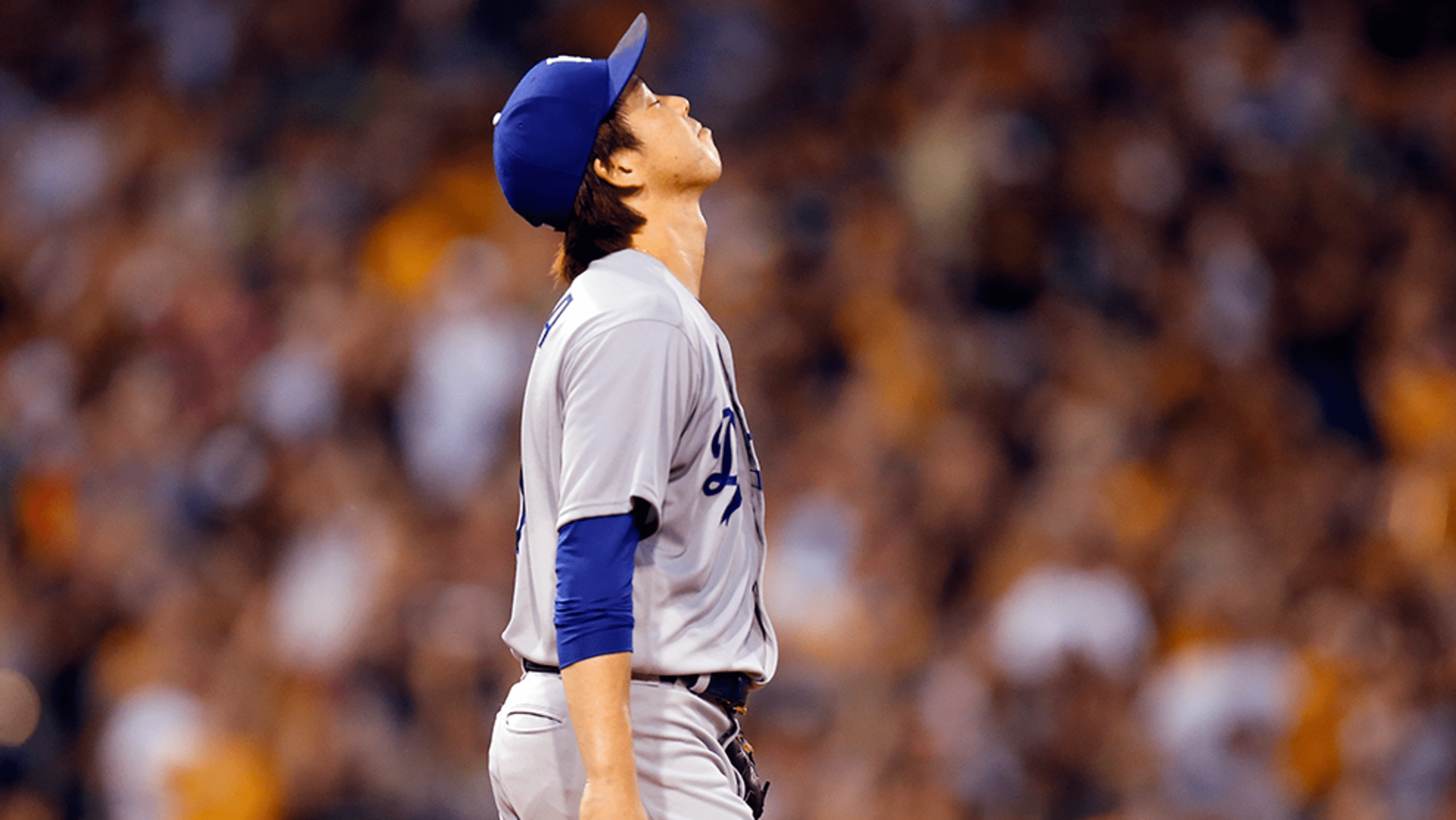 Dodgers starter Kenta Maeda reacts after giving up a three-run home run in the sixth inning on Saturday. (Getty)
PITTSBURGH -- Except for Clayton Kershaw, the Dodgers have a depleted starting rotation that puts manager Dave Roberts in one of those dang-if-he-does, dang-if-he-doesn't jams almost daily. Lift the starter too soon, workload destroys the bullpen. Leave him in too long, opponents destroy the starter.Roberts left Kenta Maeda in Saturday
PITTSBURGH -- Except for Clayton Kershaw, the Dodgers have a depleted starting rotation that puts manager Dave Roberts in one of those dang-if-he-does, dang-if-he-doesn't jams almost daily. Lift the starter too soon, workload destroys the bullpen. Leave him in too long, opponents destroy the starter.
Roberts left Kenta Maeda in Saturday night, Andrew McCutchen took him deep for the second time in three innings, and a one-run game turned into a 6-1 loss for the Dodgers, who fell a season-high 7 1/2 games out of first pending the outcome of the Phillies-Giants game.
Kershaw starts Sunday, so Roberts likely gets a reprieve from this managerial torment, before the cycle starts all over. The Dodgers are so thin in starting pitching that they don't know who the fifth starter is for the second consecutive time in a week.
McCutchen homered on a 3-2 curveball in the fourth inning. Pirates starter Jeff Locke was perfect through five innings when the Dodgers tied it, 1-1, on back-to-back doubles by Scott Van Slyke and A.J. Ellis to open the sixth. Maeda followed with a single, was stranded on the bases, and said he should have regrouped and taken his time before coming out for the bottom of the sixth.
But he said he rushed out for his warmups. He walked leadoff batter John Jaso on four pitches for the second time, had Starling Marte punch a single to right field and up stepped McCutchen, who was supposed to be in a season-long slump. That's apparently over after the three-run blast on a 3-1 fastball.
"We're right there, 1-1, and I thought Kenta looked strong," said Roberts. "Then he started the sixth inning with a leadoff walk on four pitches, that's just something that can't happen. Then Marte puts a ball in play, fights off a two-strike pitch and the next thing you have a homer. It just happened quickly. You've got to let starters get outs. He had 80 pitches … a leadoff walk … it just happened quickly."
Although Maeda is the only Dodgers starting pitcher other than Kershaw to pitch more than 6 1/3 innings in a game since May 14, this time he was out after five-plus. Most pitchers are less effective the third time through the batting order, but Maeda takes that to an extreme, with an additional 250 points in OPS.
"I'm speculating that the base-running didn't help," Ellis said of Maeda's sixth inning. "First time we played in humidity, maybe he was drained. There was something different there."
Do opponents change their approach after seeing Maeda a few at-bats?
"Kenta's a guy who mixes and matches well, mixes in his breaking ball," Ellis said. "You do see times guys sitting on the offspeed more. I thought his fastball was a little sharper against Milwaukee [six days earlier], especially in the late innings. We didn't get in any rhythm with the heater."
"I don't feel the hitters change their approach later in the game," Maeda said. "I just didn't execute my gameplan in the sixth inning."
Ken Gurnick has covered the Dodgers since 1989, and for MLB.com since 2001.