Missed Game 2 chances sink Dodgers
LA goes 1-for-9 with RISP, strands 12 as Nats knot NLDS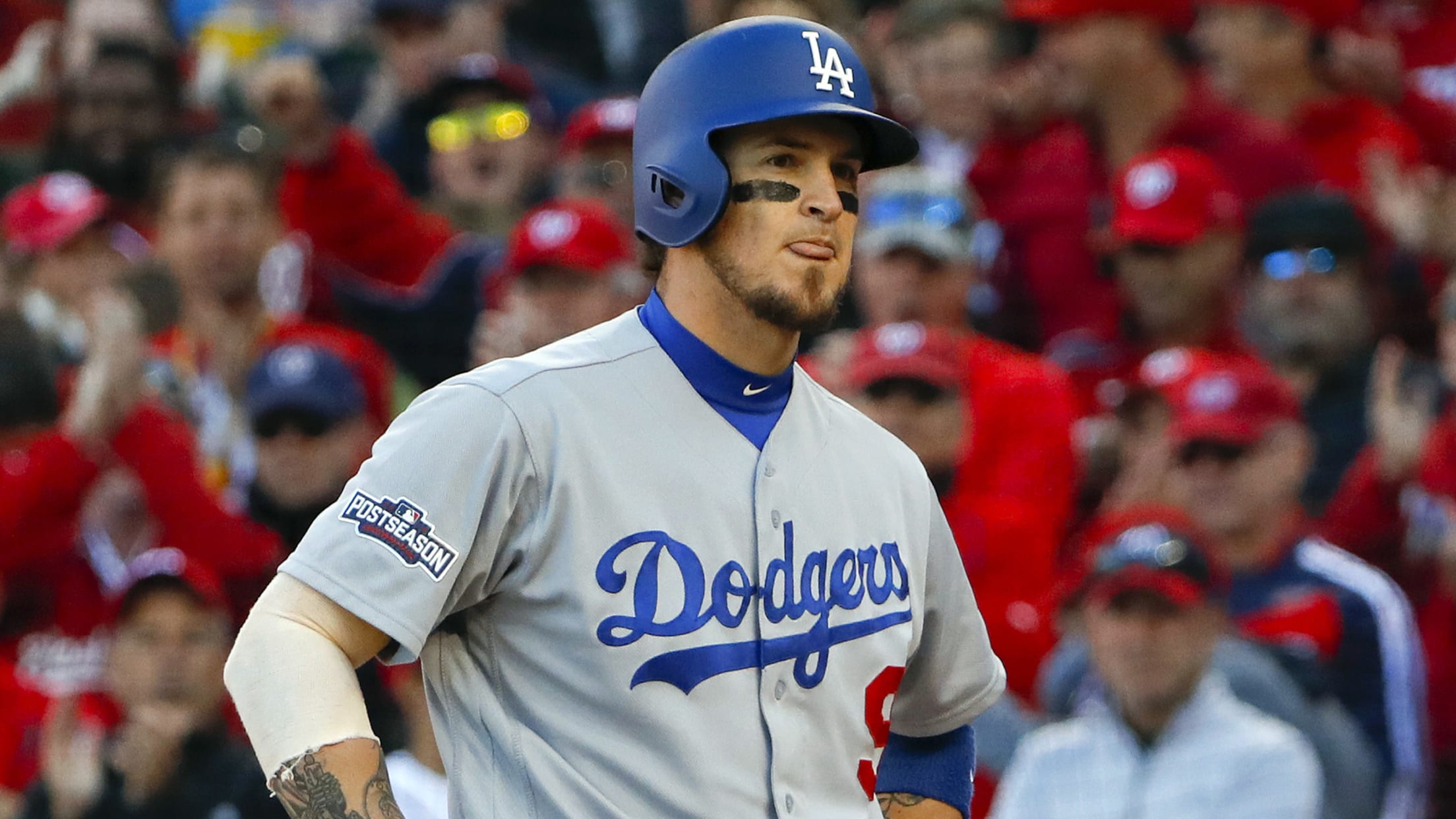 Yasmani Grandal came up twice with the bases loaded, but hit into a double play and struck out. (AP) (Pablo Martinez Monsivais/AP)
WASHINGTON -- Maybe the Dodgers would have won Game 2 of the National League Division Series if it had been played Saturday when the rain stopped instead of being postponed to Sunday, and maybe they would have had a fighting chance against Nationals relievers it had been rescheduled at a
WASHINGTON -- Maybe the Dodgers would have won Game 2 of the National League Division Series if it had been played Saturday when the rain stopped instead of being postponed to Sunday, and maybe they would have had a fighting chance against Nationals relievers it had been rescheduled at a time when shadows weren't darkening the field.
But they also might have won -- instead of losing to the Nationals, 5-2 -- if they hadn't duplicated Washington's Game 1 squandering of scoring opportunities, sending the best-of-five series to Los Angeles for Monday's Game 3 (4 p.m. ET/1 p.m. PT, MLB Network) tied at a game apiece.
• Dodgers postseason gear
"The guys, I'm sure, are eating themselves up," said right fielder Josh Reddick, who had two hits and an RBI. "We've got to put it behind us now, it's over and we've got to improve on it for Game 3."
:: NLDS: Dodgers vs. Nationals coverage ::
The Dodgers scored on Corey Seager's first-inning homer for the second consecutive game, and on Reddick's third-inning RBI single. But they left 12 runners on base, went 1-for-9 with runners in scoring position and were 0-for-5 with the bases loaded.
Catcher Yasmani Grandal had the biggest opportunities. He walked in the second when the Dodgers eventually loaded the bases with one out, but pitcher Rich Hill struck out and Chase Utley grounded out. With one out and the bases loaded in the third, Grandal bounced into a double play. With one out and the bases loaded in the fifth, he struck out. Grandal also took a called third strike in the seventh.
Grandal said the first two games have demonstrated why delivering (or not) with runners in scoring position is "the name of the game."
"They did it in the first game and ended up losing. We do it in the second game and ended up losing," he said of the misfires. "Me, specifically, coming up both times with the bases loaded, I mean, we've got to get a good at-bat. Obviously, striking out is not what we want, grounding out. I missed my pitch and he ended up making his pitch. That usually ends up bad, so, not really trying to do too much, just ball on bat, and it so happens it wasn't our day today."
Most of the opportunities came against Washington starter Tanner Roark, as the Dodgers scratched only one hit (Justin Turner's one-out single in the ninth) off five Nationals relievers over the final 4 2/3 innings.
"We had Roark on the ropes and I think it was through five innings, we left 11 guys on base," said manager Dave Roberts. "It was just that one big hit. We stressed him, and we had an opportunity to really put him away early. Afterward, they get the 'pen in there and then the shadows start creeping and it gets to be a tougher visual. But like I said, I think that we had our opportunities."
Adrián González said the Dodgers will study how the Washington relievers (three of the five were left-handed) attacked hitters. The Dodgers, who face lefty Gio Gonzalez on Monday, are 1-for-14 against the Nationals' three lefty relievers in the two games.
"You can pay a little attention to what pitches they went to and get a better idea what they're going to do if those opportunities come up again," he said. "But there were a couple good swings right at them, sometimes that's baseball. Some of their hits weren't that hard but dropped. Just say they outhit us today with runners in scoring position, their balls fell and we'll go at it again [Monday]. You never know, [Monday] we might score a bunch of runs later in the game. When we get guys out there, we've got to hit it where they're not and get better at-bats."
Roberts said the Dodgers (22-24 in games against left-handed starters this year) will be ready for Gonzalez.
"No one said it was going to be easy. You know, [Kenta Maeda] will be ready to go, and you'll see a couple different guys in the lineup for us," Roberts said. "But I think that, you know, how we fared against left-handed pitching, I don't really think that guys are too concerned about the history. I think that we are looking forward to this one game, Game 3, and we've got some history with Gio. So he's going to have to make pitches to beat us.
"I think we'll have a good plan. I know that we'll have a good plan. I think it comes down to us executing our plan and Gio doing the same thing. If he makes mistakes, we're going to try to put at-bats together, create some stress, and if we do that, then I think we'll be in good shape."