'Ready to play' Dodgers keep NLCS going
The Dodgers threw just about every game-changing weapon they had at the Braves to stave off elimination in Game 5 of the National League Championship Series on Friday night with a 7-3 comeback win at Globe Life Field.
The Dodgers threw just about every game-changing weapon they had at the Braves to stave off elimination in Game 5 of the National League Championship Series on Friday night with a 7-3 comeback win at Globe Life Field.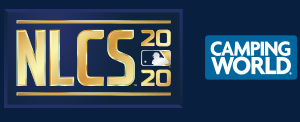 Now, can they do it again? And again?
"We are one game away from elimination; we have to be ready to play, every out is important," said Mookie Betts. "We showed that today and for the rest of the series every out is important, and we have to have the same mindset the next couple of games."
Atlanta leads the series, 3-2, and Walker Buehler starts Game 6 for the Dodgers against Max Fried on Saturday as they continue their bid to beat the odds after losing the first two games and three of the first four.
"They did a great job, and I think just seeing the looseness and guys having fun preparing for the game," manager Dave Roberts said, after his club climbed out of an early two-run hole. "But when the game starts, it gets tense and the guys are focused. But some big hits and Mookie's play, offensively, defensively, obviously some big homers tonight kind of eased some things. But we do a good job of playing every pitch. But the win was huge, obviously."
Entering this postseason, 87 teams had fallen behind 3-1 in any best-of-seven postseason series. Only 43 of those survived by winning Game 5, and 13 of those (30%) proceeded to win the final two games and the series. The Dodgers have now trailed such a series for the 12th time in their history, having lost the previous 11.
Betts' Gold Glove was one of numerous turning points, a running shoestring catch that turned into an inning-ending double play when a review took a run off the board by showing that Marcell Ozuna left third base too soon while tagging up.
"We've had a lot of great plays this year, but if you're talking about momentum shifts, that's the play of the year for me," said Roberts. "I just thought there was no way he was going to make that play. He's kind of the straw that stirs us. You can just see, when Mookie gets on base, our team just follows."
Play of the year? That means even bigger than Will Smith, the Dodgers catcher, slugging a three-run homer off Will Smith, the Braves reliever, in the sixth inning, by working an 0-2 count full and turning a one-run deficit into a 4-2 lead the Dodgers never relinquished?
"That's the big moment; he got the big hit and it was awesome," said Corey Seager, who's been doing awesome things that we'll get to later.
Except, if you ask Betts for the play of the game, he said it was the easily overlooked two-out walk worked by left-handed cleanup batter Max Muncy immediately preceding Smith's homer off Smith.
"The game-changing play today was Muncy getting that walk up there to get Smitty to the plate," said Betts. "Passed the baton, took the walk and passed it to Smitty to do what he does."
Maybe Seager won the momentum game after Braves opener A.J. Minter mowed through the Dodgers over the first three innings, greeting Tyler Matzek to open the fourth inning with the first of his two homers in this game for the first Dodgers run. Or maybe it was his two-run blast in a three-run seventh for insurance.
Seager has set a franchise record for RBIs in a postseason series (10), tied the franchise record with four home runs in a postseason series (Steve Garvey in 1978, Duke Snider in 1952 and '55) and is the third Dodgers player with multiple home runs in an elimination game, joining Adrian Gonzalez (2013) and Shawn Green (2004).
If you're Roberts, none of this would have mattered if the league's best bullpen hadn't cleaned up the final seven innings after rookie starter Dustin May struggled with his command in the postseason pressure cooker and left after two innings trailing by two.
"We've talked about the strength of the bullpen all year and, to a man, they stepped up," said Roberts.
And wouldn't it figure that the final three outs would come with deposed closer Kenley Jansen on the mound, with mechanics improved enough to strike out the side? His mechanics were cleaner, and the velocity ticked up.
"That was one of the highlights for all of us, to see the way he commanded the baseball and attacked and closed the game out." said Roberts
After watching the Dodgers orchestrate such a team victory, it is puzzling how they began the series by losing the first two games, or how 24 hours earlier they followed up a 12-run win with an eight-run loss.
All that matters is that they're still alive.
"It's win or go home. It's simple," said Seager. "It is what it is. We know what's at stake, every game of the series. It's about tomorrow and winning."
Ken Gurnick has covered the Dodgers for MLB.com since 2001.