Healthy Grandal able to stick with hard-hitting approach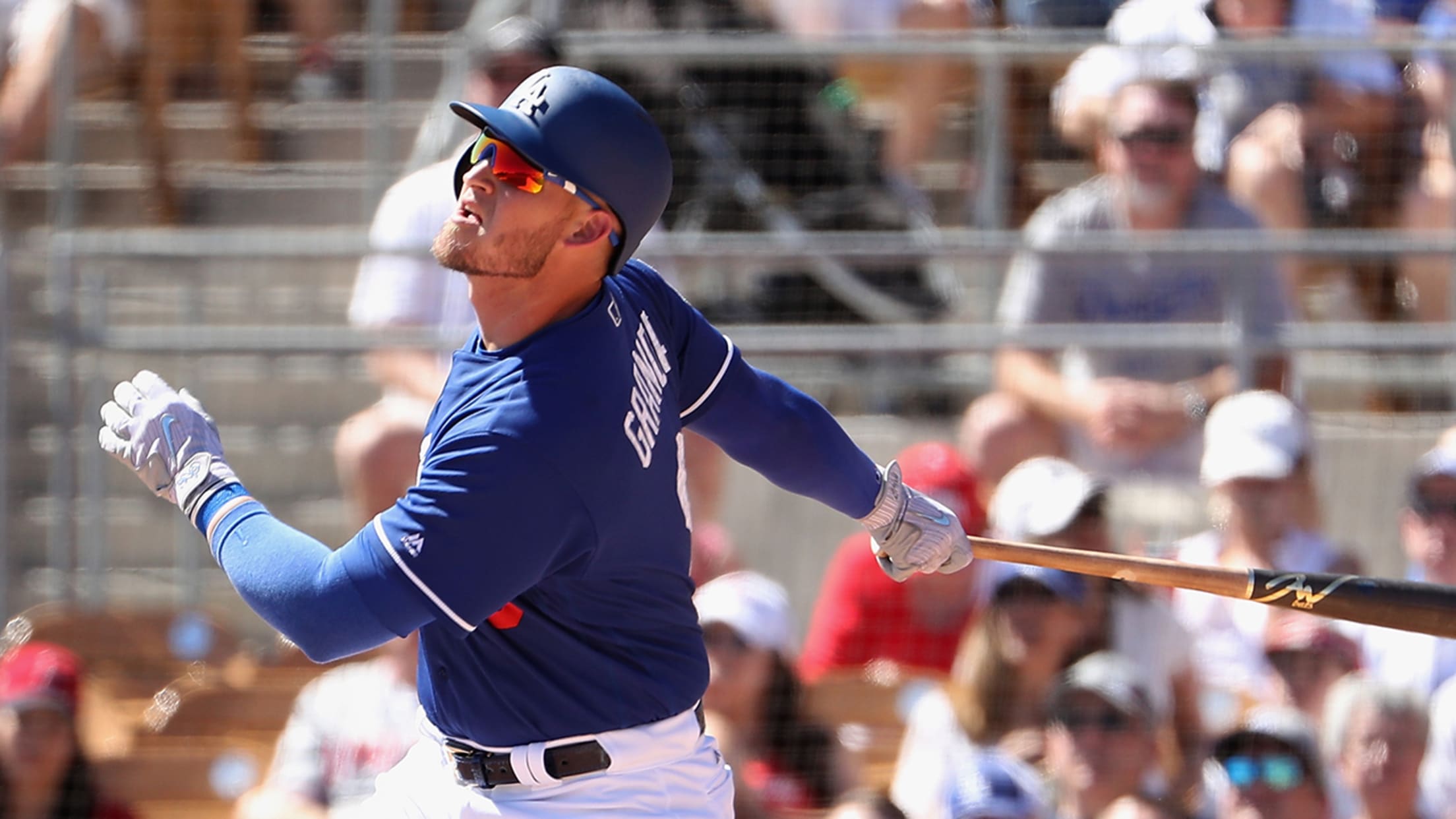 Yasmani Grandal has 67 homers in 457 big league games. (Getty Images) (Christian Petersen/Getty Images)
PHOENIX -- Yasmani Grandal is back at it, hitting those laser home runs like the one that went screaming onto the right-field berm at Camelback Ranch-Glendale in Tuesday's 6-5 win over the Reds.Grandal is coming off a breakout year, his 27 homers topping Major League catchers, with Mike Piazza the
PHOENIX -- Yasmani Grandal is back at it, hitting those laser home runs like the one that went screaming onto the right-field berm at Camelback Ranch-Glendale in Tuesday's 6-5 win over the Reds.
Grandal is coming off a breakout year, his 27 homers topping Major League catchers, with Mike Piazza the only Dodgers catcher to have hit more in a season (four times).
In this age of exit velocities and barrels, the switch-hitting Grandal said he has the same swing since Little League and a simple hitting approach.
"When I'm in the batter's box, I'm trying to hit the ball as hard as I can without swinging as hard as I can," Grandal said. "I'm not trying to lift it. I'm trying to hit a line drive, dead center, as hard as I can and as straight as I can.
"But the swing, it doesn't change from when you're a little kid. I watched [Manny] Machado play in high school, and the difference between him in high school and the big leagues, the swing is the same. He uses different parts of his body better, but the swing's the same. I feel the same with me. I've learned how to use my legs a little different, my arms, I guess I learned myself much better."
Grandal was one of 50 Major Leaguers to add at least 10 home runs from his 2015 total to his '16 total, but he has a simple explanation for that after playing part of '15 with a bad shoulder and part of '16 dealing with the leftover effects of surgery.
"I did not do anything different," Grandal said. "It pretty much was just being healthy, so I was able to keep my approach and be able to hit the ball hard. You're healthier, you can make certain moves and the ball gets up in the air. I think it was mostly getting over the mental part of not knowing how it would feel if I really let it go after being hurt. Taking a swing and maybe, especially with my forearms [irritated in Spring Training], do I really want to extend when I can hit a line drive and it won't hurt as much? Pretty much by mid-May I started to cut loose and was confident I wouldn't get hurt again. But the mechanics, nothing changed."
Grandal said he was schooled on making hard contact while coming up through the Cincinnati farm system.
"They were big on good, hard contact," Grandal said. "Doesn't matter if you get out. I remember the hitting coach having a sheet and saying I had a long at-bat and that was a plus, even if you struck out. Be patient, look at pitches, even a lineout, and it's a plus. Good, hard contact off the bat. That helped me out [to] concentrate on a zone and hitting as hard as I can, throughout an at-bat. That's the whole idea."
Ken Gurnick has covered the Dodgers for MLB.com since 2001.