Mattingly admiring 76ers rebuild from afar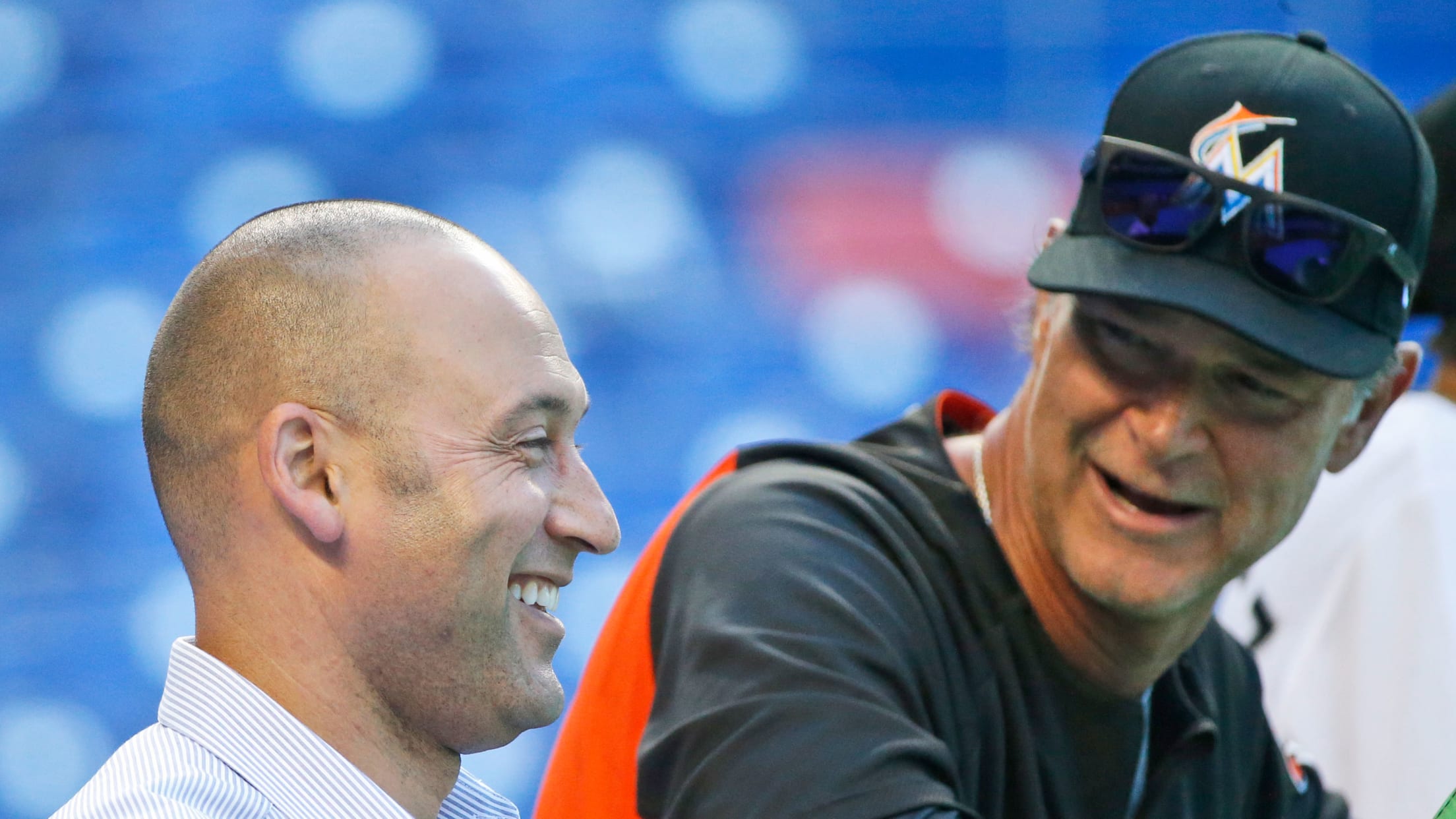 MIAMI -- It was 3 o'clock in the afternoon at Marlins Park and Don Mattingly -- so many of his young players scattered all over the field to do early work with him, getting on-the-job training -- is talking basketball.Mattingly wasn't just a star baseball player at Evansville (Ind.) Reitz
MIAMI -- It was 3 o'clock in the afternoon at Marlins Park and Don Mattingly -- so many of his young players scattered all over the field to do early work with him, getting on-the-job training -- is talking basketball.
Mattingly wasn't just a star baseball player at Evansville (Ind.) Reitz Memorial High. He was a star basketball player, too, because if you were as gifted an athlete as Mattingly was as a kid, it was practically against the law not to play basketball in high school, no matter how sweet your left-handed swing already was on a ballfield.
So on this day, before the Marlins would make it two heartbreak losses in a row to the Mets -- and well before Mattingly would pull his starter, Jarlin Garcia, after six no-hit innings Wednesday -- the Marlins manager was talking about all the losing the Boston Celtics had to get through to get to where they are now. He talked about all the pain the Philadelphia 76ers and their fans endured before they turned into a hot team with a bunch of hot kids nobody wants to play in the early rounds of the NBA's Eastern Conference playoffs -- a team that finished one game ahead of LeBron James in the standings.
"So you followed all that?" I said to him.
"I'm from Indiana, remember?" he said. "And who's coaching the Celtics? Brad Stevens. An Indiana guy. You think I haven't been tracking him?"
But then Mattingly was talking even more passionately about the 76ers, and their fans, the fans who were famously told for years that they had to "trust the process" of rebuilding; who watched their team go through Biblical losing as a way of stockpiling lottery picks in the NBA draft to try to build a real contender in LeBron's conference. Mattingly talked about all that losing in Philly, about all the pain -- and ridicule -- that organization had to go through.
"I really love [Ben] Simmons," Mattingly, the old left-handed guard from Evansville Reitz said of the gifted 6-foot-10 Philly guard. "I watch him when I get the chance, and when I don't get the chance, I just love looking at his stat line. He doesn't always blow you away with [points], but he still manages to get to those triple doubles: 14 points, 12 rebounds, 11 assists, like that. He's not a three-point shooter in a three-point league, but he's a grinder who knows how to play. I love that."
Mattingly goes back out and moves around the field a little more. He talks to his 23-year-old center fielder, Lewis Brinson. He talks to Brian Anderson, his 24-year-old third baseman, who had a ball skip under his glove in the late innings on Tuesday night for a Yoenis Cespedes double that broke a 6-6 tie and plated the two runs to make it 8-6 for the Mets, which is the way it finished.
"[Tuesday night] was a tough one," Mattingly would say a few minutes later. "You know there are going to be days when you get [crushed] the way we did that one game in Philadelphia [a 20-1 loss]. You've just got to accept those. But ones last night, we've got to get ones like that."
He would shake his head and say, "Teams like the Mets are better able to absorb ones like that than we are."
Giancarlo Stanton is gone. Christian Yelich is gone. Dee Gordon is gone. So is Marcell Ozuna. One old Yankees captain, new club CEO Derek Jeter, is now the boss of the one before him with the Yankees, Donnie Baseball. Jeter has stripped everything down, the way they did with those basketball teams, and the way the Astros did before they became the best team in the Majors.
But Mattingly, the Indiana boy, was still talking basketball when he came back off the field.
"The Cavaliers were in Philly when we were there," Mattingly said, "to play the Sixers. We went to the game. I wanted to see Simmons play in person. But I also wanted to see with my own eyes where the Sixers are right now, knowing where they came from."
He talked then, without any sense of irony, about trusting the process Jeter has put in place with the Marlins. He said something on Wednesday afternoon that he had said when I last saw him, at the start of Spring Training, how he honestly believed, after such a long and honorable baseball life as both a player and coach and manager, that he is exactly where he is supposed to be.
"I'm a big believer in that," Mattingly said. "And not just in sports. I believe you end up where you're supposed to end up."
Mattingly is one of the most popular living Yankees. He will take his young team into the new Yankee Stadium next Monday night for a two-game series against the Yankees. Jeter, who comes out of Michigan, calls his long-term vision for the Marlins "Project Wolverine," not "Project Pinstripes." But it requires looking down the road, the way it did for the Astros and the Cubs in big league baseball, the way it did for Brad Stevens when he took the Celtics job after leaving Butler University and the way it did for the "Trust the Process" Sixers. Of course, none of this does anything to help the old Hoosier with the team he's managing right now.
"This is the classroom," Mattingly said in the middle of the afternoon. "Of course things speed up a lot, a little after 7 o'clock."
"We'll get there," Mattingly said, then smiled and made a motion like he was shooting a jumper back in Evansville, and headed back to the field, a long season having just begun and a much longer road ahead of him.
Mike Lupica is a columnist for MLB.com.