Panelists discuss MLB's Duty at Chicago event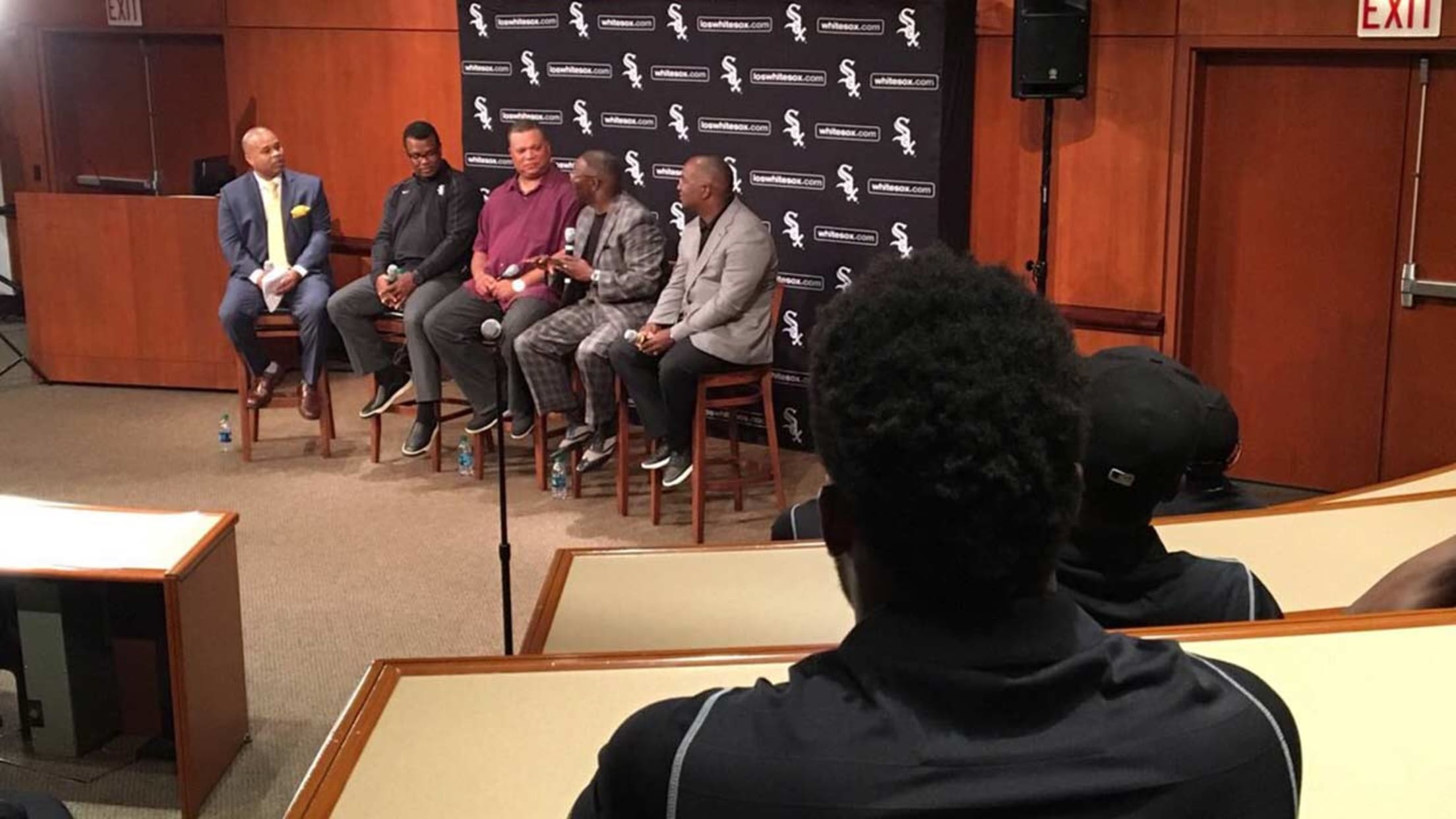 Ken Williams, Todd Steverson, Tony Reagins and Bob Kendrick hosted a panel Thursday. (White Sox)
CHICAGO -- The numbers tell Tony Reagins that the population of baseball players across the United States continues to grow.But making sure that African-American players have a viable way to join those ranks is something that continues to be an issue because of existing economic restraints. Reagins -- the former
CHICAGO -- The numbers tell Tony Reagins that the population of baseball players across the United States continues to grow.
But making sure that African-American players have a viable way to join those ranks is something that continues to be an issue because of existing economic restraints. Reagins -- the former Angels general manager who has served as MLB's senior vice president of youth programs since 2015 -- said Thursday that too many times, young people from African-American communities don't have access to baseball fields and equipment, which prevents them from being able to participate.
Reagins, along with others in the game such as White Sox executive vice president Ken Williams, is working to pave new roads to take the economic piece out of the problem.
"That's a first step to making the game economically attainable," Reagins said Thursday during a panel discussion before the West All-Stars defeated the East, 9-7, in the 10th annual Double Duty Classic at Guaranteed Rate Field.
😃#DoubleDutyClassic pic.twitter.com/rtXJNuZAPX

— Chicago White Sox (@whitesox) July 20, 2017
According to Reagins, 25 million players currently participate in baseball nationwide -- a number that grew by 1 million, or 7.7 percent, between 2015 and '16. Although roughly 20 percent of players selected in the first round of the MLB Draft over the past five years -- including the first two overall picks this year, Royce Lewis (Twins) and Hunter Greene (Reds), are African-American -- Reagins insists more still must be done to promote the game in that community.
In Chicago, the White Sox Amateur City Elite (ACE) program has provided resources to inner-city players since 2007. Williams estimates that the White Sox, who also support several youth baseball organizations around Chicago with their charitable efforts, have dedicated $500,000 for the community baseball initiatives.
Thursday's Double Duty Classic, an annual All-Star Game that celebrates the history and tradition of the Negro Leagues in Chicago, honors the legacy of Ted "Double Duty" Radcliffe, who played for the Chicago American Giants. The game's Most Valuable Player Award is named for former White Sox star Minnie Minoso.
Earlier today, Bob Kendrick explained who Ted Radcliffe was and the meaning behind his nickname. #DoubleDutyClassic pic.twitter.com/5nDlNWwnS3

— Chicago White Sox (@whitesox) July 20, 2017
The White Sox ACE program has helped send more than 150 players to college since its inception, Williams said. The program is an example of a community initiative that Reagins said MLB officials are hoping to replicate with other franchises nationwide. Williams said Thursday that for that to happen, the need to promote baseball to the African-American community needs to become more of a priority if participation is going to increase.
"The investment has to come from somewhere," Williams said. "If you're not investing in your young people, who and what are you investing in?"
Making the game more economically attainable, but also more attractive to African-American youngsters, is also part of the formula. While other professional sports have seen their African-American audiences and participants grow, Reagins said it seems baseball is heading in the opposite direction.
The question then becomes, what needs to change? Again, the economic piece is a factor.
"We see a sport that was once a blue-collar sport," Bob Kendrick, the president of the Negro Baseball Museum in Kansas City, said on Thursday. "You had sandlots all over every urban area in this country. ... Today, it is a country-club sport, and so it has evolved tremendously."
Kendrick -- who was part of Thursday's panel discussion along with Reagins, Williams and White Sox hitting coach Todd Steverson -- said that baseball has to become "cool" again while becoming more affordable.
Reagins pointed to several MLB sponsored programs that are in place to provide financial assistance. But while those initiatives exist, he said baseball officials must do a better job of marketing them to the general public.
In addition, the number of baseball academies that provide free instruction and equipment will grow from seven to nearly a dozen locations within the next 12-18 months. Those academies, along with the community programs such as ACE, are all directed at ensuring that African-American players who wish to participate in baseball are able to.
But Reagins said that is just the first step at "chipping away" at the economic barriers that are currently keeping players from being able to chase their baseball dreams.
"Once they show that interest, it's up to us as an industry to continue to push, push, push, push to make sure there's that opportunity," Reagins said.
Jeff Arnold is a contributor to MLB.com based in Chicago.