Dream Series aims to build young leaders
Event's staff hopes to inspire high school prospects on, off diamond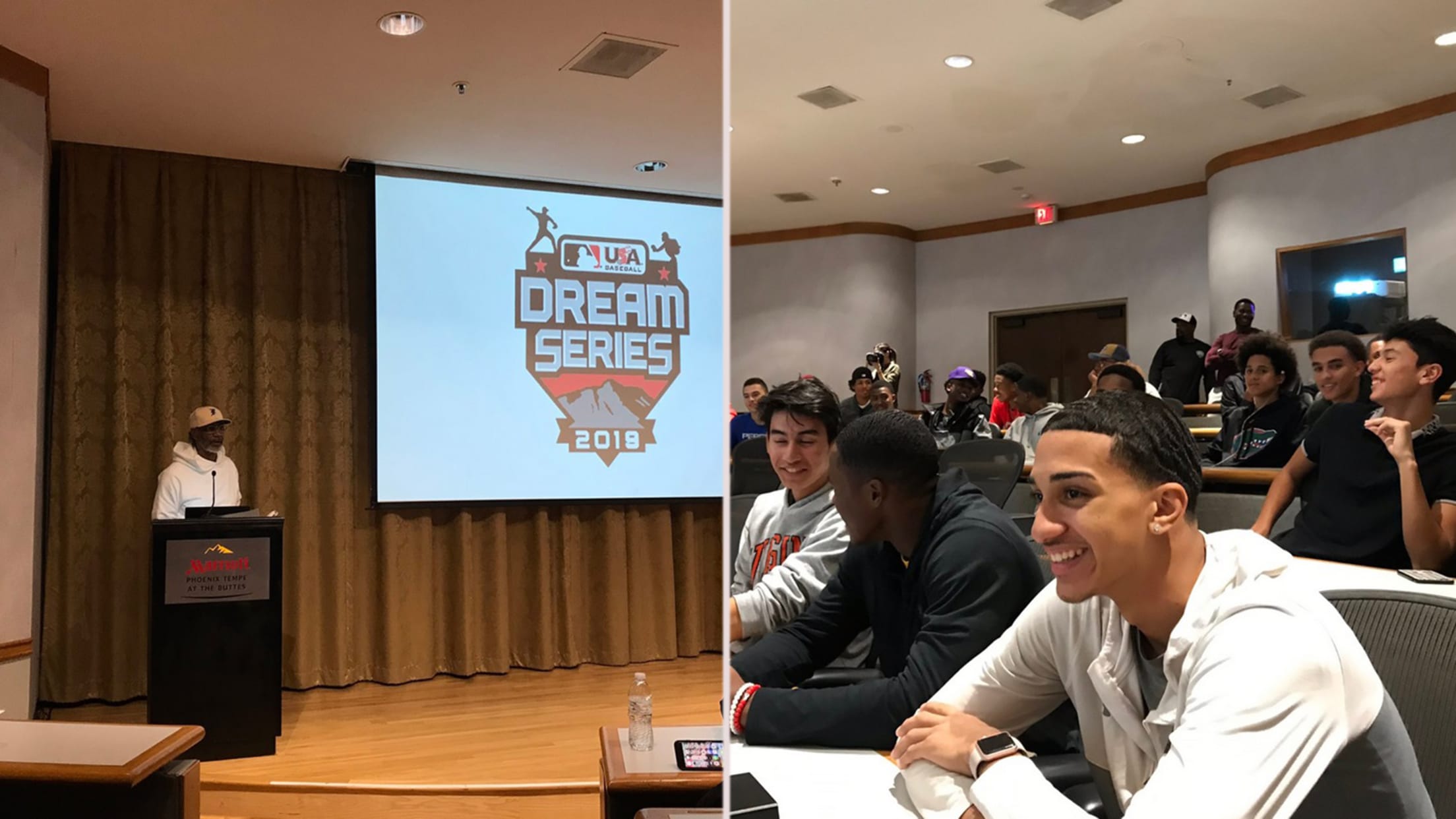 TEMPE, Ariz. -- Former big league manager Jerry Manuel adjusted the bill of his cream-colored hat, dusted off the front of his white hoodie and then glided from his front-row seat in the hotel amphitheater to the podium.He looked up from the microphone to see the 60 participants in this
TEMPE, Ariz. -- Former big league manager Jerry Manuel adjusted the bill of his cream-colored hat, dusted off the front of his white hoodie and then glided from his front-row seat in the hotel amphitheater to the podium.
He looked up from the microphone to see the 60 participants in this year's Dream Series standing, too. Their ovation was boisterous.
"You guys sit down," Manuel said. "I have something to say to you. Cool, cool, cool. OK, listen up."
The young men quickly and quietly took their seats. Baseball school was officially in session.
"We are not building followers here, we are building leaders," Manuel told the teens. "And as leaders, we lead by action, self-discipline and strong character. This is 'Mountaintop' stuff."
The workout portion of the camp officially starts on Friday morning at Tempe Diablo Stadium, the Spring Training home of the Angels, but Manuel, the coaching staff and the support staff set the tone on Thursday night with their words of encouragement. The event, which is designed to develop the athletes for a future in baseball, and diversify the future talent pool, runs in connection with Martin Luther King Jr. Day, and continues through Monday.
"Everybody here is passionate about youth, passionate about the next generation and really cares about impacting the kids by passing on what they learned in the game," said Del Matthews, MLB's senior director for baseball development. "Baseball is a generational game. It's passed down from fathers to sons. And in this case, to be able to bring this group of young men together around the Martin Luther King Jr. holiday, it's just really special."
The coaches joining Manuel at this year's Dream Series include former MLB stars Tom "Flash" Gordon, Charles Johnson, Kenny Hill, Junior Spivey, LaTroy Hawkins, Darren Oliver, Marvin Freeman, Gerald Laird, Lenny Webster, Darrell Miller and Sergio Santos. Former MLB front-office executive and scout Reggie Waller is also serving as an instructor.
The Dream Series, an @MLB & @USABaseball initiative, is a 5-day event culminating on MLK Day. It features HS pitching & catching prospects and is designed to develop the athletes and diversify baseball's future talent pool. More from @JesseSanchezMLB: https://t.co/ZtVlNX3FBm pic.twitter.com/cSad9EtAJV

— MLB Pipeline (@MLBPipeline) January 17, 2019
It's no surprise that every member of the coaching staff has prior experience in Major League Baseball's youth development programs. They are all committed to diversifying the talent in the game.
"Being here is very important to me because I get to be around these kids and give them some hope and it's always good to show support," said Gordon, who also coaches in the Breakthrough Series along with other tournaments and camps through Major League Baseball. "The program that we have here is just phenomenal because these kids actually get to be around people that lived out a dream to be Major Leaguers and a lot of these kids in the room want to do the same thing. They have dreams and aspirations and we are trying to help them with their goals."
Baseball training is the primary reason for the gathering in Arizona, but the Dream Series will also provide the participants information on baseball career opportunities with daily presentations from former Major Leaguers, scouts, college administrators and MLB umpires. Reds pitcher Amir Garrett is will visit on Friday. There are also high-tech assessments through Prospect Development Pipeline (PDP) screenings.
The teens are also learning more about the life and accomplishments of Dr. King.
"They're going to learn a lot of things this week," Matthews said. "Maybe it's a different grip on a pitch, maybe it's something mechanically, maybe it's just a mental note for the pitchers to throw more strikes, being aggressive and attacking the zone. Maybe it's a confidence factor, believing in themselves and knowing they can achieve anything if they're willing to discipline themselves and work extremely hard.
"At the end of the camp, I'm hoping they go back to wherever they're from motivated and ready to start their high school seasons, and willing to leave it all out on the line to display their talents."