Youth Academy players meet with Dusty Baker
Team MLB is 2-2 at National Youth Baseball Championships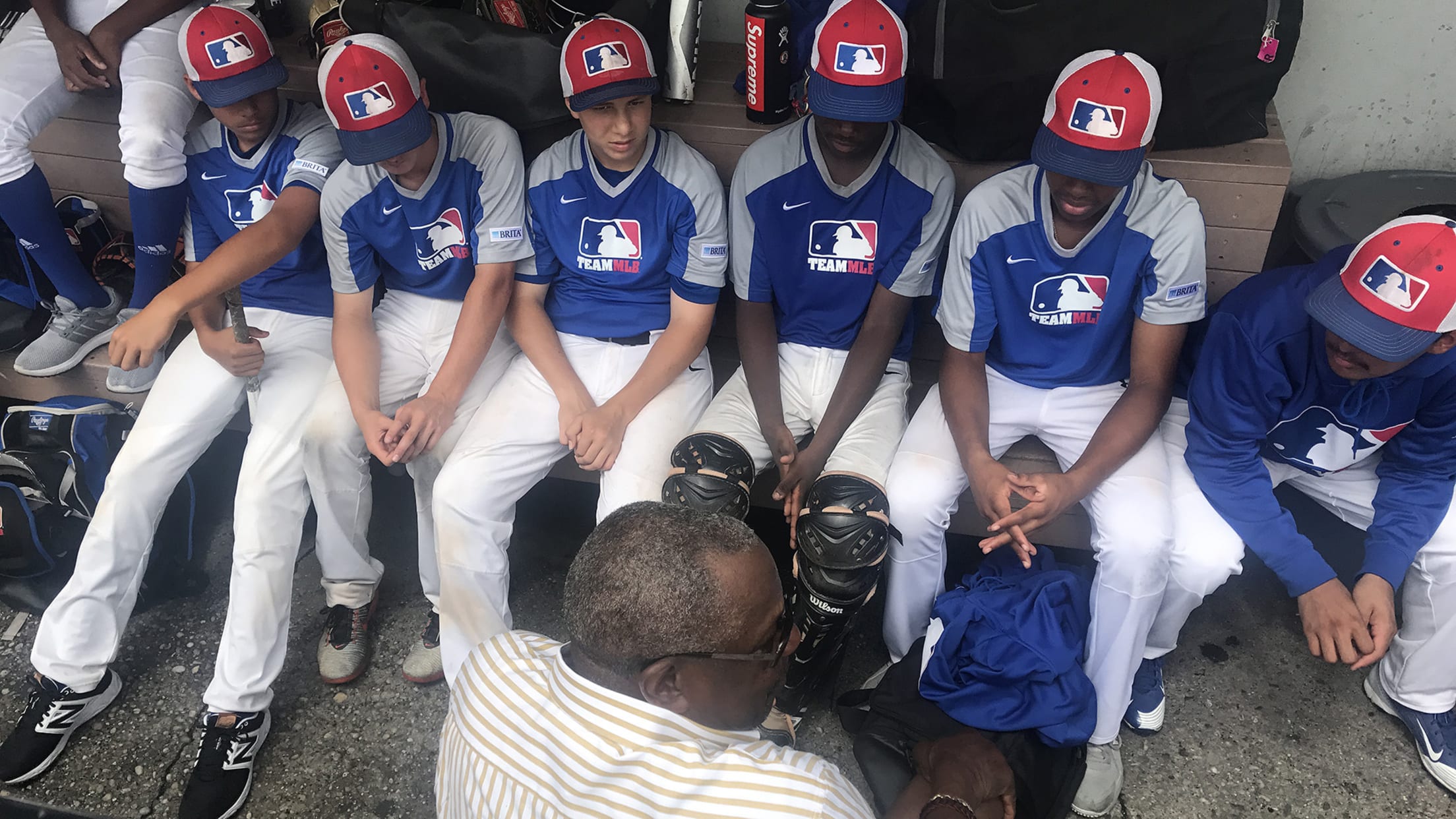 YAPHANK, N.Y. -- Team MLB, a 14-and-under group from Major League Baseball's Urban Youth Academy in Compton, Calif., fell to 2-2 in round-robin play and were eliminated from the National Youth Baseball Championships at Long Island on Thursday..After impressive opening games on Tuesday (an 11-0 win over Dominicana) and Wednesday
YAPHANK, N.Y. -- Team MLB, a 14-and-under group from Major League Baseball's Urban Youth Academy in Compton, Calif., fell to 2-2 in round-robin play and were eliminated from the National Youth Baseball Championships at Long Island on Thursday..
After impressive opening games on Tuesday (an 11-0 win over Dominicana) and Wednesday morning (a 16-3 win over the IPL Caribbean All-Stars), Team MLB dropped a close contest to the Reno Mustangs, 5-4, on Wednesday afternoon.
But Team MLB got off to a slow start Thursday against Bell Ringers National (Pa.), losing, 10-3, in five innings in the morning session at Baseball Heaven.
After the game, Team MLB received a treat when former Major League manager Dusty Baker gave them sage advice about the game of baseball, as well as some words of encouragement. It was Baker who convinced Brita, the water filter company, to sponsor the team, enabling it travel to New York to participate in the tournament.
During his 20 minutes with the team, Baker was direct, telling the players that they needed to be more aggressive at the plate.
"I can look in your face and tell you are passive," Baker said. "Get after it."
If the kids wanted to succeed on and off the field, Baker said, they must eat right and get a good education. Baker also gave them a history lesson about his own career, which included 19 years as a big league player and 22 seasons as a Major League manager, most recently with the Nationals from 2016-17.
"I was doing what I was supposed to do," Baker said of speaking with the kids. "I'm just glad other people stepped up to help. I wish I had billions of dollars to the point I could help everybody. ... But there are people with billions of dollars who can help. I appreciate [Brita], who is helping.
"It's about the kids, not about [the adults]. It's about their aspirations. I told them to play as far as they can play. It's going to help them in school. Their discipline is going to help them get a job. It's going to help them in more ways in their lives than they even realize."
Team MLB manager Joe Terry said he admires Baker because the former big leaguer always takes the time to talk to kids.
"These kids are not in his life every day, yet he gives them knowledge about his game and where he has been in his life," Terry said. "That's what I respect most about him."
Although Team MLB lost, Terry thought the players gave their best on the field. At one point, the team was down, 10-0. But Terry liked how the energy picked up in the fourth inning, when they scored three runs. Logan Groff highlighted the rally with a two-run double.
"Unfortunately, time ran out when the bats started to wake up," Terry said. "We hit the ball hard throughout the game. We just hit it right at people. It was unfortunate today. ... I appreciate the boys so much. Even though the Bell Ringers put up an eight spot on us [in the fourth inning], we came back with three runs. So we didn't get mercy. They ended the game because of time limits. I feel we would have scored more runs if we had received the full seven innings."
Bill Ladson has been a reporter for MLB.com since 2002. He covered the Nationals/Expos from 2002-16. Follow him on Twitter and Facebook.