Dusty thriving in renewed managerial career
Nats skipper fought to convince teams he could still lead a club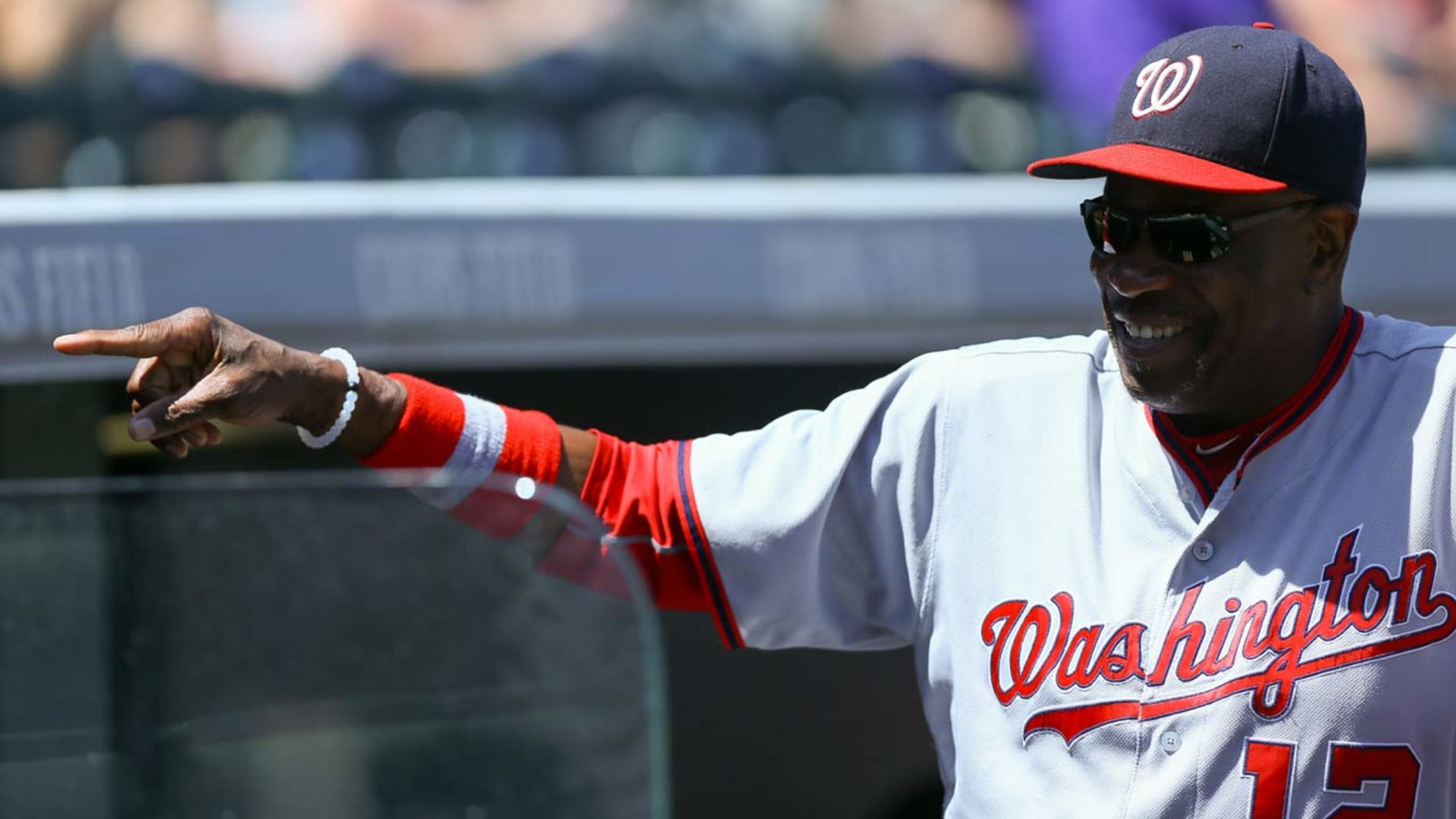 Dusty Baker ranks 17th on the all-time managerial wins list. (Getty)
DENVER -- It was 1 a.m. MT on Wednesday and Nationals manager Dusty Baker was heading to the hotel. The frustrations of a 6-2 loss to the Rockies, which included a two-hour rain delay, had been put aside. He was going to grab a few hours of sleep, but already
DENVER -- It was 1 a.m. MT on Wednesday and Nationals manager Dusty Baker was heading to the hotel. The frustrations of a 6-2 loss to the Rockies, which included a two-hour rain delay, had been put aside. He was going to grab a few hours of sleep, but already his mind was focusing on the series finale vs. Colorado that was going to begin in 12 hours.
Baker was tired. He was frustrated.
But Baker felt great. He is, after all, back in uniform, after an unwanted two-year exile from the game that has been his life, and the team he is managing is sitting atop the National League East, seemingly in control of a postseason spot.
"Perseverance is the key," said Baker. "You've got to persevere."
Baker has. It wasn't easy. Two years ago, he began to feel that his baseball days had come to an end.
Baker had the desire and he had the resume. He just had no options.
He was in his mid-60s, and suddenly the game that had been his life -- as a player, coach or manager -- since he turned 18, had left him on the outside looking in.
After parting ways with the Reds at the end of the 2013 season, Baker made inquiries, but nobody was interested. The Nats were already set to hire Matt Williams, which he knew, but "I put my name in to let people know I wasn't retiring." The Tigers and Padres never called back. The Dodgers, where he spent eight years of his playing career, "said I wasn't their kind of guy."
Baker smiled.
"It's like going back to an old girlfriend," he said. "Once you go back, you stay a couple of nights and see why you left in the first place."
And then there was the Mariners, whose ownership, he was told, had been through a strong-willed manager earlier in Lou Piniella and felt Baker might be too similar.
"I thought it would have been a perfect fit," he said. "I love the northwest. They train in Arizona. I could go fishing every day. That is one of my favorite parts of the country."
Baker was puzzled.
"The one question I kept getting was, 'Dusty are you going to get back in baseball?'" he said. "I didn't get out of baseball. You can't hire yourself. Life goes on."
It wasn't easy. Baker ranks 17th on the all-time managerial wins list, with 1,741 -- second most among active managers. San Francisco's Bruce Bochy is the active leader at 1,768. Baker is one of 15 managers in history to have taken a team to the postseason at least seven times. He, Jim Leyland, Piniella, Bochy and Mike Scioscia are the only ones in that group not in the Hall of Fame.
Everywhere Baker has managed, he has had success. In 10 years with the Giants, he took the team to the postseason three times, and that doesn't include 1993, when the Giants won 103 games, but finished second in the NL West to the Braves, becoming the poster team for the addition of the Wild Card.
The Cubs were in the postseason in the first of Baker's four seasons in Chicago, and the Reds advanced to the postseason in three of his six years.
None of that, however, seemed to matter the past two years.
"I would hear I was too old, but Bobby [Cox], Jimmy [Leyland] and [Tony] La Russa were older than me when they managed," Baker said. "Then I was hearing about my health. I was healthier than I had been. I had that mini-stroke, but after that, I was in better shape."
So Baker enjoyed his daughter's wedding "in my backyard." He watched his son play ball. He built up Baker Family Wines. He started Baker Energy Team.
"You've got to make a living," he said, "especially when you're a minority. You probably don't want to hear this, but you don't go from one job to an adviser. Usually, you just go home."
Baker kept busy. In addition to his business ventures, he was able to spend plenty of time fishing, which is a strong passion. He spent time in Vancouver, bought land in Kauai and explored parts of Montana.
"You don't sit around and cry about things that are out of your control," he said. "It did me a lot of good. I spent time with my Hawaiian brothers and time with the Native American brothers in Montana, the Cheyenne. It gave me a great sense of spirituality."
And then, this past offseason, Baker's chance to manage again opened up. The Nationals had several candidates to replace Williams.
Assistant general manager Bob Miller, who had been with Baker in Cincinnati, told upper management and ownership, "If you want to win, he's the guy. This team is perfect for him."
They listened. They offered Baker the job. He didn't hesitate.
"I wasn't their first choice," Baker said. "I came here at half the salary I was making before, and it's OK. Sometimes I hear my [deceased] dad talking to me, reminding me that you have to do things for the opportunity, and this was a great opportunity."
And Baker got a call from his old teammate and a former Nats manager himself, Davey Johnson.
"He told me, 'Dusty, you've got a good four or five years if you want it,'" said Baker. "I had never wanted to manage until I was 70. … I'm 67 now, so I've got another two, maybe three years."
In that time, Baker would love to win two championships, joining Cito Gaston as the only African-American managers with two World Series titles on their managerial resume.
"He is one of my heroes, who took care of me from the day I signed in pro ball," said Baker. "I remember when I dropped a fly ball one game. All of those people were all over me in Little Rock. I was going to quit. He told me, 'Stick with me, man.' We've been close ever since."
It was a lesson Baker never forgot. It is a lesson that helped him stick with baseball, even when it seemed like baseball wasn't interested.
Tracy Ringolsby is a national columnist for MLB.com.