Dusty concerned by lack of action for Murphy, Roark
Nats skipper had hoped his WBC '17 players would have played more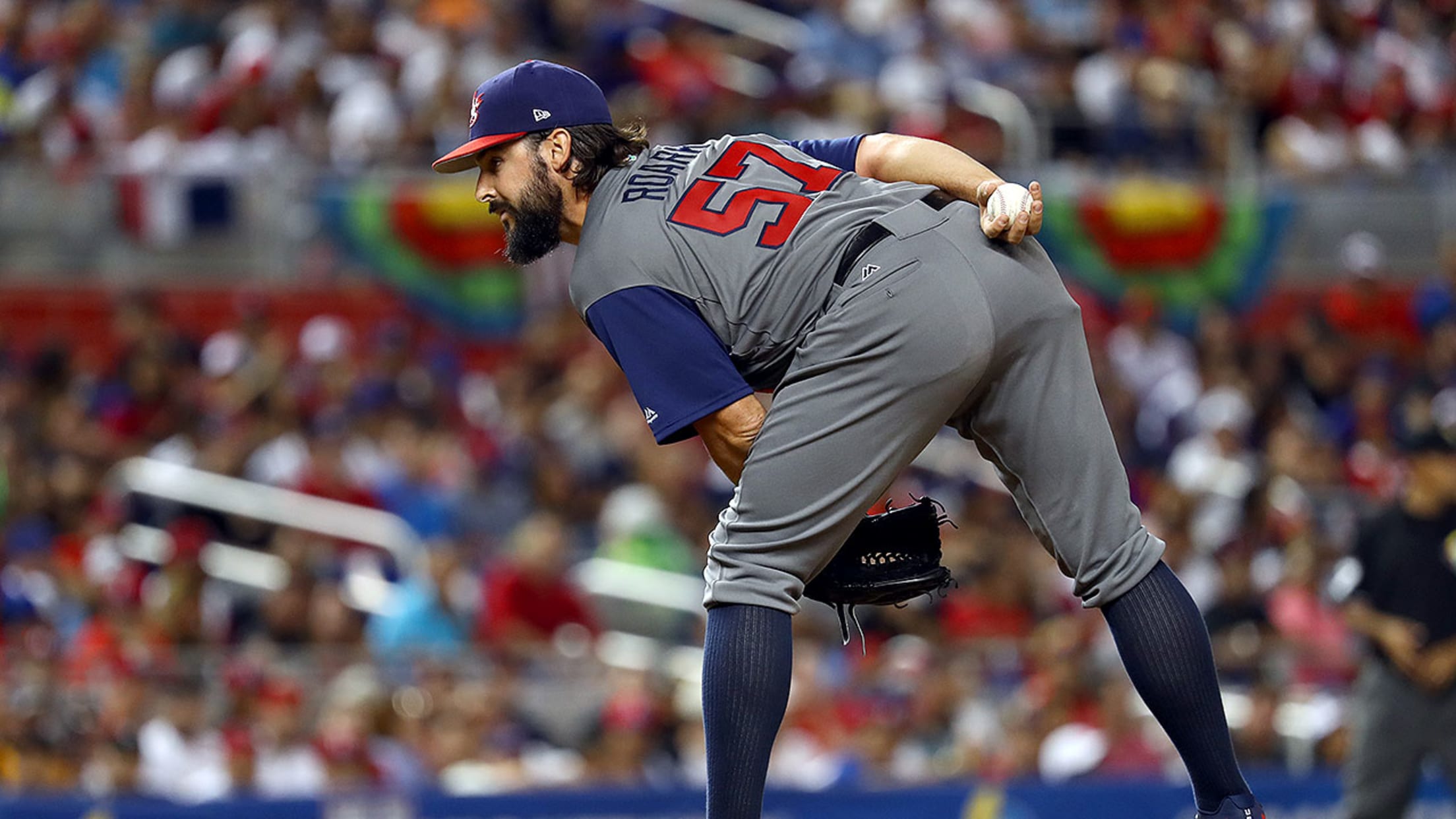 Tanner Roark is slated to pitch Tuesday against Japan in a WBC '17 semifinal. (AP)
JUPITER, Fla. -- Nationals manager Dusty Baker has been a bit frustrated about the lack of playing time two of his stars have received in the World Baseball Classic, and is starting to plan how he will adjust.Right-hander Tanner Roark is scheduled to start for Team USA in Tuesday night's
JUPITER, Fla. -- Nationals manager Dusty Baker has been a bit frustrated about the lack of playing time two of his stars have received in the World Baseball Classic, and is starting to plan how he will adjust.
Right-hander Tanner Roark is scheduled to start for Team USA in Tuesday night's game against Japan at 9 p.m. ET in a semifinal (live on MLB Network and MLB.TV). But Roark has thrown 1 1/3 innings since he left Nationals camp on March 5. Meanwhile, Baker wondered if anybody on Team USA has fewer at-bats than second baseman Daniel Murphy, who finished in second place in the voting for the National League Most Valuable Player Award last season, but has played in just two games and taken six at-bats (0-for-6) in the Classic.
Baker understands Team USA manager Jim Leyland is in a tough situation, but the Nats' skipper is trying to figure out a strategy to get Murphy and Roark ready for the start of the season quickly when they return to camp.
"That's not long enough," Baker said. "That's why I said I'm going to have to revamp my lineup until [Murphy] starts swinging better. He didn't have his stroke together when he left, can't get it sitting, and you can't get it really taking BP. You got to get some live pitching.
"The main thing is you can't force feed the time, because then you're risking injury."
The World Baseball Classic runs through Wednesday. In the U.S., games air live exclusively in English on MLB Network and on an authenticated basis via MLBNetwork.com/watch, while ESPN Deportes and WatchESPN provide the exclusive Spanish-language coverage. MLB.TV Premium subscribers in the U.S. have access to watch every tournament game live on any of the streaming service's 400-plus supported devices. The tournament is being distributed internationally across all forms of television, internet, mobile and radio in territories excluding the U.S., Puerto Rico and Japan. Get tickets for the Championship Round at Dodger Stadium, while complete coverage -- including schedules, video, stats and gear -- is available at WorldBaseballClassic.com.