The ideal Game 1 starter in each club's rotation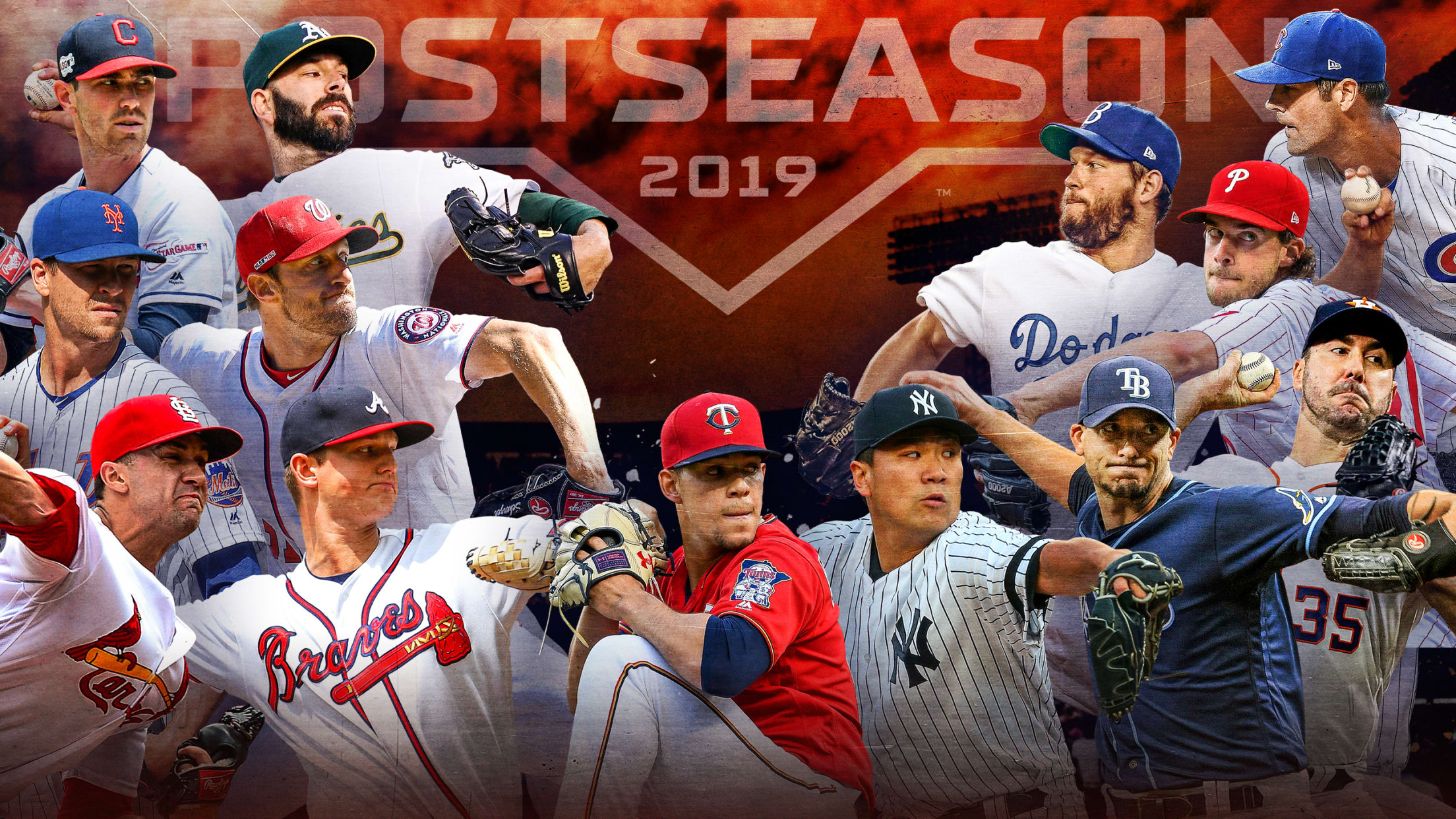 It's rare that one pitcher can carry a team to a World Series title seemingly by himself, but when it happens, it's so memorable that it makes you think it happens all the time. Madison Bumgarner in 2014, Randy Johnson (and Curt Schilling) in 2001, Bret Saberhagen in 1985 (in
It's rare that one pitcher can carry a team to a World Series title seemingly by himself, but when it happens, it's so memorable that it makes you think it happens all the time. Madison Bumgarner in 2014, Randy Johnson (and Curt Schilling) in 2001, Bret Saberhagen in 1985 (in the World Series anyway) … this is not how the postseason works. But it sure can seem that way.
No matter what, every team wants to line up their postseason rotation so they can have their best starter ready to set the tone from the get-go. Remember, even when the A's used the opener strategy during last year's Wild Card Game, they only did so because Sean Manaea, their best starter, had shoulder surgery that September. They would much rather have gone with their ace.
So, with a month left in the season, we take a look at the ideal Game 1 (or Wild Card) starter for each team remaining in the playoff race. It might not line up perfectly for this particular pitcher to go for them in their first game. But this is who they would love to see.
American League
A's: Mike Fiers. The opener could be another option this year -- last year's opener Liam Hendriks is having a terrific season -- but Fiers has been consistent from the beginning and has been particularly effective in the second half.
Astros: Justin Verlander. Obviously, this is a team with many options, but the guy who might be winning his second Cy Young Award this year would seem like a rather reliable bet.
Indians: Shane Bieber. They'll have a better idea of what Corey Kluber and Carlos Carrasco can give them in a few months, but for now, Bieber is probably their best option -- though Mike Clevinger isn't far behind. The Indians have quite the one-two punch for a team whose supposed best two starters are on the shelf.
Rays: Charlie Morton. The team that pioneered the opener strategy will rely almost entirely on Morton in a theoretical Wild Card Game, and may count on him to be their workhorse as far as they can go in October.
Red Sox: Eduardo Rodriguez. It's unlikely the Red Sox are going to sneak into the postseason, but if they do, their only stable starter all year is their only option here. Rodriguez is only 26 years old and has a non-zero chance at winning 20 games.
Twins: José Berríos. Berrios actually gave up three runs in three innings of relief in the Twins' last postseason game -- that Wild Card loss to the Yankees. But more will be expected of him this time around.
Yankees: Masahiro Tanaka. He'd likely get the job by default, though the Yankees would love to see James Paxton make a strong push for this spot. But there's no other team that would be better served by trying out the opener this postseason than the Yankees … and here's betting they will try it at least once.
National League
Braves: Mike Soroka. Remember when we were all worried about the Braves' pitching? They've been fantastic for a fortnight now. Dallas Keuchel is a possibility if the Braves value experience over talent, but Soroka has been so incredible it would almost seem like malpractice if they don't give him the start.
Brewers: Zach Davies. There's no right answer here for the Brewers, and their bullpen issues make the opener idea less ideal than it might have been last year. The good news is that if they somehow make the playoffs, it will be because someone in this rotation will have stepped up to make the answer here clear.
Cardinals: Jack Flaherty. Flaherty has become one of the best pitchers in baseball over the last month. In eight starts since the All-Star break, he has given up only four runs. The way he's going right now, he's the closest we have to someone on a Bumgarner-type run.
Cubs: Cole Hamels. Kyle Hendricks has been the Cubs' best starter this year, and Jon Lester obviously has the postseason experience, but Hamels would seem to have the ideal combination of experience and efficiency.
D-backs: Robbie Ray. He's back from injury and looking good, and it's not like they can send Zack Greinke out there anymore.
Dodgers: Clayton Kershaw. Even with the year Hyun-Jin Ryu is having, Kershaw -- particularly with how outstanding his second half has been -- has to be the choice for the Dodgers.
Giants: Madison Bumgarner. If they have one last run left in them and can somehow sneak into the Wild Card Game, it would be completely insane to pitch anyone else.
Mets: Jacob deGrom. It has been four years since deGrom's last postseason appearance, when the Royals knocked him around pretty well in their win in Game 2 of the World Series. That seems much longer than four years ago.
Nationals: Max Scherzer. If he's healthy, he's basically the perfect Wild Card starter. Who wants to face this guy in a do-or-die game?
Phillies: Aaron Nola. The career-long Phillie has never pitched in a postseason game before, and while he's not having quite the season he did last year, he's certainly not the reason the Phillies are on the outside of the postseason looking in right now.