The next Hall of Famer for all 30 teams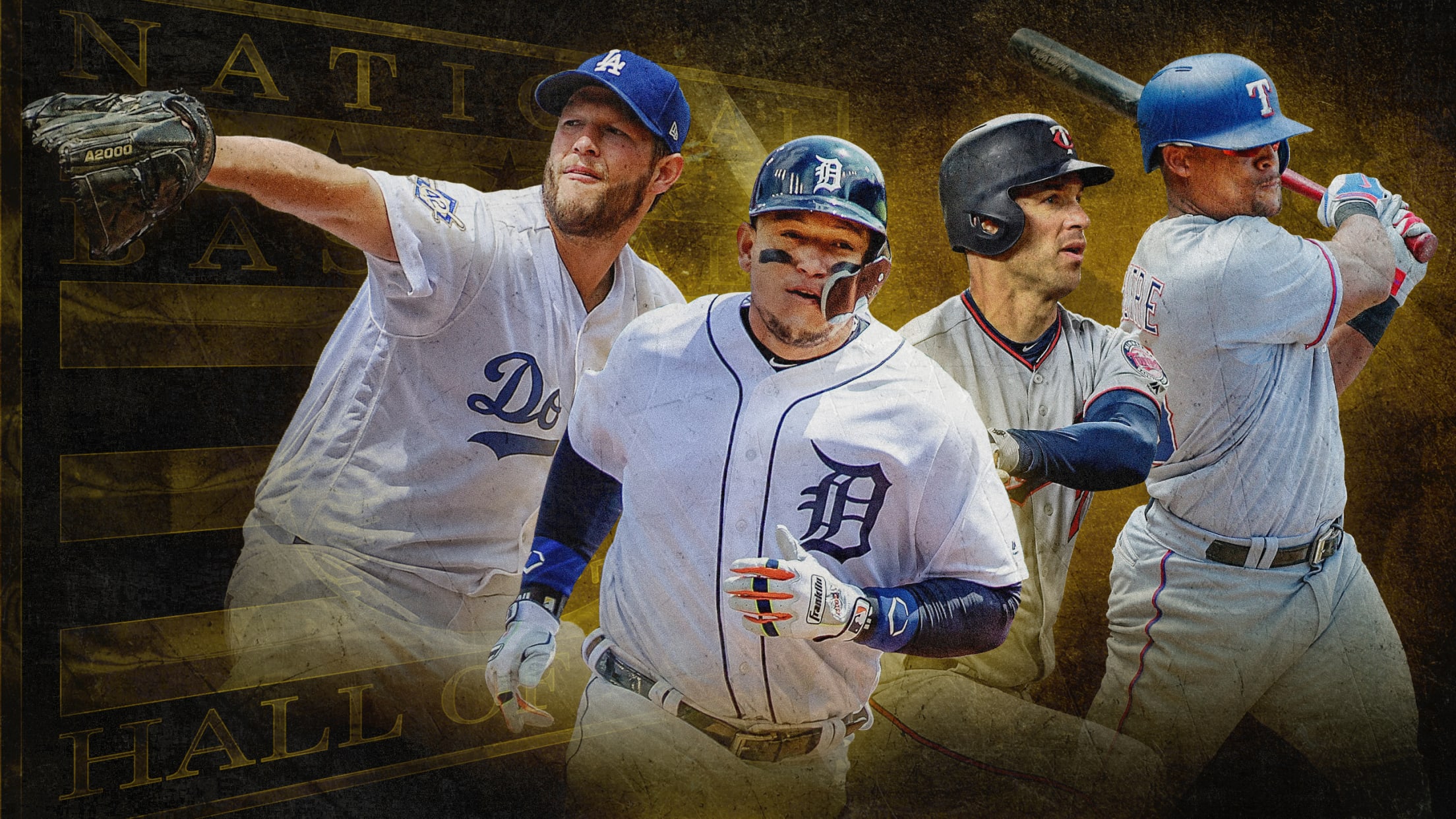 The Marlins don't have any Hall of Famers yet, nor the Rays, the Rockies or the Nationals. But someday, they will. Someday, someone is going to wear their hat into the Hall of Fame. Every team in baseball is going to have another Hall of Famer someday. So after Mariano
The Marlins don't have any Hall of Famers yet, nor the Rays, the Rockies or the Nationals. But someday, they will. Someday, someone is going to wear their hat into the Hall of Fame. Every team in baseball is going to have another Hall of Famer someday.
So after Mariano Rivera, Roy Halladay, Mike Mussina and Edgar Martinez were elected into the Hall of Fame in January, we're going to try to guess the next Hall of Famer to wear each team's hat on his plaque. Some of these will be obvious, some of them will be stretches, and some of them will be absolute Hail Marys. But eventually, everyone will get another one. Here are our stabs at who they will be.
• Complete Hall of Fame coverage
AMERICAN LEAGUE EAST
Blue Jays: Vladimir Guerrero Jr., 3B
Since we are assuming Halladay is getting in, it's safe to assume that Toronto's next Hall of Famer has not even played in a Major League game yet. It might not be Guerrero. But it's almost definitely someone you haven't seen yet.
Orioles: Manny Machado, SS
All right, so bear with me here. Machado signed his big deal with the Padres, but he has an opt-out after five years. Let's say he spends the next, say, 12 years playing for multiple teams. It's certainly possible. Let's say that over those 12 years, he turns into a hitter just a level down from, oh, Carlos Beltran, another player who was nomadic but excellent throughout the back quarter of his career. At that point, adding into the HOF positional scarcity he gains as an infielder, Machado both, a) has Hall of Fame-quality numbers, and b) played for no team longer than the seven years he played for the Orioles. Wouldn't he have to go in the Hall as an Oriole then? That's my best guess, because if it's not him ... it's possible the next Oriole in the Hall hasn't been born yet.
Rays: Evan Longoria, 3B
To be honest: We don't think Longoria is going to get in, and we're not sure he should. But he's not that far off the JAWS average at the position, and he's got a few years left to compile some stats. (It would help if Scott Rolen could get in.) But find us a more likely Ray. The answer here is probably "person whose name we don't know yet."
Red Sox: Roger Clemens, RHP
He and Barry Bonds are getting closer and closer -- both their vote totals to 75 percent, and them to their final year on the ballot in 2022. The guess here is that there's a surge in that last year and Clemens gets in. If it's not him, though, it'll obviously be David Ortiz.
Yankees: Derek Jeter, SS
He hits the ballot next year. Will he surpass Rivera's vote total?
AL CENTRAL
Indians: Francisco Lindor
There was a little bit of a temptation here to say "Kenny Lofton," with the idea that he was unappreciated in his time and could get Harold Baines'd in, but the Tribe member who looks most likely to be in the Hall someday still seems like Lindor.
Royals: Salvador Perez, C
Here's a guy who will be watching Yadier Molina's eventual vote totals very closely. It would help if he wins another World Series someday.
Tigers: Miguel Cabrera, 1B
It's him or Justin Verlander, and it kind of depends who retires first.
Twins: Joe Mauer, C
The case for him is stronger than it might have seemed while he was active. He'll be quite the debate in five years.
White Sox: Chris Sale, LHP
He'll need some amazing years over the next half-decade -- maybe finally winning one of those Cy Youngs would help -- but he's unlikely to pitch in any one place longer than his seven years in Chicago.
AL WEST
Angels: Mike Trout, CF
The only danger is if he ends up playing somewhere else and puts up another 10 historic seasons. One should not put it past him.
Astros: Jose Altuve, 2B
Assuming there isn't a sudden surge in voting for Lance Berkman, Altuve will sail in when he finally retires … which, considering he's 28 now, could be in another 15 years.
Athletics: Matt Chapman, 3B
Chapman had an 8.2 bWAR last year at the age of 25. Keep that up -- we make it sound so easy -- and he could be our next Adrian Beltre.
Mariners: Ichiro Suzuki, RF
Of course, this will require him officially retiring at some point.
Rangers: Adrian Beltre, 3B
It's still strange and sad that we're going to have a baseball season without him in 2019.
NATIONAL LEAGUE EAST
Braves: Dale Murphy, CF
Murphy is perhaps the most beloved non-Hall of Famer on earth (now that Mariano is about to be in); if the Veterans' Committee is opening the doors for Harold Baines, it has to open them for Dale, too.
Marlins: Giancarlo Stanton, OF
This comes down to whether or not you think he will get to 500 homers (he's at 305) and spend seven or more seasons in the Bronx.
Mets: Carlos Beltran, CF
He played as many seasons in Kansas City as he did in New York, but his numbers were better in Queens across the board.
Nationals: Max Scherzer, RHP
Bryce Harper is no longer a National, but Scherzer will retire first anyway … and could benefit from what's going to be a changing standard for starting pitchers.
Phillies: Curt Schilling, RHP
Even with his off-the-field controversies, based on growing vote totals, it appears he'll eventually get in.
NL CENTRAL
Brewers: Ryan Braun
It's a long shot -- and the PED suspension isn't going to help -- but his case is a little better than many think it is.
Cardinals: Albert Pujols, 1B
The healing process will begin this June, when Albert plays at Busch Stadium for the first time since he left town. Services contracts aside, it'll be the STL on his plaque.
Cubs: Kris Bryant, 3B
If Clemens and Bonds get in, there could be a "how do you tell the story of baseball without Sammy Sosa?" Veterans Committee pick of Sosa. If not, Bryant is the pick -- that is, unless Anthony Rizzo has a late-career surge that takes his baseball card stats to a new level.
Pirates: Andrew McCutchen, OF
Beyond the Box Score gave him a 40 percent chance before last season, which is maybe a little high. One wonders if he would receive more support someday if he had played his whole career in Pittsburgh.
Reds: Joey Votto*, 1B *
Is Votto already a HOF lock? It's perhaps a lot closer of a discussion than you might think.
WEST
D-backs: Paul Goldschmidt, 1B
The late start to his career put him behind from the beginning, but another eight years even close to his first eight years would be quite the compelling case. And D-backs fans can take solace knowing he'd go in wearing their hat.
Dodgers: Clayton Kershaw, LHP
The only question is whether it will say "World Series Champion" on his plaque.
Giants: Bonds, OF
In the same boat as Clemens, with 2022 as the last-chance year. Talk radio in 2022 is going to be difficult to listen to, one suspects.
Padres: Fernando Tatis Jr., SS
Like the Jays and Vlad Jr., there is not a more obvious suggestion.
Rockies: Larry Walker, RF
He's headed for a huge uptick in votes this year; it really looks like it's going to happen.
Will Leitch is a columnist for MLB.com.