Volquez enjoys pie from buddy Adam Jones 
Odor working on approach; Triple Play Game Show Spectacular set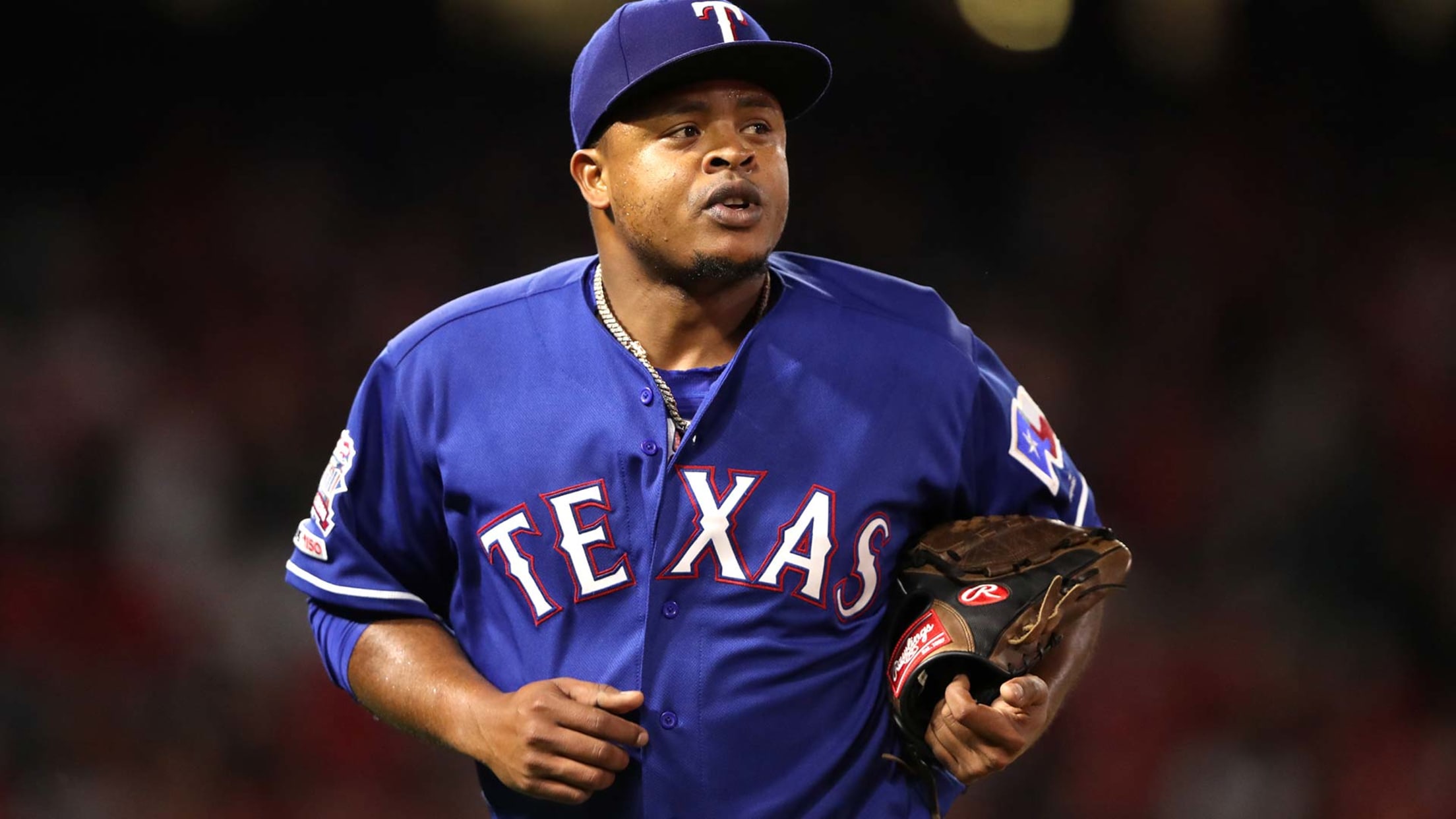 PHOENIX -- Edinson Vólquez was feeling good Wednesday afternoon, but that's not unusual. He's always feeling good. The source of his happiness this time was a sore right elbow that's starting to feel better, and a delicious bowl of pie sent to the Rangers clubhouse by D-backs center field Adam
PHOENIX -- Edinson Vólquez was feeling good Wednesday afternoon, but that's not unusual.
He's always feeling good. The source of his happiness this time was a sore right elbow that's starting to feel better, and a delicious bowl of pie sent to the Rangers clubhouse by D-backs center field Adam Jones.
"Adam is an old, old friend," said Volquez, who will be 36 in July. "He posted a picture. I sent him a message that I wanted some and here we are. He's a good guy, that's my friend. I know a lot of good guys in this game."
Oh guess what they're here. Thanks @tammiecoecakes pic.twitter.com/dWRd9I9LVa

— 10 (@SimplyAJ10) April 10, 2019
Volquez, who is on the 10-day injured list with a sprained right elbow, will be examined later this week in Texas. He has been open about his desire to retire if he requires his third Tommy John surgery, but remains hopeful his injury will require rest -- possibly five or six weeks, and that his career is not over.
The Rangers, who are actively seeking starting pitching depth, could use Volquez back in the rotation sometime this summer. He's not the pitcher he once was, but he still competes and is a positive influence on the younger pitchers.
"Hopefully, the inflammation from his forearm will go down and we can see what's what," Rangers manager Chris Woodward said. "We'll have a better understanding of how long he will be out. He said he feels good and wants to throw right now."
Volquez joked he could pitch an inning Wednesday night if his team needed him. He told reporters Tuesday that he had thrown a bullpen earlier that day. He was kidding.
"I love these guys," he said. "They are the ones that are going to miss me if I'm gone. I'm the crazy one."
Odor adjusts
The Rangers have been working with Rougned Odor on hitting the ball towards the middle of the field and focusing less on hitting to the opposite-field gap.
"His contact point is a little deep so that's why he's working so heavy opposite field, and it's a good time for him to start thinking middle of the field and release that barrel in the pull gap, especially on fastballs," said Woodward. "He's in a good place to push his contact point out a little more. It's much easier to do that than the other way around."
The majority of Odor's batted balls (88.4 percent) this season have been pulled or hit straightaway, which is ninth-highest among 165 hitters with a minimum of 25 batted balls. Last season, 81.7 percent of his batted balls were pulled or hit straightaway.
The second baseman is 1-for-10 since a double last Friday against the Angels and has two hits in his last 24 at-bats. He has still reached base safely in eight of 11 games this season.
"It's such a small adjustment that it's an easier adjustment, and his at-bat quality has been tremendous," Woodward said. "Even though he has not had the results, he hasn't given in to it. He's still committed to it. He still sets the tone for our offense in a lot of ways even though he hasn't had a lot of success."
Triple Play set
The 2019 Park Place Dealerships Texas Rangers Triple Play Game Show Spectacular is scheduled for May 5 at the Hilton Anatole in Dallas.
The "Escape to Margaritaville" themed event will feature live and silent auctions along with Rangers players competing against each other in a pair of game shows. Emily Jones and John Rhadigan of FOX Sports Southwest will serve as the masters of ceremonies.
To reserve tables or individual tickets, contact the Foundation at (817) 273-5275 or go to TexasRangers.com/tripleplay.