Nunez remains in bench role following injury
Infielder, 0-for-2 in NLDS, sustained right hamstring strain on Sept. 25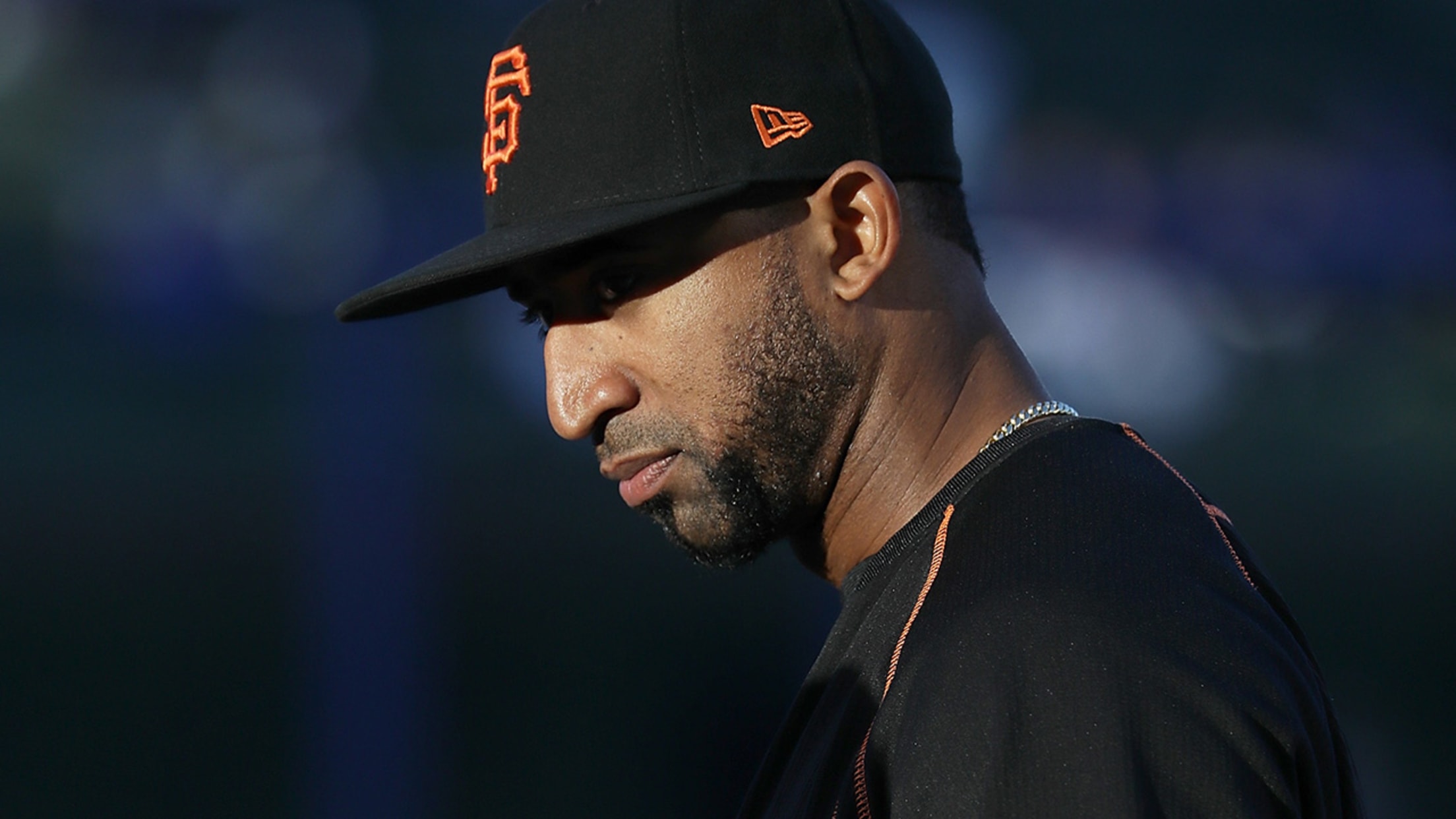 Eduardo Nunez (right hamstring strain) hasn't started since getting hurt on Sept. 25. (Getty Images) (Jonathan Daniel/Getty Images)
SAN FRANCISCO -- When the Giants acquired Eduardo Núñez before the non-waiver Trade Deadline, general manager Bobby Evans said the 2016 All-Star would provide the club with some much-needed depth and versatility in the infield.But at the most critical time of San Francisco's season, the versatility, speed and experience Evans
SAN FRANCISCO -- When the Giants acquired Eduardo Núñez before the non-waiver Trade Deadline, general manager Bobby Evans said the 2016 All-Star would provide the club with some much-needed depth and versatility in the infield.
But at the most critical time of San Francisco's season, the versatility, speed and experience Evans discussed on July 28 haven't been utilized. Nunez pulled up lame after sliding into second base in San Diego on Sept. 25, and he hasn't started a game because of a right hamstring strain since.
Instead, Conor Gillaspie has filled the role as the everyday third baseman. And he has proved to be more than serviceable over the past two weeks, hitting .500 in his last five games of the regular season and knocking the go-ahead home run in the National League Wild Card Game. Even if Nunez was fully healthy, the veteran infielder wouldn't necessarily be plugged into the starting lineup for Game 3 of the NL Division Series on Monday at AT&T Park (9:30 p.m. ET/6:30 p.m. PT, FS1).
:: NLDS: Giants vs. Cubs coverage ::
"As a manager, you don't want to -- in a game that you know you need to go out there and win -- start to mix it up too much where they're going, 'Oh jeez, there's a little panic in the skipper here,'" Giants manager Bruce Bochy said on Sunday.
Bochy doesn't plan on making any extreme changes when the club faces right-hander Jake Arrieta. But that also means the Giants' lineup will continue to include Nunez as an option off the bench.
Nunez progressed enough to appear as a pinch-hitter in the first two games of the series, going 0-for-2 with a groundout and a lineout.
"He'll probably have the same role tomorrow," Bochy said. "My guess is if this continues on, that he could be ready in a couple days. He's making a lot of progress."
Bochy seemed especially encouraged by Nunez's outlook based on his first plate appearance since being sidelined. Nunez faced Aroldis Chapman in the ninth inning of Game 1 and worked a full count before grounding out to second.
"That's pretty good stuff you're seeing when you haven't hit for a week or so," Bochy said. "So, there's a possibility he could start in a couple days."
Now, it's just a matter of whether the Giants will be playing then.
Worth noting
• It's easy to understand why the Giants have created little offense against the Cubs this series. The club is not getting production from the heart of its order. The 2 through 5 hitters have managed just seven hits and one RBI in the first two games.
"Usually, those are the guys that are doing most of the damage," Bochy said. "When you're in the postseason, you're seeing really good pitching, so the numbers are down a little bit offensively. They're going to be with the guys you're facing."
But Bochy on Sunday seemed just as concerned about the production from his cleanup hitter and his No. 8 batter.
"It seems like it's always somebody else that surprises you," Bochy said. "[The Cubs] got a big home run from [Javier] Baez. Not that he's not a good hitter, but he's not hitting in the heart of the order. Conor hits a three-run homer for us. We need everybody throughout our lineup. We need all of them doing their thing, moving the line or doing something to help score a run."
• The Giants expect to receive a jolt of energy from the partisan crowd at AT&T Park on Monday night when they play their first home game of the postseason.
Giants players keenly recall the fans' enthusiasm that buoyed them as they recorded a three-game sweep of the Los Angeles Dodgers to end the regular season and qualify for the NL's second Wild Card spot.
"Especially with how well we played against the Dodgers at home, with the orange towels waving," second baseman Joe Panik said. "I'm telling you, you play October baseball at AT&T, it's a different feel. Having our fans behind us always helps."
"I think the fans are excited for it," left-hander Javier López said. "You saw a playoff atmosphere [against the Dodgers] and guys feed off that. Obviously, our starters have been throwing the ball great and they feed off the energy of the crowd."