Rodriguez progressing, throws batting practice
Lefty on disabled list with sprained right ankle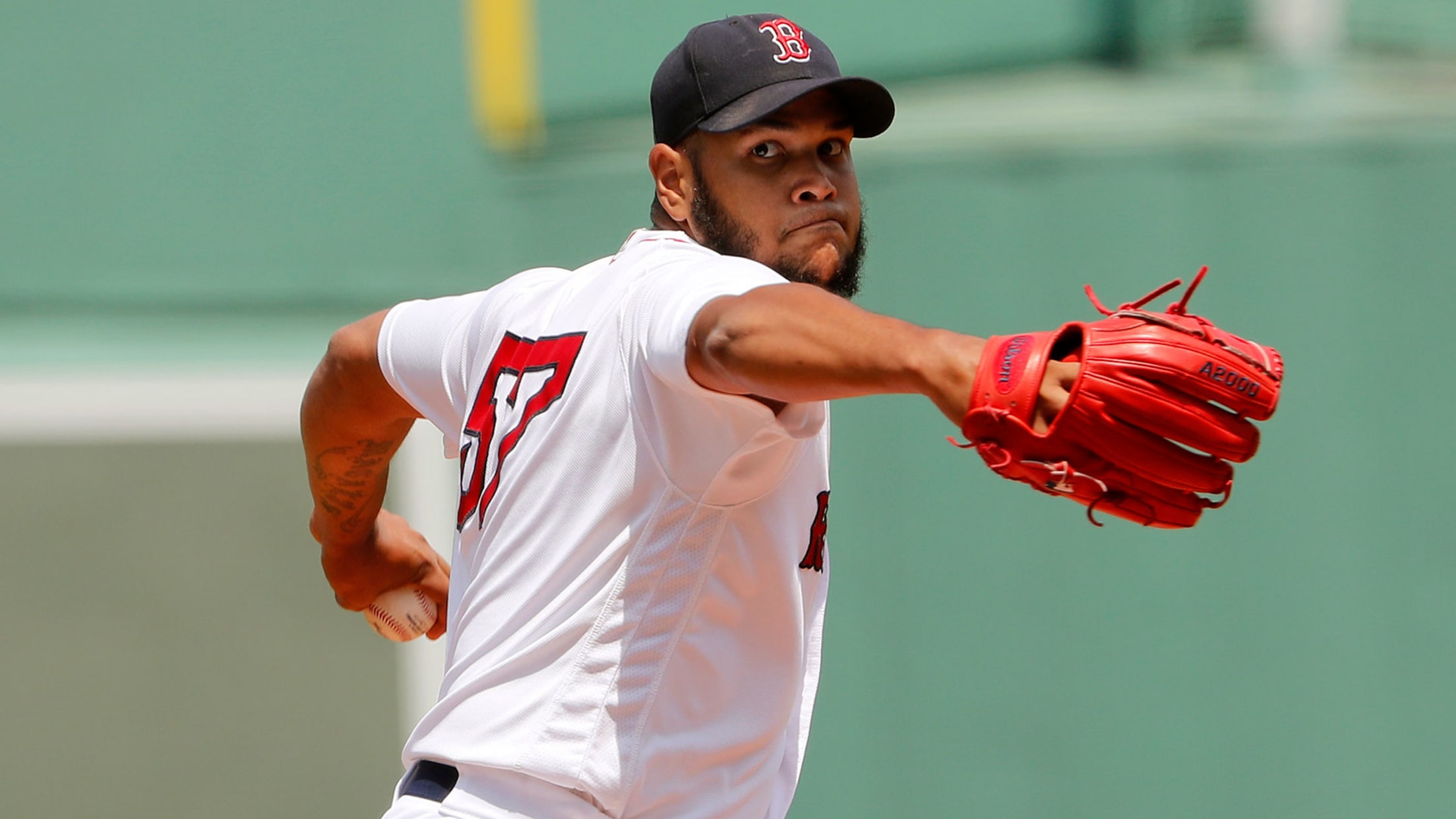 BALTIMORE -- When Eduardo Rodriguez sprained his right ankle July 14 against the Blue Jays, Red Sox manager Alex Cora had one word for it -- ugly. Friday, after Rodriguez threw live on-field batting practice before a four-game series against the Orioles at Camden Yards, Cora had a new word
BALTIMORE -- When Eduardo Rodriguez sprained his right ankle July 14 against the Blue Jays, Red Sox manager Alex Cora had one word for it -- ugly. Friday, after Rodriguez threw live on-field batting practice before a four-game series against the Orioles at Camden Yards, Cora had a new word for his starter: electric.
"I saw the ankle on that Sunday. I was trying to stay positive, but that was ugly," Cora said of the injury.
But on Friday, the skipper was upbeat about Rodriguez. "He was good," Cora said. "He was really good, actually. He was able to repeat his delivery. The stuff was electric. Good movement, good location."
Next in the process for Rodriguez will be a bullpen session Sunday before another simulated batting practice Wednesday in Philadelphia. Then it'll be a rehab assignment before he rejoins the Red Sox's rotation -- a staff soon to add a refreshed Rodriguez on top of new acquisition Nathan Eovaldi.
"What I saw today, it's not even about the ankle anymore. It's about him getting repetitions. His arm looks great," Cora said of Rodriguez. "Honestly, it stinks that he's on the disabled list and he got hurt, but let's see it as a positive. He's refreshed now and there's some life on the fastball, good movement. We are very pleased with the way he threw the ball."
Rodriguez -- who also practiced fielding grounders and covering first in the session Friday -- threw his live batting practice to fellow disabled list occupant Blake Swihart and assistant hitting coach Andy Barkett. The former, like Rodriguez, also looked good on Friday, Cora said, and will be sent to Class A Lowell for a rehab assignment on Sunday. If all goes well, Swihart is expected to come off the disabled list the first day he is eligible, on Tuesday for the opener against the Phillies.
Rodriguez's return could in fact cause a bit of a logjam in the Red Sox's rotation, especially with the postseason not too far in the future. Whether Rodriguez forces himself in the playoff rotation or slides into the bullpen, the 2018 season has been leaps and bounds over what Cora expected from his lefty.
"[He's] worked hard to get to the point where he was going to pitch at the big league level and be successful," Cora said. "Right away, he told me, 'I'm pitching this year. I'm going to be back.' I was like, 'Yeah,' but inside I was like, 'I hope so.' But he proved me wrong I guess and he proved a lot of people wrong and it's a testament to where he is now, not only as a player but as a person. … We are very happy that he is going to be part of this season."
Butler earns first start since 2014
Dan Butler, who has been Sandy Leon's backup since Swihart went down, started in his first game since 2014 on Friday. The 31-year-old Butler signed with the Red Sox as an amateur free agent in 2009 but has only appeared in seven games since.
According to Cora, a tenacious patience from Butler has finally paid off for Friday's start. Butler is also scheduled to start Game 2 of Saturday's split doubleheader.
"Patience is very important. … Not too many people can say that -- that you're a big leaguer," Cora said. "I saw him in Spring Training the way he works, the way he cares about catching and tries to be better. He kept going and now he is here and he's going to help us out."
Game 2 starter TBA
Cora and his staff are still debating who will be the team's starter for Game 2 of Saturday's doubleheader, and a decision will come after Saturday's Game 1 in Baltimore.
Depending on how the twin bill unfolds, it could be Hector Velazquez, Thomas Pomeranz or right-hander William Cuevas, who is with the team in Baltimore as the 26th man for Saturday's doubleheader.