Errors contribute to early exit for Vargas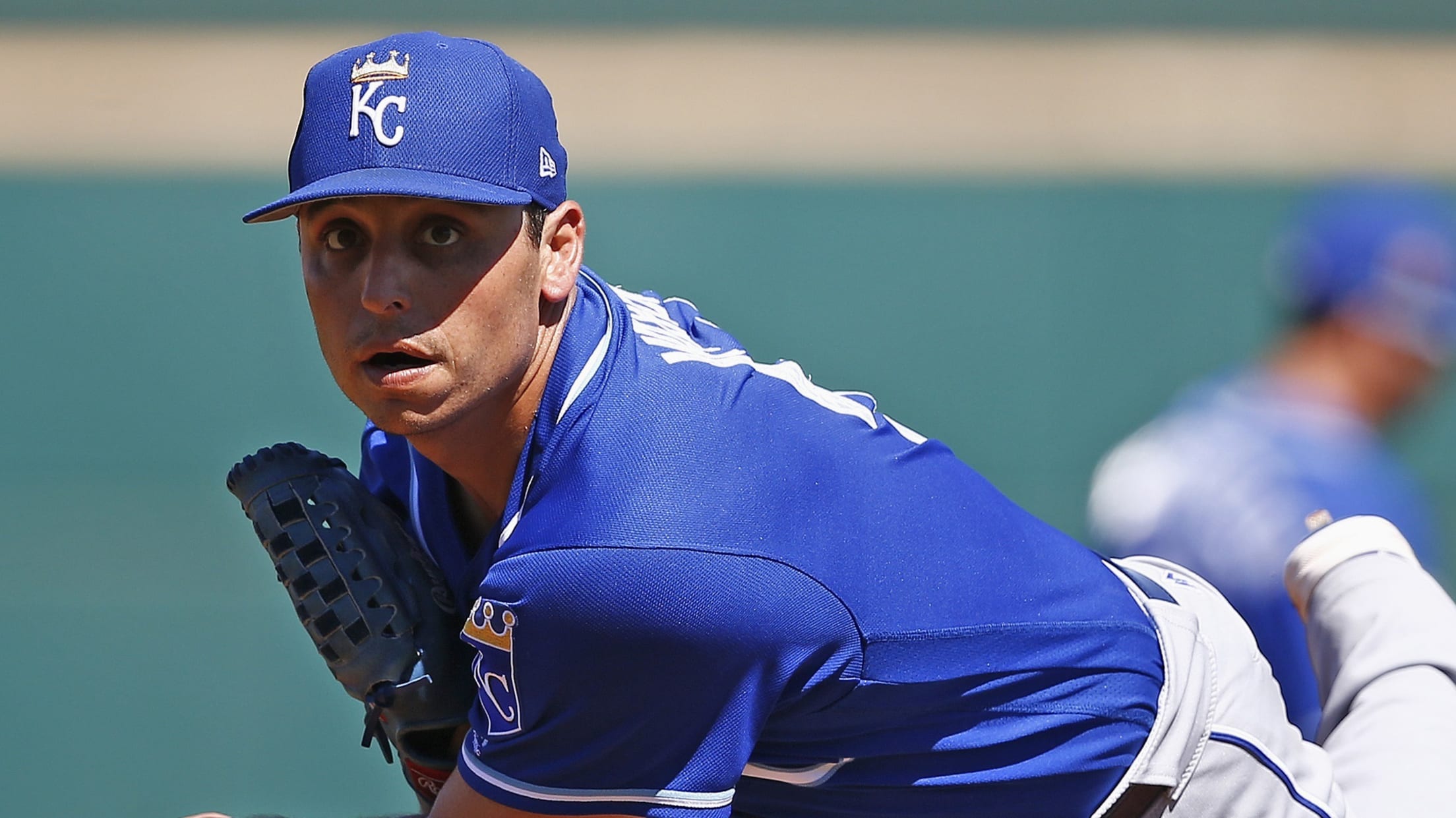 Jason Vargas had a short outing Thursday against the Mariners, allowing four runs (two earned) in two innings of a 9-2 loss. (AP) (Ross D. Franklin/AP)
SURPRISE, Ariz. -- Jason Vargas' outing didn't go exactly as manager Ned Yost penciled it in during Thursday's 9-2 loss, as an early exit for Vargas changed Yost's planned use of the bullpen and stretched the pitching staff thin on a split-squad day.After pitching three scoreless innings Saturday against the
SURPRISE, Ariz. -- Jason Vargas' outing didn't go exactly as manager Ned Yost penciled it in during Thursday's 9-2 loss, as an early exit for Vargas changed Yost's planned use of the bullpen and stretched the pitching staff thin on a split-squad day.
After pitching three scoreless innings Saturday against the Indians, Vargas allowed four runs (two earned) over just two innings against the Mariners. The lefty yielded three hits and a walk while miscues in the infield cut into his efficiency.
"Vargy threw the ball well," Yost said. "Two or three times I thought he had hitters locked up and didn't get the call. Three errors behind him elevated his pitch count, but he got his work in, so it was a good day for him."
Vargas was slated for 65 pitches, which ideally would have been spread out over four innings, but with the extended innings due to a combination of errors induced by what Yost called the "rock hard" infields in Arizona and "some tight umpiring," the Royals were content to send Vargas to an early shower.
The high pitch count in the second inning was of particular concern, given that Vargas is coming off Tommy John surgery that caused him to miss half of '15 and all but the last few weeks of last season before coming back to make three strong starts spanning 12 innings in September.
"He was at high-50s, but with the 35 pitches in an inning like that, we weren't taking any chances," Yost said.
The rest of the Royals fared better in Peoria, where they beat the Padres 13-3 in a game started by Josh Staumont, who is poised to start his season in Triple-A Omaha when the Royals head north for Opening Day.
Staumont pitched three scoreless innings, yielding just two hits while striking out five.
"He's a guy, quite frankly, that we're hoping can help us this year," Yost said. "We'll probably put him on the same program as we did with Matt Strahm last year -- start him out as a starter and then see where we're at. If we need to drop him to the bullpen to get some experience, we'll do that.
"Let him get his feet underneath him here for the season and then just see. Keep him built up, in case, and if it looks like we're doing good in the starting rotation, we'll put him in the bullpen and see. Go with the flow, if you will."
KC in the World Baseball Classic
First baseman Eric Hosmer came up big with a two-out, two-run, game-winning home run in the eighth inning of Team USA's second-round win over Venezuela Wednesday.
"He's a clutch hitter," manager Ned Yost said after watching the homer Thursday morning. "He's always been like that. He's just talented. He's been on the big stage. He's performed really, really good in World Series, All Star Games. He's just a great player."
Owen Perkins is a contributor to MLB.com.