Closer look: Super duo resides in AL Central
Allen, Herrera, Greene secure in 9th-inning roles; Rodney to be monitored; Jones has help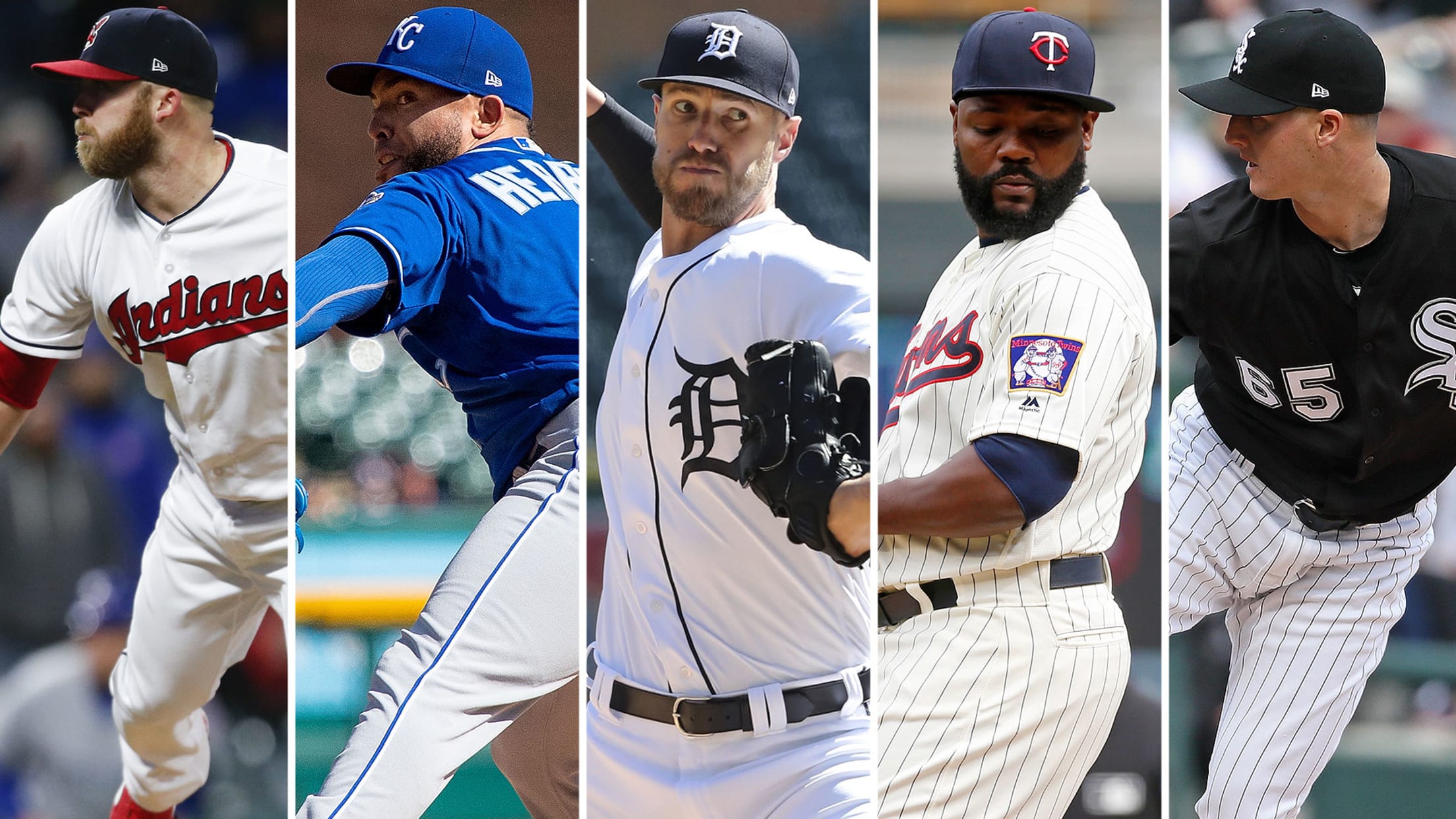 In an era of super bullpens, one of the best late-inning duos in baseball can be found within the American League Central.As much attention is paid to the Indians' deep starting rotation, the reigning division champions have also been able to shorten games with closer Cody Allen and relief ace
In an era of super bullpens, one of the best late-inning duos in baseball can be found within the American League Central.
As much attention is paid to the Indians' deep starting rotation, the reigning division champions have also been able to shorten games with closer Cody Allen and relief ace Andrew Miller covering critical outs. Through their first 21 combined innings this season, Allen and Miller had allowed precisely zero runs.
"People don't see behind the scenes how hard they work, preparing and everything like that," Indians manager Terry Francona said. "Andrew, everybody knows what he's done. But Cody, for the last six years here, he's been about as reliable a reliever as anybody in the league. He works hard to be available and takes a lot of pride in that.
"I personally think he's one of the better closers in the game. I know his name doesn't always pop up on those lists, but I think he's been really good."
With nearly a month of baseball in the books, here is a rundown of the closer situation for each team in the AL Central:
Indians
Who's the closer? Allen
How is it working out? Very well. Heading into Wednesday's action, there were 108 relievers with at least 10 innings logged this season in the Majors. Allen was one of three (Miller being another) with no earned runs allowed, and he had converted all four save chances. Allen then improved to 5-for-5 in save chances Wednesday night.
How secure is he? Allen is as secure in his job as any closer in baseball. Across the 2014-17 seasons, the right-hander posted a 2.62 ERA with 120 saves (30 per season on average) and an average of 12.1 strikeouts per nine innings in 282 appearances. Allen has enjoyed another strong start to this campaign, too.
Who's next in line? Francona likes having an "end point" in Allen, but the manager is also flexible with his late-inning duo. There have been stretches in which Miller has taken save chances, with Allen handling high-leverage scenarios. If, for some reason, Cleveland were to make a change, Miller would be the man, once he returns from a strained left hamstring that put him on the 10-day disabled list Thursday.
Royals
Who's the closer?Kelvin Herrera
How is it working out? Very well. Herrera, who lost his closer's job to Mike Minor last September, has been superb so far, not allowing a run in eight outings, entering Thursday. The problem is getting the lead and getting games to him.
How secure is he? Even if Herrera was struggling, his job would be secure, by default. Most of the bullpen has been a nightmare for manager Ned Yost this season.
Who's next in line? That's a great question. Herrera likely will be trade bait at the end of July, and right now it's hard to envision any one reliever taking over the job. Brandon Maurer was a possibility, but he has pitched his way back to the Minors. Tim Hill? Burch Smith? Brad Keller? Who knows?
Tigers
Who's the closer?Shane Greene
How is it working out? Greene had four saves in six chances, entering Thursday, and has allowed two earned runs in nine innings since his three-run ninth inning on Opening Day. He has been the one entrenched veteran in a bullpen where other roles have been in flux.
How secure is he? Greene would require a major implosion to lose the job he took over after Justin Wilson's trade last summer. He's one of just two veterans in the bullpen, and he's one of a handful of veterans who could draw interest at the July 31 non-waiver Trade Deadline.
Who's next in line?Joe Jimenez is generally seen as the Tigers' closer of the future, and his hot start has reinforced that notion while earning him a valued setup role behind Greene. Alex Wilson is the other veteran in the bullpen, and he has some closing experience, though he has struggled to find his better form since a rough Spring Training.
Twins
Who's the closer?Fernando Rodney
How is it working out? The Fernando Rodney Experience has been in full effect with Minnesota, as he's walked a tightrope in several of his outings this season. He's converted two saves, but has also blown two saves and gave up a walk-off homer to Adam Jones in his first appearance of the year.
How secure is he? Rodney still isn't quite in danger of losing his closer role, as he had a slow start last year with the D-backs before turning it around. Rodney had a 12.60 ERA in April last season, but posted a 2.38 ERA the rest of the way. But given his age (41 years old), the Twins will continue to monitor him closely.
Who's next in line? The Twins also signed reliever Addison Reed to a two-year deal in the offseason, and while they'd like to keep him in a Miller-type role, he has closing experience. Reed has 125 career saves and could move to the closer role if Rodney falters.
White Sox
Who's the closer?Nate Jones
How is it working out? Jones certainly is not the lone closing option for the rebuilding White Sox, as veteran Joakim Soria also has worked the ninth. Manager Rick Renteria also has pitched Jones in the highest-leverage situations, whether it comes in the ninth or the seventh.
How secure is he? The White Sox are off to a slow start in Year 2 of the rebuild and have only four saves, including a three-inning save from Chris Beck. Entering Thursday, Jones had fanned 11 over 8 2/3 innings, allowing one run. Since there's no real defined closer, there's no reason for a change unless a veteran such as Jones or Soria gets moved.
Who's next in line? Keep an eye on Bruce Rondon, along with his 100-mph fastball and improved slider. He struck out the first five hitters he faced with the White Sox and is a future closing option.
Jordan Bastian has covered the Indians for MLB.com since 2011, and previously covered the Blue Jays from 2006-10. Read his blog, Major League Bastian, follow him on Twitter @MLBastian and Facebook. MLB.com reporters Jason Beck, Rhett Bollinger, Jeffrey Flanagan and Scott Merkin contributed to this report.