Here is every notable Trade Deadline deal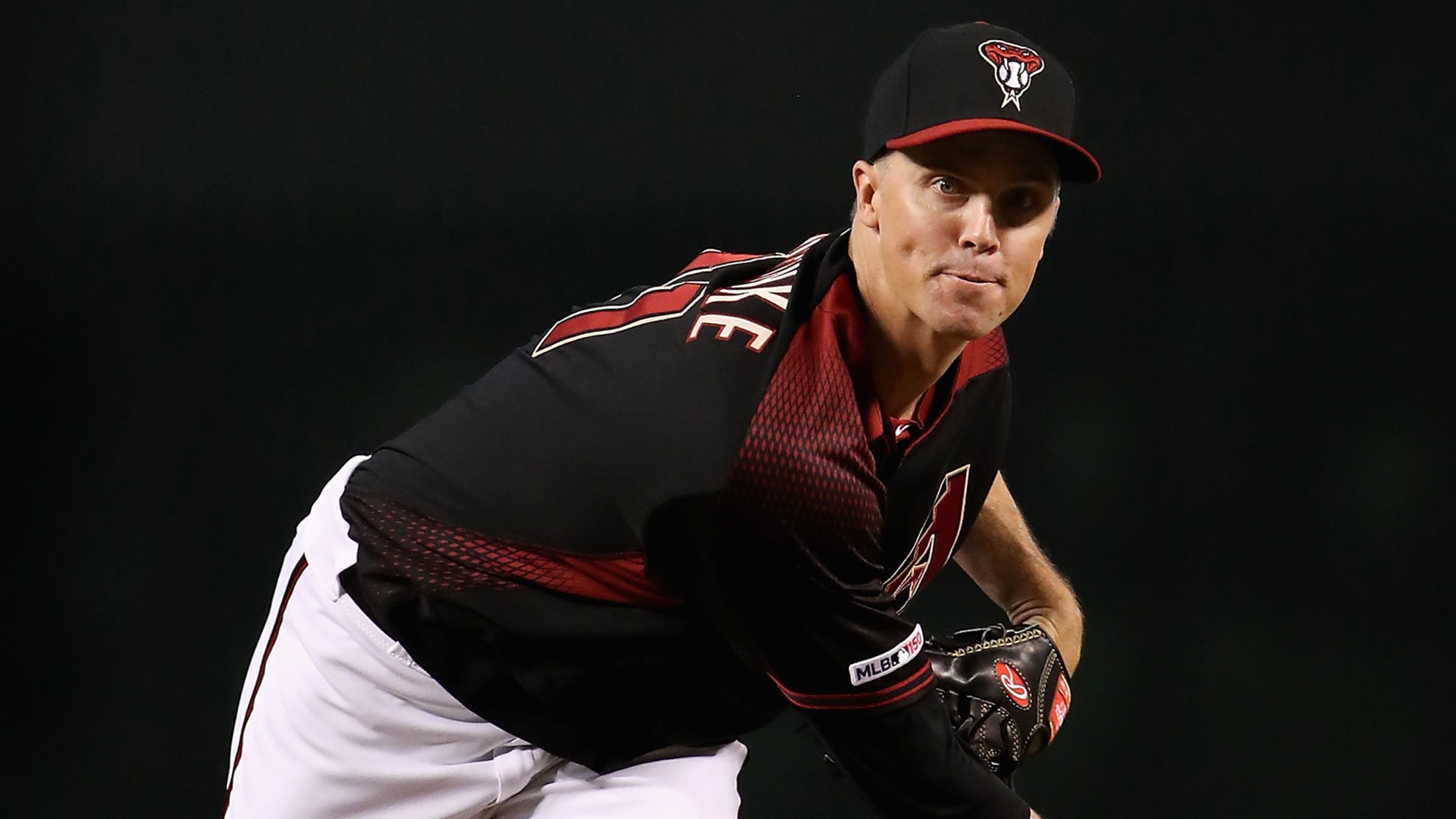 July 31: Astros acquire RHP Zack Greinke and cash from Diamondbacks for 1B/OF Seth Beer, RHP Corbin Martin, RHP J.B. Bukauskas, and INF/OF Josh Rojas The Astros pulled off a stunning blockbuster at the Trade Deadline buzzer, scoring D-backs ace Zack Greinke for a package of four prospects in Beer
July 31: Astros acquire RHP Zack Greinke and cash from Diamondbacks for 1B/OF Seth Beer, RHP Corbin Martin, RHP J.B. Bukauskas, and INF/OF Josh Rojas
The Astros pulled off a stunning blockbuster at the Trade Deadline buzzer, scoring D-backs ace Zack Greinke for a package of four prospects in Beer (Houston's No. 3), Bukauskas (No. 4), Martin (No. 5) and Rojas (No. 22). Greinke, 35, is in the middle of another strong season with a 2.87 ERA and a 0.94 WHIP over 141 innings. He signed a six-year deal for $206.5 million after the 2015 season, so Houston will have him through 2021. That is key for the Astros, who could lose starters Gerrit Cole and Wade Miley to free agency after this season. Arizona was willing to unload its top starting pitcher in exchange for a haul of young talent that adds to a farm system that has been on the rise and improves even more with this quartet. More >
July 31: Braves acquire RHP Shane Greene from Tigers (for LHP Joey Wentz and OF Travis Demeritte) and RHP Mark Melancon from Giants (for RHPs Tristan Beck and Dan Winkler)
Along with Tuesday's move for Rangers righty Chris Martin, these moves added three new arms to an Atlanta bullpen in desperate need of reinforcements. Greene and Melancon entered the fold not long after the Braves blew a 4-1 eighth-inning lead at Washington in an eventual 5-4 victory. Greene was an All-Star this season in Detroit, where he picked up 22 saves and dropped his ERA from 5.12 in 2018 to 1.18. Melancon has been a shutdown closer in the past with the Pirates and Nationals, but the 34-year-old has fallen off a bit from that peak. Still, Melancon has posted a 3.38 ERA over 85 1/3 innings for the Giants over the past two seasons, and prior to the trade had a seven-game scoreless streak (8 2/3 innings, nine strikeouts). More >
July 31: Cubs acquire OF Nicholas Castellanos and cash considerations from Tigers for RHP Paul Richan and RHP Alex Lange
The Cubs added a big bat just before the Trade Deadline in Castellanos, who is hitting .273/.328/.462 with 37 doubles and 11 home runs this season. A free agent at the end of 2019, the 27-year-old righty-swinging slugger will help handle a corner-outfield spot on the North Side, perhaps platooning with lefty bats Kyle Schwarber and Jason Heyward. Richan, a 22-year-old who was a second-round pick in the 2018 Draft and was the No. 16 prospect in Chicago's system, has a 3.97 ERA and a 1.23 WHIP across 93 innings (17 starts) at Class A Advanced Myrtle Beach this year. A first-rounder in 2017, the 23-year-old Lange was the Cubs' No. 23 prospect, and he owns a 5.82 ERA in 86 2/3 frames between Myrtle Beach and Double-A Tennessee. More >
July 31: Giants acquire 2B Scooter Gennett and cash from Reds for a PTBNL
Hitting just .212/.232/.258 over 20 games, Gennett missed the first three months of 2019 with a groin strain and has yet to regain the form he showed from 2017-18 when he broke out and slashed .303/.351/.508 while totaling 50 homers and 189 RBIs. The Giants, who have gotten little offensive output from incumbent second baseman Joe Panik, are hoping the 29-year-old Gennett -- a free agent after the season -- can recover some of that pop down the stretch as they attempt to make a surprising run for a National League Wild Card spot. More >
July 31: Astros acquire RHP Aaron Sanchez, RHP Joe Biagini and OF Cal Stevenson from Blue Jays for OF Derek Fisher
While Houston's acquisition of Zack Greinke from the D-backs for four prospects stole the headlines, the club also added Sanchez and Biagini in a deal with the Jays to further augment its pitching staff. Sanchez has struggled with blister problems in recent seasons and owns a 6.07 ERA this year, but he was the American League ERA leader in 2016 (3.00) and has experience pitching in the rotation and the bullpen. He's also under control through 2020, giving the Astros some insurance with Gerrit Cole, Wade Miley and Collin McHugh set to hit free agency after this season. Biagini, meanwhile, is controllable through 2022 and will provide some right-handed depth for a bullpen that just lost All-Star Ryan Pressly to the injured list. Fisher was once a Top 100 prospect for the Astros, but he hasn't been able to break through as a regular component of the team's big league roster. More >
July 31: Athletics acquire Tanner Roark from Reds for OF Jameson Hannah
Roark gave the Reds a 4.24 ERA over 21 starts after joining the club in an offseason trade with the Nationals, and the impending free agent brought back an outfielder who ranked as the A's No. 8 prospect and was a second-round Draft pick in 2018. The 32-year-old Roark addresses Oakland's need for a veteran starter as the club looks to make another postseason push. More >
July 31: Diamondbacks acquire RHP Mike Leake and cash considerations from Mariners for infielder Jose Caballero
While Arizona sent Zack Greinke to the Astros in a last-minute blockbuster that brought back four prospects, the club also picked up Leake from the Mariners. It was the second rotation addition of the day for the D-backs, who acquired Zac Gallen from the Marlins for prospect Jazz Chisholm. Leake, who needed to waive his full no-trade clause for the deal to go through, is still owed $20 million guaranteed -- including the $5 million buyout on his $18 million mutual option for 2021 -- though the Cardinals are paying $4 million of his $15 million salary in '20. The 10-year veteran owns a lifetime 4.05 ERA, with a 4.40 mark this season, and has made 30-plus starts in each of the past seven years. More >
July 31: Phillies acquire OF Corey Dickerson from Pirates for a PTBNL and international bonus pool money
For the second time in as many years, Dickerson will replace Andrew McCutchen in the outfield. The Pirates acquired Dickerson during Spring Training last year to help fill the void in their outfield created by the trade that sent McCutchen to San Francisco. Outfield became a position of need for the Phillies when they lost McCutchen to a season-ending ACL tear on June 3. Dickerson carried a .317/.376/.556 slash line into Wednesday's game, though the soon-to-be free agent has missed significant time due to injuries this season. More >
July 31: Twins acquire RHP Sam Dyson from Giants for OF Jaylin Davis, RHP Prelander Berroa and RHP Kai-Wei Teng
An eight-year veteran, Dyson is having a second straight effective campaign with a 2.47 ERA, a 0.90 WHIP and 47 strikeouts over 51 innings. The 31-year-old will bolster a Twins bullpen that also added Sergio Romo from the Marlins a few days ahead of the Trade Deadline. Unlike Romo, who is an impending free agent, Dyson comes with another year of club control beyond 2019. More >
July 31: Rays acquire RHP Trevor Richards and RHP Nick Anderson from Marlins for RHP Ryne Stanek and OF Jesus Sanchez
The Rays' pitching staff has been hit hard by injuries, with Blake Snell, Tyler Glasnow, Jose Alvarado and Stanek all sidelined. The club was able to address that problem by sending Stanek to Miami along with Sanchez, who was ranked as its No. 4 prospect (MLB's No. 33 overall), in exchange for two promising arms who can help now but are controllable through 2024. More >
July 31: D-backs acquire RHP Zac Gallen from Marlins for SS Jazz Chisholm
The Marlins have a handful of promising young pitchers on their MLB roster or in the pipeline, and they used one of them to land Chisholm, who was Arizona's No. 1 prospect and MLB's No. 59 overall. Gallen made his big league debut earlier this season and has recorded a 2.72 ERA with 43 strikeouts over 36 1/3 innings. The 21-year-old Chisholm, meanwhile, is a toolsy shortstop who has struggled with strikeouts so far in his Minor League career. More >
July 31: Nationals acquire RHP Hunter Strickland from Mariners for LHP Aaron Fletcher
Washington made its third bullpen addition of the afternoon, and second from Seattle, by dealing for Strickland, who recently returned from the injured list after missing much of the season with a right lat strain. The right-hander opened this season as the M's closer before going on the injured list. He owns a lifetime 2.98 ERA in the regular season and pitched in 11 postseason games with the Giants. Fletcher, who was ranked as Washington's No. 21 prospect, has notched a 1.79 ERA with a 10.3 K/9 mark and a 2.2 BB/9 over 32 relief appearances this year, appearing at three Minor League levels. More >
July 31: Brewers acquire LHP Drew Pomeranz and RHP Ray Black from Giants for SS Mauricio Dubon
It didn't look as though Pomeranz would have much trade value as recently as two weeks ago, but a move to the bullpen worked wonders. In 5 1/3 scoreless innings spanning four relief appearances, Pomeranz allowed only one hit and one walk. For Pomeranz, an impending free agent, and Black, a 29-year-old who has made just 28 big league appearances, San Francisco did well to get back Dubon. The 25-year-old, who was ranked as Milwaukee's No. 3 prospect, has posted a .297 average with 16 homers and nine steals at the Triple-A level this season. More >
July 31: Nationals acquire LHP Roenis Elias from Mariners for LHP Taylor Guilbeau and RHP Elvis Alvarado
Shortly after picking up Daniel Hudson from the Jays, the Nats added another bullpen piece in Elias, who has spent much of this season as the Mariners' closer. The 30-year-old lefty is under control through 2021 and owns a 4.40 ERA this season. Guilbeau was the Nats' No. 15 prospect, while Alvarado did not rank among the club's Top 30. More >
July 31: Dodgers acquire LHP Adam Kolarek from Rays for OF Niko Hulsizer
Seeking relief help from the left side, the Dodgers brought in Kolarek, a side-arming southpaw with a 3.95 ERA and a 1.22 WHIP over 43 1/3 innings (54 games) in 2019. The 30-year-old is in his third big league season and has limited same-side batters to a .209/.257/.302 line in his career. More >
July 31: Padres acquire RHP Carl Edwards Jr. and international bonus money from Cubs for LHP Brad Wieck
Once a trusted late-inning arm for the Cubs, Edwards has struggled with injury and ineffectiveness this year, spending most of 2019 at Triple-A. In his 15 1/3 innings with Chicago, the 27-year-old posted a 5.87 ERA but did have 17 strikeouts and a 1.11 WHIP. Wieck is a 6-foot-9 left-hander who has shown a knack for strikeouts (31 in 24 2/3 frames with the Padres), but the 27-year-old also has been hit hard, surrendering seven homers for a 6.57 ERA. More >
July 31: Angels acquire C Max Stassi from Astros for OF Rainier Rivas and OF Raider Uceta
The Astros were able to move Stassi, who has split time with Garrett Stubbs as the backup backstop in 2019, after adding veteran Martin Maldonado in a midseason swap for the second straight year. The 28-year-old Stassi is hitting .167/.235/.211 in only 90 plate appearances and should help spell Jonathan Lucroy, who was activated off the injured list Wednesday after missing three weeks with a concussion and fractured nose following a collision with Jake Marisnick -- Stassi's former teammate -- at home plate. More >
July 31: Nationals acquire RHP Daniel Hudson from Blue Jays for RHP Kyle Johnston
Improving the relief corps was clearly a priority for the Nats, who entered Trade Deadline day with the highest bullpen ERA (5.99) in the Majors. After signing a one-year, $1.5 million deal with the Blue Jays in the offseason, Hudson has enjoyed a strong campaign, posting a 3.00 ERA in 48 innings. To acquire him, Washington surrendered Johnston, who was ranked as the team's No. 27 prospect. More >
July 31: Dodgers acquire INF Jedd Gyorko, 2019-20 international cap space and cash considerations from Cardinals for LHP Tony Cingrani and RHP Jeffry Abreu
Gyorko hit just .196/.274/.304 for the Cardinals this season and hasn't played in the Majors since June 7 due to a lower back strain. However, the veteran right-handed hitter is expected to return from the 60-day injured list soon and should give the Dodgers another versatile option. The 30-year-old has experience at every infield position, though he's spent the bulk of his time at second base and third base. Gyorko also was solid at the plate for St. Louis from 2016-18, slashing .259/.331/.463 with 61 homers. The Dodgers didn't surrender any 2019 contributors in the deal, with Abreu in Rookie ball and Cingrani out for the season after having left shoulder surgery in June. More >
July 31: Astros acquire C Martin Maldonado from Cubs for INF/OF Tony Kemp
Not only is Martin Maldonado on the move for the second time in just over two weeks, he also is joining the Astros for the second straight stretch run. The 32-year-old backstop was acquired by the Cubs from the Royals for lefty Mike Montgomery on July 15 but found his role limited once Willson Contreras returned to health. Houston traded for Maldonado last July, too, giving him regular playing time in the second half and in October while Brian McCann battled injuries. He will provide depth behind starter Robinson Chirinos this time around before hitting the open market.
On the other side of the deal, Kemp -- who was designated for assignment by Houston earlier in the week -- brings versatility to a Cubs team that values players who can cover multiple spots on the diamond. The 27-year-old has a career-high seven homers in 186 plate appearances this season. More >
July 31: Rays acquire 1B Jesus Aguilar from Brewers for RHP Jake Faria
The Rays had been connected to a number of right-handed bats leading up to the Trade Deadline, and Aguilar fills that need. After making the All-Star team in 2018, the slugger has struggled for much of '19, though he has shown some improvement lately. Since the start of July, Aguilar has hit .298/.346/.574 with three homers in 52 plate appearances. Faria, meanwhile, will provide some depth for an ailing Brewers pitching staff. More >
July 31: Rangers acquire RHP Nate Jones, international slot compensation and cash considerations from White Sox for RHP Joe Jarneski and RHP Ray Castro
The Rangers increased their international bonus pool money by $1 million, which will help the club finalize the signing of international free agent outfielder Bayron Lora, according to MLB.com's T.R. Sullivan. The Rangers agreed to a $4.2 million signing bonus with Lora on July 1, according to MLB.com's Jesse Sanchez, but the deal has yet to be announced because the club still needed to add international slot money. Jones is recovering from surgery to repair a torn flexor tendon in his right forearm on May 13 and will go on the 60-day injured list for the Rangers. More >
July 30: Reds acquire RHP Trevor Bauer from Indians for OF Yasiel Puig and LHP Scott Moss; Indians acquire OF Franmil Reyes, LHP Logan Allen and 3B Victor Nova; Padres acquire OF Taylor Trammell from Reds
Weeks of Trevor Bauer rumors and speculation culminated in a sweeping three-team trade that included seven players, five of whom went to Cleveland. The Indians received a pair of slugging outfielders in Yasiel Puig and Franmil Reyes while also stocking their farm system with a trio of prospects. Left-handed pitcher Scott Moss was ranked as the Reds' No. 12 prospect by MLB Pipeline, while Victor Nova is a 19-year-old third baseman in the Rookie-level Arizona League. Logan Allen, a left-handed pitcher, made his Major League debut with the Padres on June 18 but was optioned to Triple-A on July 27.
The Reds, meanwhile, landed one of the top available starters at the Deadline in Bauer, who leads the Major Leagues in innings. He is 9-8 with a 3.79 ERA and a 10.6 K/9 rate. The 28-year-old will be under team control next year as well. As for the Padres, they continued to build their young talent base by adding Taylor Trammell, the Reds' No. 1 prospect per MLB Pipeline, and No. 30 overall. More >
July 30: Braves acquire RHP Chris Martin from Rangers for LHP Kolby Allard
In response to injuries and inconsistency in their bullpen, the Braves reinforced their relief corps with Martin, who had a 3.08 ERA and a 1.03 WHIP in 38 innings with the Rangers this year. Martin, 33, has demonstrated excellent control with a 10.8 K/BB ratio. After notching four saves in five attempts with Texas, he could be poised to replace Luke Jackson as Atlanta's closer.
Allard, 21, had spent the season with the Triple-A Gwinnett, where he was 7-5 with a 4.17 ERA in 110 innings across 20 starts. He made his MLB debut last year, making three appearances with the Braves, and was ranked as the team's No. 10 prospect this year by MLB Pipeline. Allard, who was optioned to Triple-A Nashville following the trade, was selected in the first round of the 2015 Draft (14th overall) out of San Clemente High School. More >
July 30: Cubs acquire RHP David Phelps and cash from Blue Jays for RHP Thomas Hatch
A few days after adding Derek Holland from the Giants, the Cubs brought in another veteran swingman in Phelps, who has a 3.63 ERA and a 1.21 WHIP with 18 strikeouts over 17 1/3 innings so far this year. After missing all of last season while recovering from Tommy John surgery, the 32-year-old Phelps made his first appearance of 2019 on June 17.
Hatch, 24, has gone 4-10 with a 4.59 ERA in 21 starts with Double-A Tennessee this season. He was selected by the Cubs in the third round of the 2016 Draft out of Oklahoma State University. More >
July 29: Phillies acquire LHP Jason Vargas and cash from Mets for C Austin Bossart
Philly added pitching depth by dealing for Vargas, a 14-year veteran starter who owned a 4.01 ERA and a 1.27 WHIP in 94 1/3 innings at the time of the trade. The 36-year-old -- who has an $8 million club option or a $2 million buyout for 2020 -- brings stability to the back of a Phillies rotation that has struggled outside of ace Aaron Nola and could lose Jake Arrieta to bone spurs in his right elbow.
Bossart, 26, hit .195/.303/.335 with seven homers and 28 RBIs in 63 games with Double-A Reading this season. He was selected by the Phillies in the 14th round of the 2015 Draft out of the University of Pennsylvania. More >
July 29: Brewers acquire RHP Jordan Lyles from Pirates for RHP Cody Ponce
Milwaukee added Lyles as a much-needed arm to a rotation that has been riddled by injuries to Brandon Woodruff, Jhoulys Chacin, Gio Gonzalez and Corbin Burnes. This will be Lyles' second stint with the Crew after he pitched to a 3.31 ERA over 16 1/3 innings (11 games) with the club down the stretch last year.
A free agent after the season, the 28-year-old started 2019 strong with a 1.97 ERA through his first eight starts, but he's struggled mightily since, surrendering 39 earned runs in 36 2/3 frames across his past nine starts. He should be able to provide innings, however, which is something the Brewers are desperate for.
Ponce, 25, was a second-round Draft pick in 2015 who has posted a 3.29 ERA and a 1.17 WHIP with 44 strikeouts over 38 1/3 innings at Double-A Biloxi in what is his first season as a full-time reliever. More >
July 28: Mets acquire RHP Marcus Stroman and cash from Blue Jays for LHP Anthony Kay and RHP Simeon Woods-Richardson
The Mets were rumored to be sellers for several weeks, but they instead became the summer's flashiest buyers so far when they traded for Stroman -- who had often been linked to the crosstown Yankees in trade rumors. The Long Island native is in the midst of a career season (2.96 ERA, 3.52 FIP) and is under team control through the end of next season, meaning he's more than a rental. New York could still trade Noah Syndergaard or Zack Wheeler before Wednesday's Deadline, but in the meantime its rotation just got a significant upgrade.
Kay and Woods-Richardson are now the Blue Jays' fifth- and seventh-ranked prospects per MLB Pipeline. Kay is a former first-round pick who has struggled a bit after his promotion to Triple-A. The 18-year-old Woods-Richardson is more of a project after he was drafted out of high school last summer. More >
July 28: Rays acquire 2B Eric Sogard from Blue Jays for two PTBNL
Sogard continues to chug along in his ninth Major League season, slashing a career-best .300/.363/.477 and knocking 10 homers -- one shy of his career total entering the season. He adds value to the Rays, not only for his resurgent bat but also his defensive versatility around the infield, which is a trait Tampa Bay has valued through the years.
Tampa Bay erased a seven-run deficit against Toronto on Sunday to eke out a 10-9 victory, putting the club in a tie for Boston for both second place in the American League East (eight games back of the Yankees) and for the second AL Wild Card spot alongside the A's. The Rays are hoping Sogard's addition could help them reverse the downturn they've been mired in for several weeks. More >
July 28: Indians acquire RHP Hunter Wood, INF Christian Arroyo from Rays for OF Ruben Cardenas and international bonus pool money
The Indians, current owners of an American League Wild Card spot and in hot pursuit of the Twins in the AL Central, stocked up at two positions with the additions of Wood and Arroyo.
The Rays used Wood as both an opener and middle-innings reliever this season. His mix of high-spin fastballs thrown up in the zone and sliders in the lower half have largely worked well, helping him compile a 2.48 ERA and one of the Majors' best hard-hit rates allowed. Arroyo, a former top prospect of the Giants, compiled just 57 plate appearances for Tampa Bay this year and 251 for his Major League career as he's battled various injuries and reassignments. He could bolster the Indians' infield depth for their stretch-run push.
Cardenas, 21, was slashing .284/.343/.475 with 35 extra-base hits across 354 plate appearances in Class A ball. More >
July 27: Twins acquire RHP Sergio Romo, RHP Chris Vallimont and a PTBNL for Lewin Diaz
The Twins added a veteran reliever with plenty of big-game experience in Romo, who owns a lifetime 2.91 ERA with 126 saves in 12 big league campaigns and was a key bullpen member on three World Series championship-winning Giants teams.
Vallimont -- who was ranked as Miami's No. 23 prospect by MLB Pipeline -- has a 3.16 ERA in 19 starts this season between the Class A and Class A Advanced levels. Diaz, meanwhile, has hit .297 with 19 homers in 89 games between Class A Advanced and Double-A this year. The 22-year-old first baseman was ranked as the Twins' No. 30 prospect. More >
July 27: Athletics acquire LHP Jake Diekman from Royals for RHP Ismael Aquino and OF Dairon Blanco
The A's fortified an already strong relief corps by adding Diekman, a hard-throwing southpaw, to a righty-heavy crew that features Blake Treinen, Liam Hendriks, Joakim Soria, Lou Trivino and Yusmeiro Petit. The 32-year-old Diekman, who is a free agent at season's end, posted a 4.75 ERA and a 1.34 WHIP with Kansas City, but his 3.37 FIP and 13.6 K/9 indicate he's pitched better than his results.
Aquino, a 20-year-old Dominican-born righty, was 1-1 with a 4.58 ERA in 10 games with the A's Gold club in the Arizona Rookie League this season. He signed with the A's in 2016 and is 5-4 with a 4.03 ERA in 38 games, including 22 starts, in three pro seasons. Blanco -- a 26-year-old Cuban native in his second professional campaign -- was hitting .276 with 13 doubles, 12 triples, seven home runs, 44 RBIs and 27 steals with Double-A Midland at the time of the deal. More >
July 27: Phillies acquire 2B/LF Jose Pirela from Padres for cash considerations
Pirela, a lifetime .258/.307/.390 hitter over parts of six seasons, logged just five plate appearances with the Padres this year after amassing a career-high 473 PAs in 2018. The 29-year-old has spent most of his career either at second base or in left field, although he has played first base, third base and right field. He was optioned to Triple-A Lehigh Valley after the trade. More >
July 26: Cubs acquire LHP Derek Holland and cash considerations from Giants for cash considerations
Less than two weeks after sending Mike Montgomery to the Royals for backstop Martin Maldonado, the Cubs brought in a new lefty swingman in Holland. The 32-year-old wasn't able to replicate his 2018 success (3.57 ERA, 1.29 WHIP) after re-signing with the Giants last offseason, but he has fared very well against same-side batters in 2019, limiting lefty swingers to a .182/.276/.195 slash line. More >
July 25: Dodgers acquire 1B Tyler White from Astros for RHP Andre Scrubb
In White, the Dodgers landed a veteran righty platoon bat capable of pitching in at first base in case David Freese's health remains an ongoing concern down the stretch. The 28-year-old White hit well in 2018 (.276/.354/.533 over 66 games), but he was unable to follow that up in '19, posting a .650 OPS in a limited role that had been further reduced as Yuli Gurriel surged this month.
Scrubb, an eighth-round Draft pick in 2016, was 6-1 with a 2.45 ERA in 29 games (2 starts) for the Double-A Tulsa Drillers at the time of the trade. More >
July 17: Yankees acquire OF Terrance Gore from Royals for cash
This trade was more about October than anything else for the Yankees, as Gore -- a 28-year-old speedster who has 40 stolen bases in 49 attempts in parts of six Major League seasons -- was sent to Triple-A upon being acquired. The idea was to get him into the organization so he could provide depth as a pinch-running specialist in October, similar to how the Royals used Gore during their 2014 and '15 World Series runs, when he swiped a combined four postseason bases. More >
July 15: Cubs acquire C Martin Maldonado from Royals for LHP Mike Montgomery
A nine-year veteran and defensive-oriented catcher, Maldonado will provide depth for the Cubs should anything happen to starter Willson Contreras. This marks the second straight year a contender has traded for the 32-year-old Maldonado, who was sent from the Angels to the Astros on July 26, 2018, and will hit the open market again after the season.
Montgomery returns to Kansas City 11 years after the organization drafted him in the first round. The 30-year-old -- who threw the final pitch for the Cubs in their historic 2016 World Series win -- has served primarily as a swingman in his five seasons. The Royals are planning to convert the southpaw, who has dealt with injuries amid a tough 2019 (5.67 ERA in 27 innings with Chicago) but remains under club control through 2021, into a rotation piece. More >
July 14: Athletics acquire RHP Homer Bailey from Royals for SS Kevin Merrell
Bailey was added to provide rotation help for an A's team in need of arms as it makes a push for a second straight postseason berth down the stretch. A free agent after the season, the 33-year-old Bailey had posted a 3.49 ERA over his past seven starts prior to the deal.
As the No. 33 overall selection in the 2017 Draft, Merrell was Oakland's No. 17 prospect, according to MLB Pipeline. Known mostly for his speed, the lefty swinging infielder was hitting .246/.292/.339 at the time of the deal. More >
July 13: Red Sox acquire RHP Andrew Cashner from Orioles for OF Elio Prado and SS Noelberth Romero
The Red Sox lacked a clear fifth starter once Nathan Eovaldi went on the injured list in mid-April, and Cashner can help solidify that spot. The 32-year-old, who is in line to become a free agent after the season, pitched to a 3.83 ERA and a 1.19 WHIP in 17 starts with Baltimore.
Prado, 17, is making his professional debut this season with the Rookie-level Dominican Summer League Red Sox 2 and was batting .303 (37-for-122) with three home runs, nine steals and 20 walks against 21 strikeouts in 33 games at the time of the trade. Also a 17-year-old in his first pro season with the DSL Red Sox 2, Romero appeared in 29 games (mostly at third base) and was batting .264 (29-for-110) with two homers. More >