Every team's most recent no-hitter
29 of 30 clubs have had at least one no-hitter in franchise history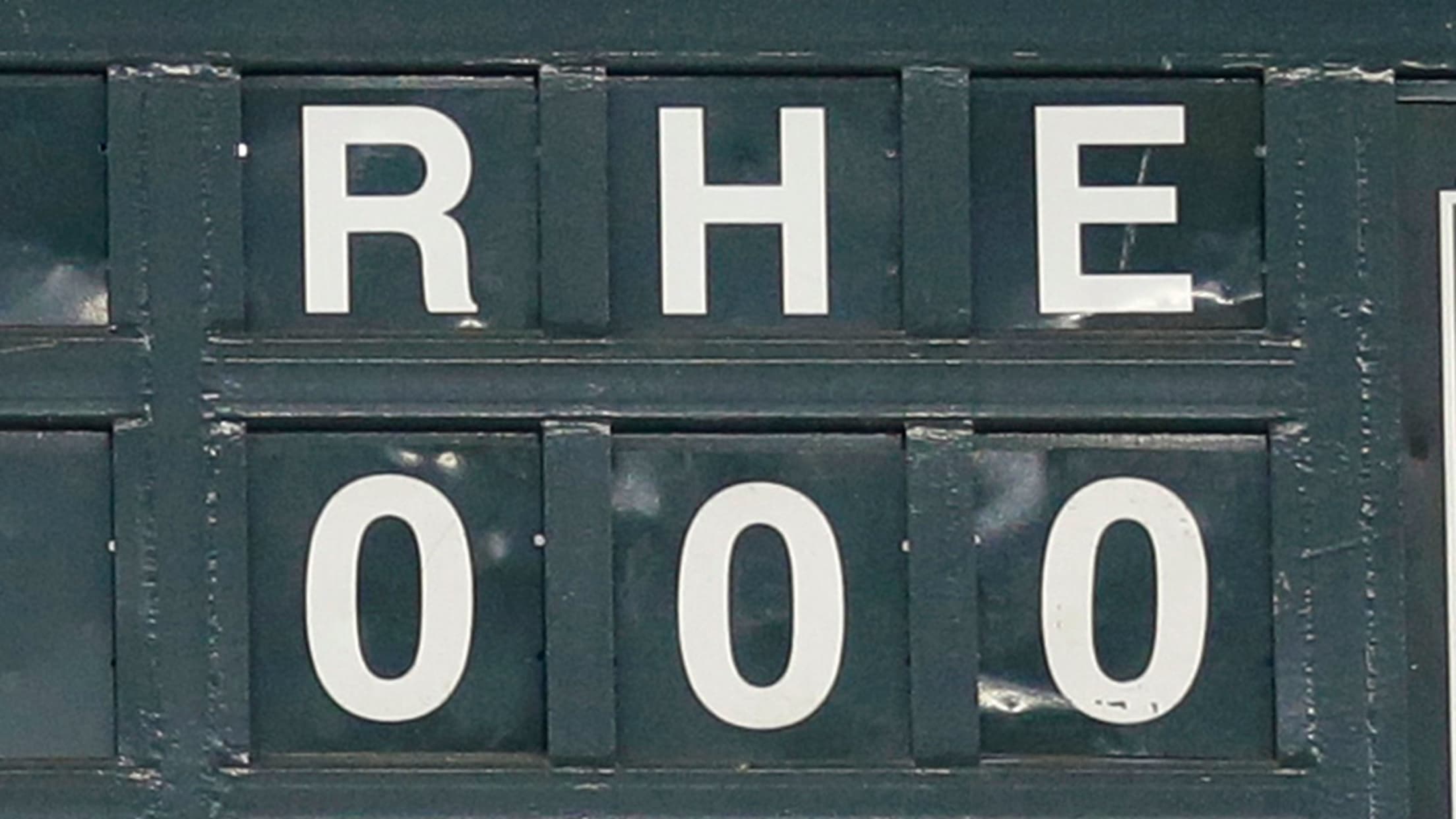 The no-hitter remains one of the rarest and most notable feats in baseball. Even if it seems like no-hitters are on the rise, there is an argument that isn't the case, and no matter how you slice it, it is one of the game's greatest achievements to get 27 or
The no-hitter remains one of the rarest and most notable feats in baseball. Even if it seems like no-hitters are on the rise, there is an argument that isn't the case, and no matter how you slice it, it is one of the game's greatest achievements to get 27 or more outs without surrendering a single hit.
To wit: Five current MLB teams have had only one no-hitter in their entire existence, and one team has never had one at all.
Thus, we look at the last no-hitter for every team, save for the one that still doesn't have one. If you weren't around for the last one, odds are you've got quite a wait for the next one.
AMERICAN LEAGUE EAST
Blue Jays: Dave Stieb
September 2, 1990
Stieb, one of the most unappreciated great pitchers of the past 30 years, had taken no-hitters into the ninth inning three times before he finally got one. This is the only no-hitter in Blue Jays history.
Orioles: Bob Milacki (6 IP), Mike Flanagan (1 IP), Mark Williamson (1 IP), Gregg Olson (1 IP)
July 13, 1991
It's a little strange when a no-hitter is finished by a one-inning reliever; he always looks a little more excited than his contribution necessarily would merit. After this game, then-A's manager Tony LaRussa, whose team had just been no-hit, said, "Everybody congratulated different people. Nobody knew who to shake hands with."
Rays: Matt Garza
July 26, 2010
Garza faced the minimum number of batters; he walked a batter who was erased by a double play in the third inning. Opposing pitcher Max Scherzer of the Tigers actually took his own no-hit bid into the sixth inning. This remains the only no-hitter in Rays history.
Red Sox: Jon Lester
May 19, 2008
This no-hitter was less than two years after Lester had faced down cancer, and it was also the game that gave Jason Varitek the all-time lead for no-hitters caught (Carlos Ruiz later tied him).
Varitek's no-hitters caught:
Hideo Nomo: April 4, 2001
Derek Lowe: April 27, 2002
Clay Buchholz: April 1, 2007
Lester: May 19, 2008
Yankees: David Cone
July 18, 1999
It certainly feels like the Yankees have had one since this one, but they haven't. Cone unquestionably has the most iconic post-perfect game pose, that mix of disbelief and euphoria only perfect games can provide. And don't forget that it was also Yogi Berra Day. The ceremonial first pitch was thrown to Berra by Don Larsen in a recreation of the final pitch of Larsen's World Series perfect game in 1956.
• An oral history of David Cone's perfect game
AL CENTRAL
Indians: Len Barker
May 15, 1981
For all the great pitchers the Indians have had, they've still had only Barker's perfect game to hold them for nearly 40 years now. Pitchers who threw no-hitters for the Indians before Barker include two Hall of Famers: Dennis Eckersley and Bob Feller, who threw three. Barker threw only 19 balls the whole game.
Royals: Bret Saberhagen
August 26, 1991
The last guy you want to face when you're trying to hang on to your first career no-hitter is Frank Thomas, but Saberhagen got him to ground out to second base to finish it off.
Tigers: Justin Verlander
May 7, 2011
This was Verlander's second no-hitter, nearly four years after his first. He would go on to throw his third with the Astros.
Twins: Francisco Liriano
May 3, 2011
Liriano had one of the most fortunate no-hitters ever: He walked six batters and only struck out two.
White Sox: Lucas Giolito
August 25, 2020
Giolito threw the first no-hitter of the 2020 season, throwing 101 pitches and striking out 13 batters against only one walk. His 13 strikeouts were the most in any of the 19 no-hitters in White Sox history.
AL WEST
Angels: Taylor Cole and Felix Pena
July 12, 2019
In their first home game since Tyler Skaggs' death at 27 years old, the Angels honored their teammate in a perfect way, combining to throw the 11th no-hitter in franchise history while all of the players on the team wore Skaggs' No. 45 jersey in a 13-0 win over the Mariners at Angel Stadium.
Astros: Justin Verlander
September 1, 2019
The Astros became the 18th team in MLB history to throw multiple no-hitters in the same season, when Justin Verlander followed Houston's combined effort on Aug. 3 with his third career no-no. Verlander was dominant in a 120-pitch effort against the Blue Jays at Rogers Centre -- becoming the third player to throw multiple no-hitters against the same team and the first to do so on the road -- striking out 14 batters and allowing just one baserunner, a first-inning walk. It marked the franchise's 13th no-hitter, the most of any MLB expansion teams since 1961.
Athletics: Mike Fiers
May 7, 2019
Fiers threw the second no-hitter of his career -- which doubled as his second career complete game -- after a lighting delay pushed the game against the Reds into the wee hours of the night. Fiers became the 35th pitcher with multiple no-hitters in his career.
Mariners: James Paxton
May 8, 2018
Paxton's no-hitter was the first to be thrown by a Canadian-born pitcher -- Big Maple! -- in Canada.
Rangers: Kenny Rogers
July 28, 1994
Fun factoid about Rogers' perfect game: It was called by a career Minor League umpire who only worked a total of eight MLB games behind the plate.
NATIONAL LEAGUE EAST
Braves: Kent Mercker
April 8, 1994
Greg Maddux never threw a no-hitter for the Braves. John Smoltz never threw a no-hitter for the Braves. Tom Glavine never threw a no-hitter for the Braves. But Mercker threw two. (To be fair, he only threw six innings of the first one.)
Marlins: Edinson Vólquez
June 3, 2017
Much has gone down in Miami since Volquez's no-hitter, that's for sure.
Mets: Johan Santana
June 1, 2012
Mets fans thought they would never see a no-hitter. An argument could be made that they only had to sacrifice the rest of Santana's career.
Nationals: Max Scherzer
October 3, 2015
This was Scherzer's second no-hitter of the season and nearly his second of the week. Oh yeah, he also struck out 17.
Phillies: Cole Hamels
July 25, 2015
Hamels, along with Ryan Howard, was one of the last Phillies left standing from the 2008 World Series championship team, so it was fitting that the MVP of that Series finished off his Phillies career with a no-hitter. (He was traded to the Rangers before his next start.)
NL CENTRAL
Brewers: Juan Nieves
April 15, 1987
Still the only no-hitter in Brewers history, the highlight of the final out doubles as part of Robin Yount's career highlight reel.
Cardinals: Bud Smith
September 3, 2001
Smith's random no-hitter, at the age of 21, came in only his 11th big league start. He parlayed it into a postseason start that year, winning Game 4 of the NL Division Series over eventual World Series-champion Arizona. He never got it back together after that and was traded to the Phillies after the 2002 season, a year in which he had a 6.94 ERA, along with Placido Polanco for Scott Rolen. Smith never appeared in the Majors again.
Cubs: Alec Mills
September 13, 2020
Mills had only five Major League wins before this one, and he only drummed up five swings and misses against the Brewers. But it didn't matter on this day.
Pirates: Francisco Cordova and Ricardo Rincon
July 12, 1997
This is technically a split no-hitter, but Cordova actually threw a nine-inning no-no. Unfortunately for him, the Pirates didn't score in his nine innings, so after Mark Smith hit a three-run homer in the top of the 10th, Rincon finished up the rest.
Reds: Homer Bailey
July 2, 2013
In case you were wondering why the Reds signed the Christian Bale lookalike to that massive deal, the guy did throw two no-hitters in the span of nine months just seven years ago, including this one against the Giants.
NL WEST
D-backs: Edwin Jackson
June 25, 2010
Jackson tossed one of baseball's most wild no-hitters, walking eight(!), striking out six and throwing 149 pitches.
Dodgers: Walker Buehler, Tony Cingrani, Yimi García, Adam Liberatore
May 4, 2018
Buehler was a huge part of the Dodgers' success in 2018, particularly down the stretch and into October, when he beat the Rockies in a Game 163 tiebreaker for the NL West title before pitching well in the postseason as Los Angeles reached the World Series for the second consecutive year.
Giants: Chris Heston
June 9, 2015
Heston famously hit three batters in his no-hitter. He started 31 games for the Giants that year, but after 2015, he only won one more game the rest of his career.
Padres: None
Date of franchise's first game: April 8, 1969
The Padres remain the only team that has never thrown a no-hitter. Only one San Diego pitcher, Christopher Young, has taken a no-hitter into the ninth in the past 20 years. Some Padres fans believe the team is cursed to never have a no-hitter because in 1970, manager Preston Gomez pulled Clay Kirby after eight innings of no-hit ball against the Mets. Jack Baldschun, the man who relieved him, gave up three runs in the ninth, and only Young has come close since. They almost had a combined no-hitter in 2011, but Luke Gregerson, the fifth pitcher, gave up a double to Juan Uribe with two out in the ninth of a 0-0 game. (The Padres lost the game on the next batter.) Tyson Ross gave it a good go in 2018, as well.
Rockies: Ubaldo Jiménez
April 17, 2010
Still the only no-hitter in Rockies history. Kyle Freeland came within two outs of throwing one in 2017.
Will Leitch is a columnist for MLB.com.