Tale of the fantasy tape: Cardinals vs. Cubs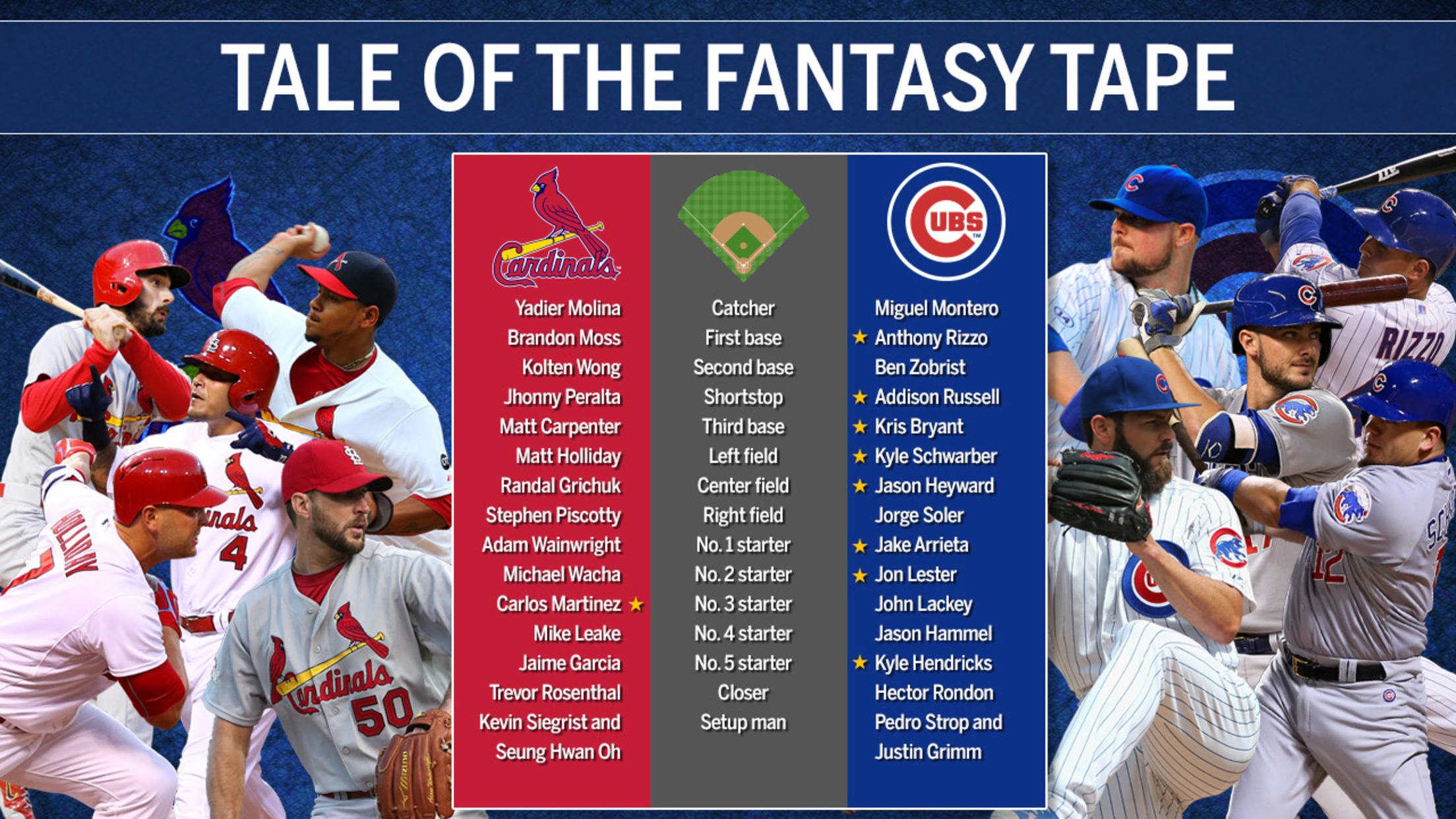 Cardinals fans have taken great pride in the team's three consecutive National League Central titles, but St. Louis may no longer be the division's dominant club. Having added a cast of productive veterans to a core of skilled youngsters, the Cubs are shaping up to be one of the most
Cardinals fans have taken great pride in the team's three consecutive National League Central titles, but St. Louis may no longer be the division's dominant club. Having added a cast of productive veterans to a core of skilled youngsters, the Cubs are shaping up to be one of the most exciting teams in baseball this season.
Before these rivals settle their competition on the field in 2016, we can get a head start on assessing them by comparing the fantasy value of their key players for the upcoming campaign. A word of warning: Cards fans may want to stop reading here.
• 2016 Fantasy Player Preview:Cardinals | Cubs
Catcher:Yadier Molina is clearly superior defensively to Miguel Montero, but these two players are dead even in terms of fantasy value. Molina can hit for average, but his power has disappeared in recent seasons. Montero is unlikely to post a high batting mark, but he'll provide plenty of power.
First base: A five-category stud who belongs in the first round of most fantasy drafts, Cubs first baseman Anthony Rizzo holds a decided advantage over the Cardinals' Brandon Moss. Rizzo is among the few players with the potential to rip 30 roundtrippers, swipe 15 bases and drive in 100 runs in 2016.
Second base: In a battle of potential against predictability, Kolten Wong and Ben Zobrist finish in a tie. Wong should use his solid power/speed combination to dent mixed-league rosters, but his recent struggles against southpaws are a cause for concern. Zobrist no longer offers a speed component, but he should match Wong's power and score plenty of runs by virtue of his terrific on-base skills.
Shortstop: Expected to take a step forward in his second season, skilled youngster Addison Russell gets a slight edge over Jhonny Peralta. Cards fans will likely vehemently disagree with this decision, but the 22-year-old Russell may be on the verge of making a major leap. Peralta is a safe source of power for fantasy owners, but his lack of speed limits his ability to swipe bases and score runs.
Third base: In another battle where an ascending player leapfrogs a veteran, Kris Bryant is expected to be selected long before Matt Carpenter in 2016 drafts. Already a four-category difference-maker, Bryant -- who will be among the top-20 picks in most leagues -- could be even better if he can lower his strikeout rate. (Carpenter, however, is also a fine mixed-league third baseman after significantly raising his power numbers last season.)
Left field:Matt Holliday is no longer a lock to hit .300, and he also raised concerns about his power potential and ability to stay healthy during an injury-plagued 2015 season. The veteran loses out to power sensation Kyle Schwarber, who followed up a brief-but-impressive Minor League career by swatting 16 homers across his initial 232 big league at-bats.
Center field: Though Jason Heyward has yet to sustain the power numbers that many scouts expected, his diverse skill set gives him a fantasy advantage over the ascending Randal Grichuk. Grichuk showed his impressive power potential by swatting 17 homers across 323 at-bats last season. But unless he can lower last year's 31.4 percent strikeout rate, he will likely be hard-pressed to notch a batting average north of .270.
Right field: In a battle of talented youngsters, we will declare a draw between Jorge Soler and Stephen Piscotty. Soler has the plus power to make a leap this season, if he can lower his strikeout rate, while Piscotty will need to prove that he can hit for a high average without the benefit of a high BABIP.
No. 1 starter: A healthy Adam Wainwright is a fine fantasy workhorse, but his current value lags well behind Jake Arrieta. Coming off a historically excellent second half (0.75 ERA, 0.73 WHIP), Arrieta should be among the first three starters off the board in all 2016 drafts.
No. 2 starter:Jon Lester's ability to combine a strong ERA and WHIP with 200-plus strikeouts gives the Cubs a great one-two punch with Arrieta. He holds a decided edge over Michael Wacha, who posted a 4.01 ERA in the second half of 2015.
No. 3 starter: The Cardinals finally score a win, with Carlos Martinez ranking ahead of steady veteran John Lackey. True, the Martinez's late-season shoulder woes are a cause for concern. But his 200-strikeout potential makes him a valuable fantasy starter when healthy.
No. 4 starter:Jason Hammel would have held an advantage over Mike Leake if he could have maintained his 2.86 first-half ERA across all of last season, but he pitched to a 5.10 mark after the All-Star break. That leaves him tied with Leake, who should produce quality ratios, but a low strikeout total.
No. 5 starter: The favorite to be the Cubs' fifth starter, Kyle Hendricks made major gains with his strikeout rate in 2015 and owns a solid lifetime 1.14 WHIP. That gives him the edge over Jaime Garcia, who is coming off an effective '15 season but has a lifetime 1.26 WHIP and a lengthy injury history.
Closer: With 93 saves across the past two seasons, Trevor Rosenthal has more experience closing out wins than Hector Rondon. But in that same span, Rosenthal has registered a 1.34 WHIP while Rondon has pitched to a 1.03 mark. Rondon's ability to keep the bases clean causes this fantasy battle to finish in a draw.
Setup Men: These two strong setup crews have little separation between them heading into 2016, as Kevin Siegrist, Seung Hwan Oh, Pedro Strop and Justin Grimm should all populate NL-only rosters.
Final verdict: While Cards fans (and Pirates fans) may not want to admit it, the Cubs could be the favorites to win the NL Central this season. On the strength of three early-round fantasy picks (Rizzo, Bryant and Arrieta) and an 8-1 advantage in our position-by-position breakdown, Chicago runs away with this Fantasy Tale of the Tape.
Fred Zinkie is the lead fantasy baseball writer for MLB.com. Follow him on Twitter at @FredZinkieMLB.