Felix happy, Iwakuma reserved after sessions
Injured Mariners pitchers discuss latest rehab step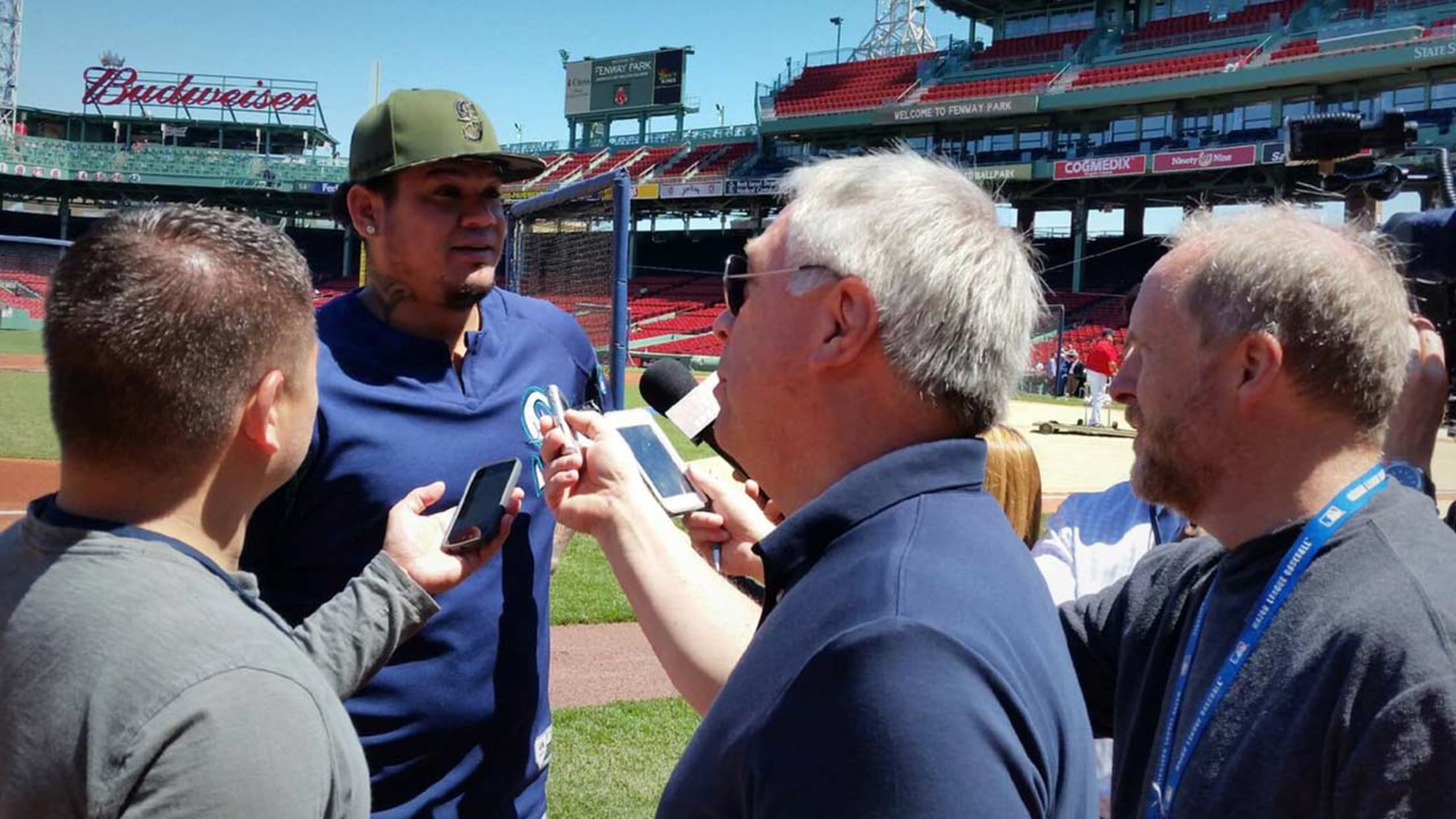 Felix Hernandez told reporters his shoulder felt "pain-free" at Fenway Park on Saturday. (Mariners)
BOSTON -- Felix Hernandez and Hisashi Iwakuma both threw 25-pitch bullpen sessions on Saturday at Fenway Park prior to the afternoon's Mariners game, as the club begins looking toward the return to health of its injury-plagued starting staff.James Paxton is slated to rejoin the rotation on Wednesday against the Rockies
BOSTON -- Felix Hernandez and Hisashi Iwakuma both threw 25-pitch bullpen sessions on Saturday at Fenway Park prior to the afternoon's Mariners game, as the club begins looking toward the return to health of its injury-plagued starting staff.
James Paxton is slated to rejoin the rotation on Wednesday against the Rockies at Safeco Field after emerging healthy from a four-inning rehab outing with Double-A Arkansas on Friday, with Hernandez and Iwakuma both several weeks behind in their throwing programs as they work back from shoulder issues.
Hernandez, sidelined since April 25 with bursitis in his right shoulder, said his session went very well. Iwakuma, out since May 3 with inflammation in his right shoulder, sounded a little more reserved after his first throwing session off a mound since he went on the 10-day disabled list.
Speaking through translator Antony Suzuki, Iwakuma indicated his outing "wasn't the best bullpen," though noting it's early in the process.
"It's the first bullpen, so it's hard to say," Iwakuma said. "I just have to make progress and move forward."
Asked specifically how his shoulder felt, Iwakuma sounded less than thrilled.
"I think it's OK," he said. "It's not perfect, but it is what it is. I feel OK. I would like to move forward. Hopefully it will get better."
Hernandez sounded a little more optimistic as he said his shoulder felt "pain-free" while throwing a combination of 25 fastballs, changeups and sinkers.
"I felt really good," Hernandez said. "I have no problems. I was throwing a lot of strikes."
Manager Scott Servais said both right-handers would need several bullpen outings, which come with several days of rest in between, before advancing to Minor League rehab starts. That means in a best-case scenario, with no setbacks, the two are looking at rejoining the Mariners in mid-to-late June.
"I'd like to be on the mound tomorrow, but they don't want me," Hernandez said of a target date. "I don't know yet. We have to talk."
Hernandez has only been on the DL twice since 2008. He missed seven weeks last season with a strained calf, and now has been sidelined nearly five weeks with his shoulder problem.
"It's been tough," Hernandez said. "Two years in a row on the DL is not good for me."
With Drew Smyly sidelined since the end of Spring Training with a strained elbow, the Mariners currently are minus four of their five projected starters. But the positive news is Paxton is on the way back from a strained forearm, and the others are progressing, as Smyly also now is playing catch and working toward a likely July return.
"Pax is anxious to get back," Servais said. "We saw that string he had going earlier in the year, building off what he did last year and kind of how he's carrying himself. He's taken a lot of pride in being a guy who can go out there and shut the other team down and give us a chance."
Worth noting
• Outfielder Mitch Haniger will continue working out with the Mariners on their road trip as he recovers from a strained right oblique, but he won't begin a Minor League rehab stint until sometime after the club returns to Seattle on Wednesday.
"I think he tried to ramp it up a little too quick last time," Servais said. "There's no definite date yet on when he goes out. He wants to be a little more cautious. Once we get off this road trip, then we can look at when can he go out and go from there. Unfortunately, it just got pushed back about a week or so."
Greg Johns has covered the Mariners since 1997, and for MLB.com since 2011. Follow him on Twitter [
---
@GregJohnsMLB]().