Felix impressing teammates early in camp
Former Cy Young Award winner is eyeing a bounceback season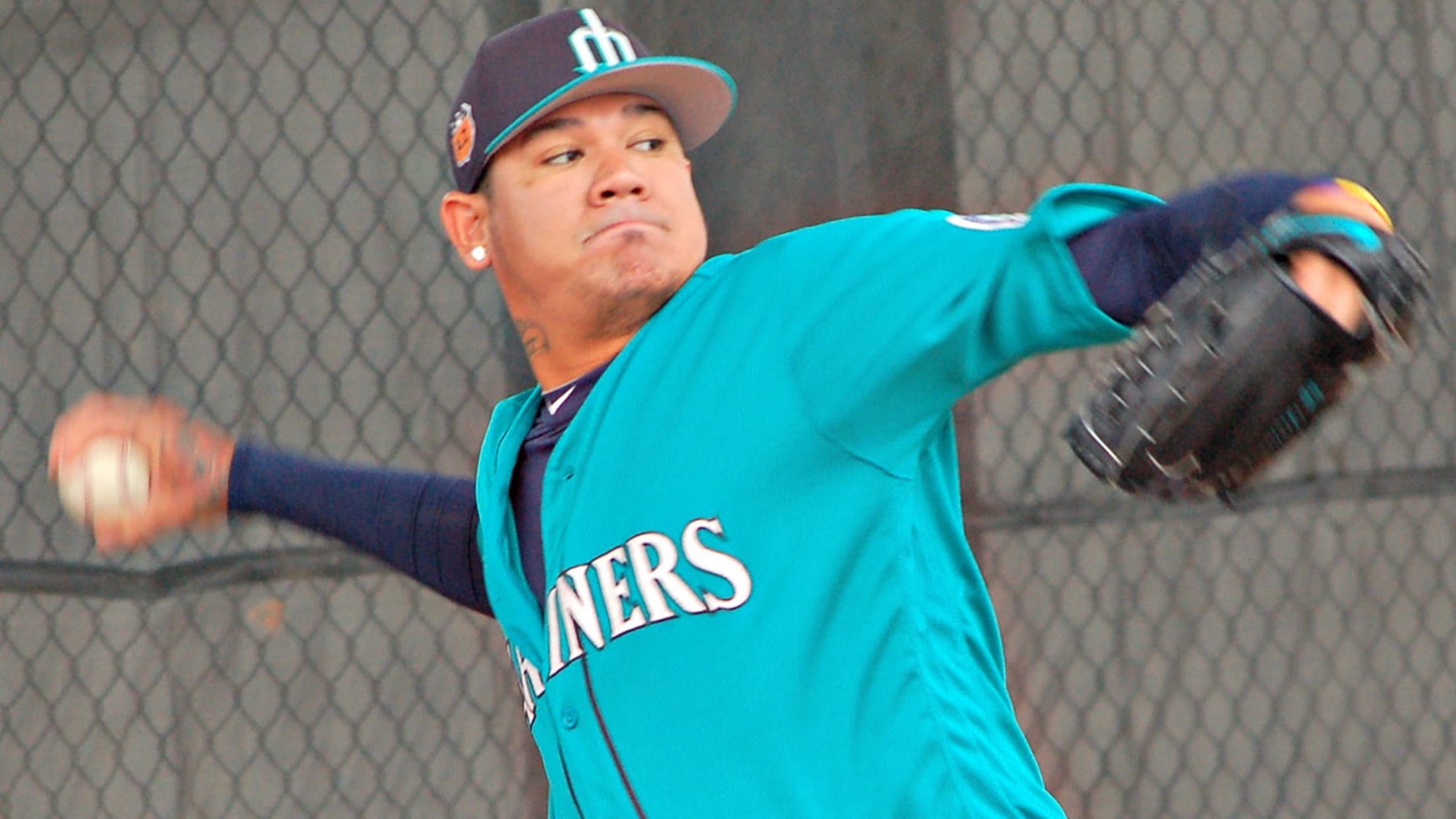 Mariners ace Felix Hernandez threw his second bullpen session of the spring on Sunday. (Greg Johns)
PEORIA, Ariz. -- Felix Hernandez, who normally starts spring on a slower schedule, looked sharp again during his second bullpen session on Sunday, as the Mariners' ace continues to impress teammates after an offseason full of rigorous training."I was joking with him yesterday that he looked like a real man
PEORIA, Ariz. -- Felix Hernandez, who normally starts spring on a slower schedule, looked sharp again during his second bullpen session on Sunday, as the Mariners' ace continues to impress teammates after an offseason full of rigorous training.
"I was joking with him yesterday that he looked like a real man now," Nelson Cruz said. "He's big, and he has muscles. Hopefully that can translate into wins. That's what we are looking for is wins for him. Like anybody else, he just has to stay healthy. "
Hernandez, who will turn 31 in April, has geared up earlier than normal in order to be ready to compete for Venezuela in the World Baseball Classic starting March 10. He also carries extra motivation to get back on top of his game after what he considered a subpar season in 2016.
• Mariners Spring Training: Schedule | Information | Tickets
Despite rainy weather for a second straight day, the Mariners' pitchers got all their throwing in Sunday, with all five projected starters among a group of 11 who tossed their second 10-minute bullpen sessions of camp.
Miranda among starting contenders
Left-hander Ariel Miranda, who went 5-2 with a 3.54 ERA in 11 outings -- including 10 starts -- after being acquired from the Orioles at last year's Trade Deadline, will be stretched out as a starter again this spring and likely stands as the first option if a rotation need arises, Mariners manager Scott Servais said.
"He looks great this spring," said Servais. "The things we asked him to work on over the offseason, as far as a little more consistent breaking ball, it looks really good. I like where he's at. We'll keep him stretched out.
"We hope we get through camp without any injuries or hiccups. If there is one, I hope he's throwing well enough that he can step in and do that. You can always back him off late if you decided to move him to the bullpen."
Weather (or not) to practice
Sunday's rain limited position players to hitting in cages instead of getting out on the field, not ideal for the first day of full-squad work. But Servais put his best sunny face on the situation.
"We do have longer Spring Training this year, just as far as the number of games and being stretched out," Servais said. "It's disappointing, everybody wants to get out on the field Day 1. They're all fired up. But we're going to turn a negative into a positive. It's an omen. We're used to rain in Seattle."
No further rain is expected Monday, but the club will push back its workout to 11 a.m. MT in order to let the fields dry and grounds crew to get things in order after Sunday's steady downpour. Now that the full team is in camp, everyone is ready to go.
"It's always nice to just get around the guys and get your first practice in," third baseman Kyle Seager said. "Obviously everybody wanted to be on the field, but just to get around everybody and start to get to know everybody a little deeper, it's really nice."
Worth noting
• Center fielder Leonys Martin was the only Mariner not in camp, as he's remained home in Miami for personal reasons. The Mariners aren't making any comment, but Martin is expected to be called to testify sometime in the next few days in the federal trial that is underway in Miami for agent Bartolo Hernandez and trainer Julio Estrada. The pair are accused of running a smuggling operation that brought a dozen Cuban players to America, including Martin.
Greg Johns has covered the Mariners since 1997, and for MLB.com since 2011. Follow him on Twitter [
---
@GregJohnsMLB]() and listen to his podcast.