Abad leaves camp to join DR for WBC '17
Lefty reliever throws scoreless inning Saturday in final spring appearance before tournament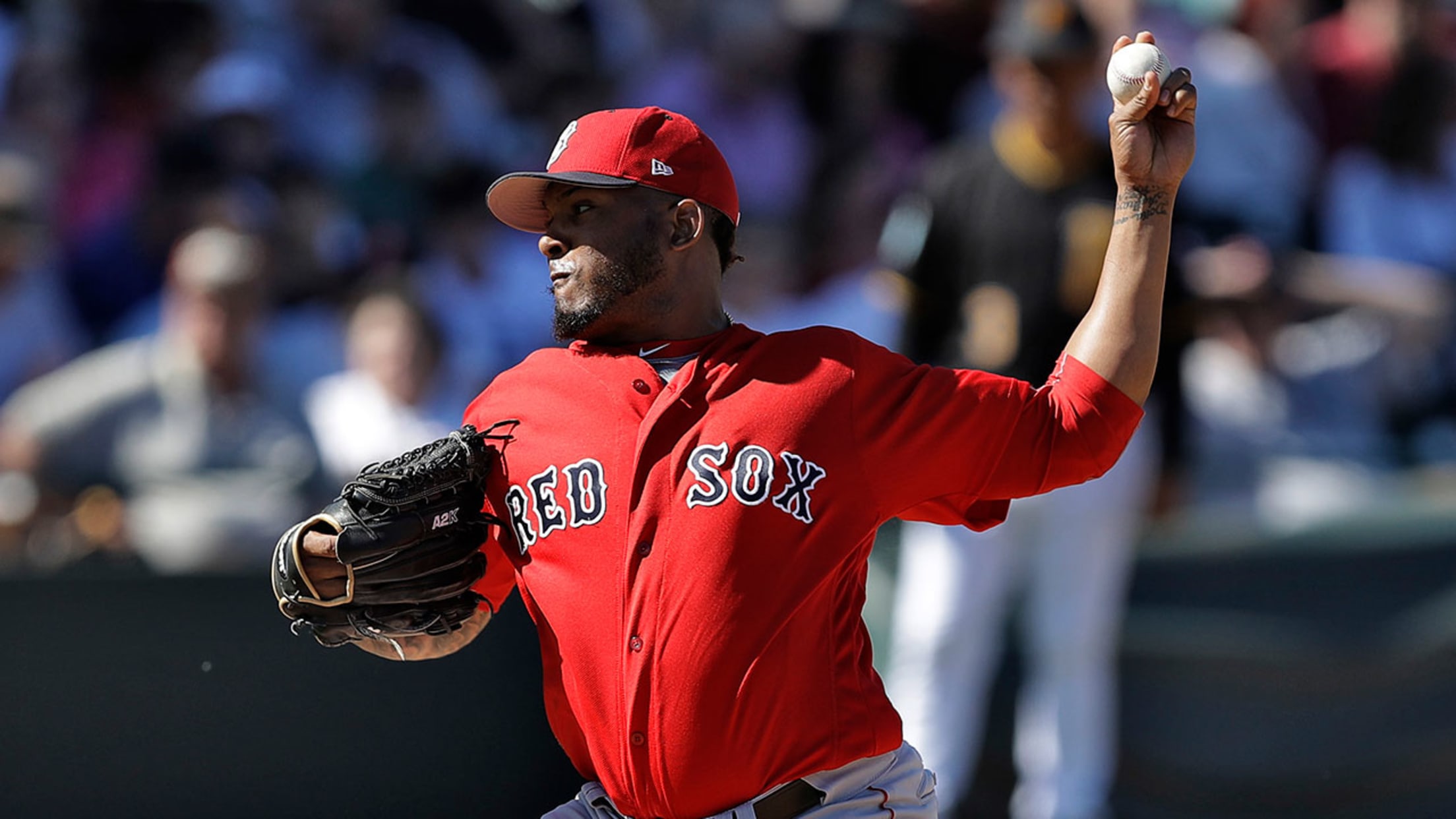 Fernando Abad, shown pitching against the Pirates on Saturday, had a 3.66 ERA in 57 games with the Twins and Red Sox last year. (AP)
BRADENTON, Fla. -- Lefty reliever Fernando Abad's scoreless inning in relief on Saturday could be the last time he pitches for the Red Sox for a while.After the 3-2 loss to the Pirates, manager John Farrell announced that Abad will join the Dominican Republic's World Baseball Classic squad on Sunday.Abad
BRADENTON, Fla. -- Lefty reliever Fernando Abad's scoreless inning in relief on Saturday could be the last time he pitches for the Red Sox for a while.
After the 3-2 loss to the Pirates, manager John Farrell announced that Abad will join the Dominican Republic's World Baseball Classic squad on Sunday.
Abad had been listed under the roster designation of DPP, which stands for designated pitcher pool.
:: 2017 World Baseball Classic ::
A team can use up to 10 designated pitchers but can't have more than two on its active roster at a time.
Abad will, at a minimum, stay with the Dominican Republic for the first round, but could end up staying for the whole tournament.
The situational reliever has a 2.25 ERA in four Grapefruit League outings.
The news of Abad joining the Dominican Republic comes just two days after Hanley Ramirez had to give up his roster spot for the defending World Baseball Classic champions due to right shoulder soreness.
The World Baseball Classic runs from Monday through March 22. In the U.S., games will air live exclusively in English on MLB Network and on an authenticated basis via MLBNetwork.com/watch, while ESPN Deportes and WatchESPN will provide the exclusive Spanish-language coverage. MLB.TV Premium subscribers in the U.S. will have access to watch every tournament game live on any of the streaming service's 400-plus supported devices. The tournament will be distributed internationally across all forms of television, internet, mobile and radio in territories excluding the U.S., Puerto Rico and Japan. Get tickets for games at Marlins Park, Tokyo Dome, Gocheok Sky Dome in Seoul, Estadio Charros de Jalisco in Mexico, Petco Park, as well as the Championship Round at Dodger Stadium, while complete coverage -- including schedules, video, stats and gear -- is available at WorldBaseballClassic.com.