5 Cards prospects to watch in Spring Training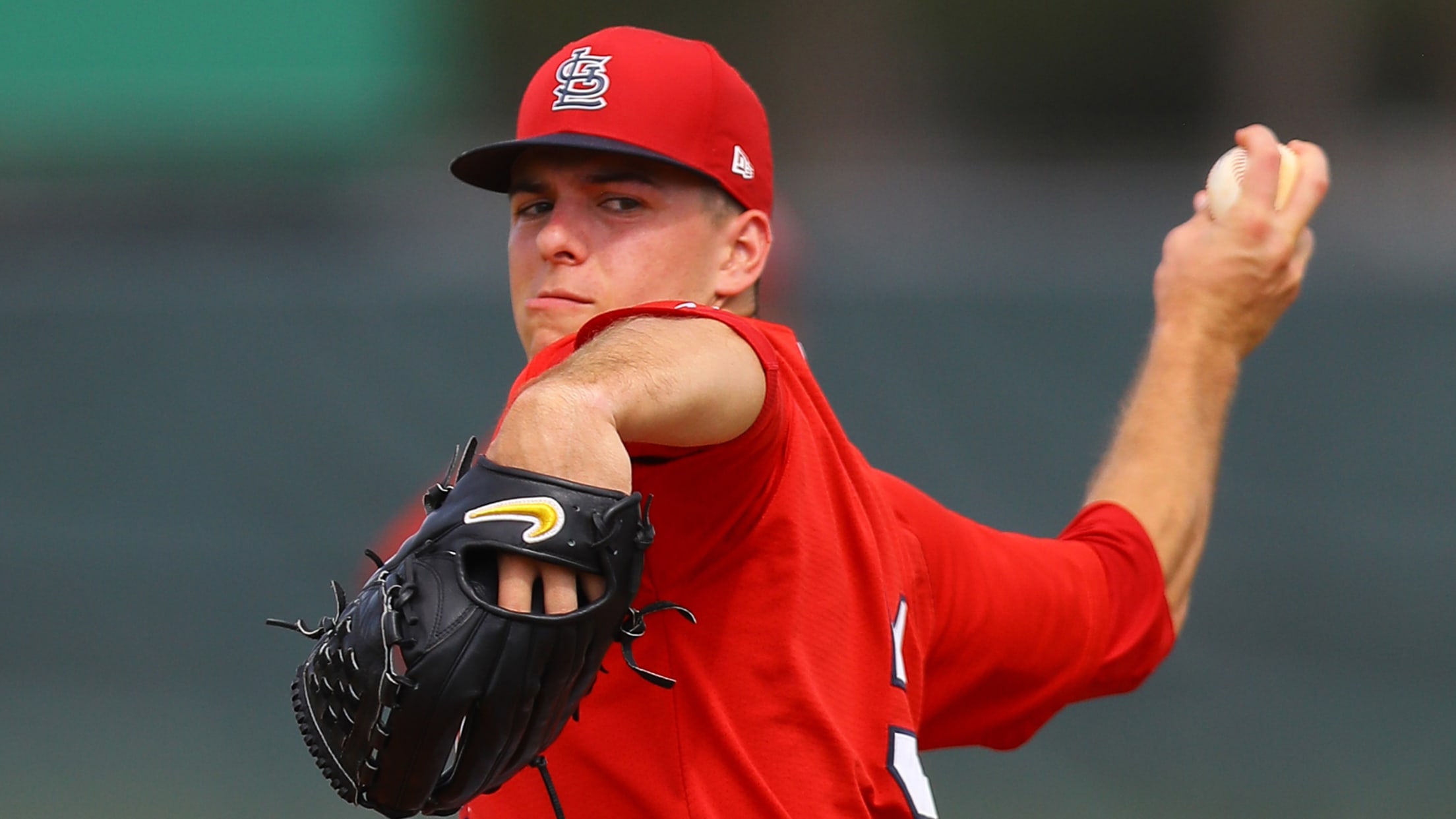 JUPITER, Fla. -- While much of the Cardinals' attention these next six weeks will be devoted to building their 25-man roster, that won't be the singular focus of spring. This is also the time of year when manager Mike Shildt and members of his coaching staff will enjoy a glimpse
JUPITER, Fla. -- While much of the Cardinals' attention these next six weeks will be devoted to building their 25-man roster, that won't be the singular focus of spring. This is also the time of year when manager Mike Shildt and members of his coaching staff will enjoy a glimpse of the future.
Among the 64 players the Cardinals plan to have in big league camp are several with little-to-no chance of cracking the team's Opening Day roster. From a practical standpoint, the club needs these extra bodies for coverage early in Grapefruit League play. But the invitations go deeper than that, too.
:: Spring Training coverage presented by Camping World ::
This is a showcase opportunity for prospects who can make an impression in front of the Major League staff and absorb lessons alongside those more experienced. It's also a unique opportunity for fans to get a glimpse of players that are earmarked for the Minors.
With that in mind, let's highlight five prospects, who, while unlikely to make the Cardinals' roster out of camp, are worth watching closely this spring because of the impact they could make later this year:
Ryan Helsley (Cardinals' No. 4 prospect, according to MLB Pipeline)
Helsley landed on this list last year, but shoulder fatigue interrupted his progress. Helsley's push toward the Majors stalled after 12 starts. At the time, he was holding hitters to a .197 batting average and .332 slugging percentage while moving back and forth between Double- and Triple-A. Helsley will first have to prove his health, since he has made just one appearance over the last eight months. If he can, the Cardinals are intrigued by Helsley's potential impact as a midseason reinforcement in the 'pen.
Andrew Knizner (No. 5)
In some ways, Knizner's path to St. Louis was cleared in December with the Cardinals' trade for Paul Goldschmidt since landing the All-Star first baseman meant sending top catching prospect Carson Kelly to Arizona. Knizner now takes over that spot, with the biggest question being when Yadier Molina will start pulling back on his workload enough to where someone else can get regular catching opportunities. Until that happens, Knizner will continue to develop in the Minors as a ready heir apparent.
Genesis Cabrera (No. 13)
Acquired by the Cardinals in last summer's Tommy Pham deal, Cabrera has already drawn comparisons to Carlos Martínez. Cabrera differs from Martinez in that he's a lefty, but like the current Cardinal, Cabrera already showcases an advanced fastball-slider mix and the ability to bump up his velocity when pitching out of the 'pen. A starter in Tampa Bay's system, Cabrera pitched in relief this winter and generated excitement about how quickly his climb could be if he remained in that role. Over 14 1/3 innings with his Dominican Winter League club, Cabrera struck out 20 while allowing two runs.
Ramon Urias (No. 20)
Urias has experience at all four infield spots, and that defensive versatility could lead him to St. Louis in a reserve role this season. Urias played five years in the Mexican League before the Cardinals signed him last January. By the end of the season, he had risen all the way to Triple-A Memphis. Urias hit .300 across two levels with the Cardinals in 2018 and continued to show the mature offensive approach that initially intrigued the organization.
Lane Thomas (No. 21)
Acquired from the Blue Jays in 2017 for International bonus pool money, Thomas was one of four players added to the 40-man roster in November in order to be protected from the Rule 5 Draft. The organization is deep in outfield talent, but Thomas nudged his way into more prominent prospect status with a breakout season in '18. He hit a career-high 27 home runs in 132 games and then performed well in the Arizona Fall League. Thomas has the speed to play center field and an arm that would allow him to handle either corner spot, too.