Panthers honor Jose, donate to JDF16 foundation
In special moment, No. 16 scores winning goal for NHL club in overtime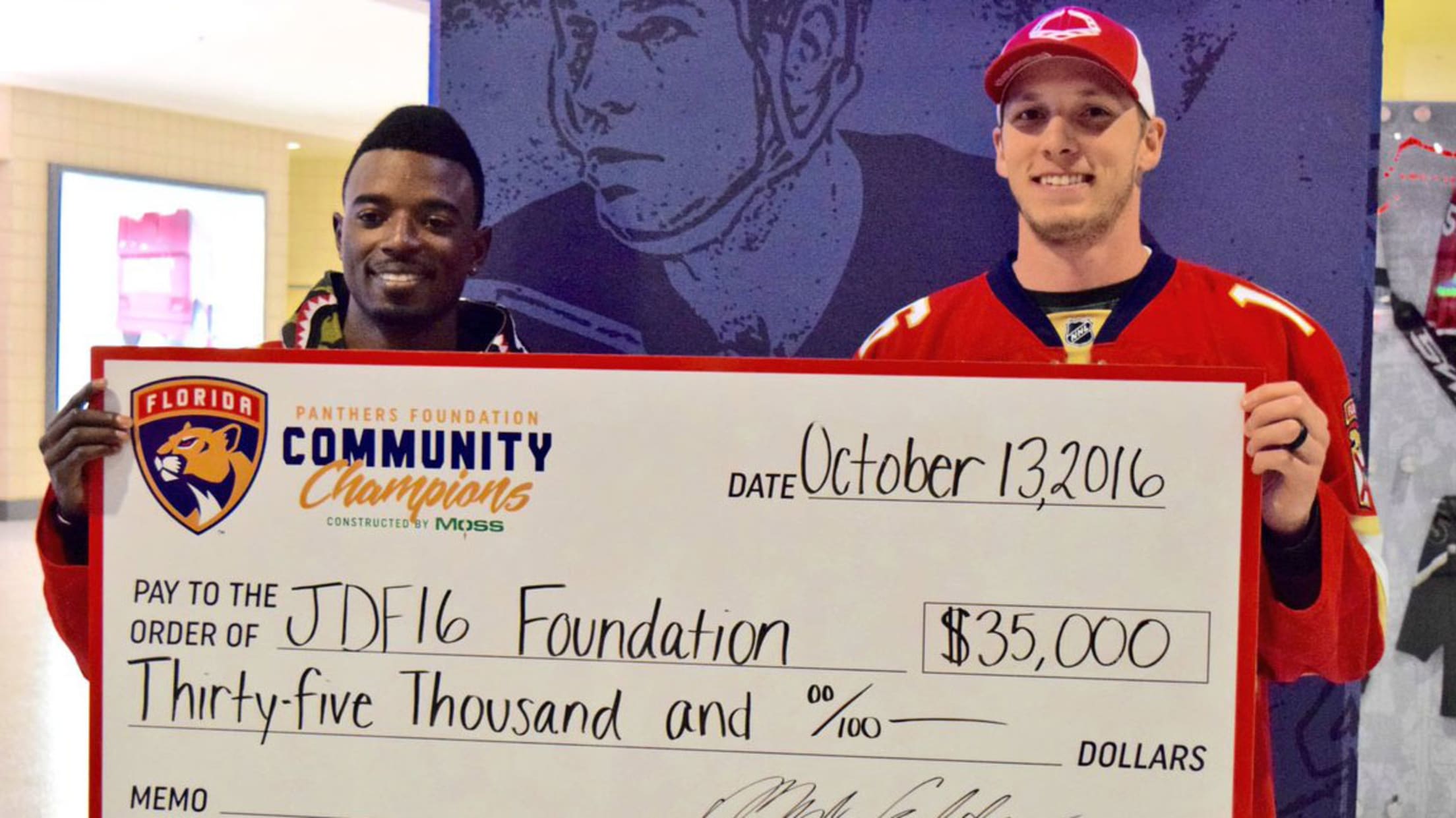 Dee Gordon and Adam Conley accepted a donation of $35,000 by the Panthers to the JDF16 Foundation, established to assist Jose Fernandez's family. (@Marlins)
MIAMI -- It was more than fitting that the game-winning goal was scored in overtime by No. 16. It was simply magical.The NHL's Florida Panthers on Thursday night honored José Fernández by wearing No. 16 jerseys during pregame warmups. In a made-for-a-movie-moment, the Panthers defeated the Devils in overtime, with
MIAMI -- It was more than fitting that the game-winning goal was scored in overtime by No. 16. It was simply magical.
The NHL's Florida Panthers on Thursday night honored José Fernández by wearing No. 16 jerseys during pregame warmups. In a made-for-a-movie-moment, the Panthers defeated the Devils in overtime, with the winning goal scored by Aleksander Barkov -- whose number actually is 16.
"Wow," tweeted Marlins second baseman Dee Gordon. "The @FlaPanthers won in overtime with a goal from #16! That's so dope!"
Wow the @FlaPanthers won in overtime with a goal from #16?!?! That's so dope!

— Dee Gordon (@FlashGJr) October 14, 2016
"Can't make this stuff up," tweeted Marlins pitcher Tom Koehler.
The Panthers are the latest South Florida sports team to pay tribute to Fernandez, the two-time Marlins' All-Star pitcher who died in a boating accident on Sept. 25.
They join the Miami Heat, the Miami Dolphins and the University of Miami in paying their respects since the tragedy.
"It's been overwhelming," Marlins senior vice president of communications and broadcasting P.J. Loyello said. "The sports community here is a small one. We're tight. We're, obviously, extremely grateful."
Loyello, team president David Samson, and executive vice president of operations and events Claude Delorme were part of group from the Marlins at the Panthers' opener.
Gordon and Miami lefty Adam Conley were also on hand. Representing the organization, the two accepted a donation of $35,000 by the Panthers to the JDF16 Foundation, established to assist Fernandez's family.
Thank you, @FlaPanthers! ❤️#JDF16 pic.twitter.com/UA01ouO2BG

— Miami Marlins (@Marlins) October 14, 2016
Conley tweeted: "Thank you @FlaPanthers for your support and love. Tremendous opener, game winning OT goal by #16. #GodAtWork."
Fernandez's legacy touched so many in South Florida and the sports world.
Before the Marlins opened Spring Training this season, Fernandez attended a Panthers' game as part of Miami's caravan week. He took to hockey and was enthusiastically rooting on the Panthers.
Pregame Thursday, the Panthers all came out for a warmup skate with Fernandez 16 on their backs.
"It's an unprecedented thing," Loyello said.
ICYMI: The @FlaPanthers wore #16 jerseys in warmup to pay tribute to José Fernández. pic.twitter.com/kh7Q4Jfbd9

— NHL (@NHL) October 14, 2016
Throughout the MLB playoffs, several players also have made their personal tributes, including Cubs closer Aroldis Chapman and Blue Jays right-hander Aaron Sanchez. They've written either Fernandez's name or initials and No. 16 on their caps.
In the final days of the regular season, a number of MLB clubs customized Fernandez 16 jerseys that hung in their dugouts.
"We've received jerseys from many, many teams the last weekend," Loyello said. "Fernandez signed 16 jerseys. The Nationals presented us one the final game of the season."
The Mets, Dodgers and Braves also sent the Marlins their jerseys.
"Players wrote personal messages on the jersey for us," Loyello said. "It's been unreal."