Former Phillie Oldis still having fun at age 90
Baseball lifer talks career highlights, coaching under Mauch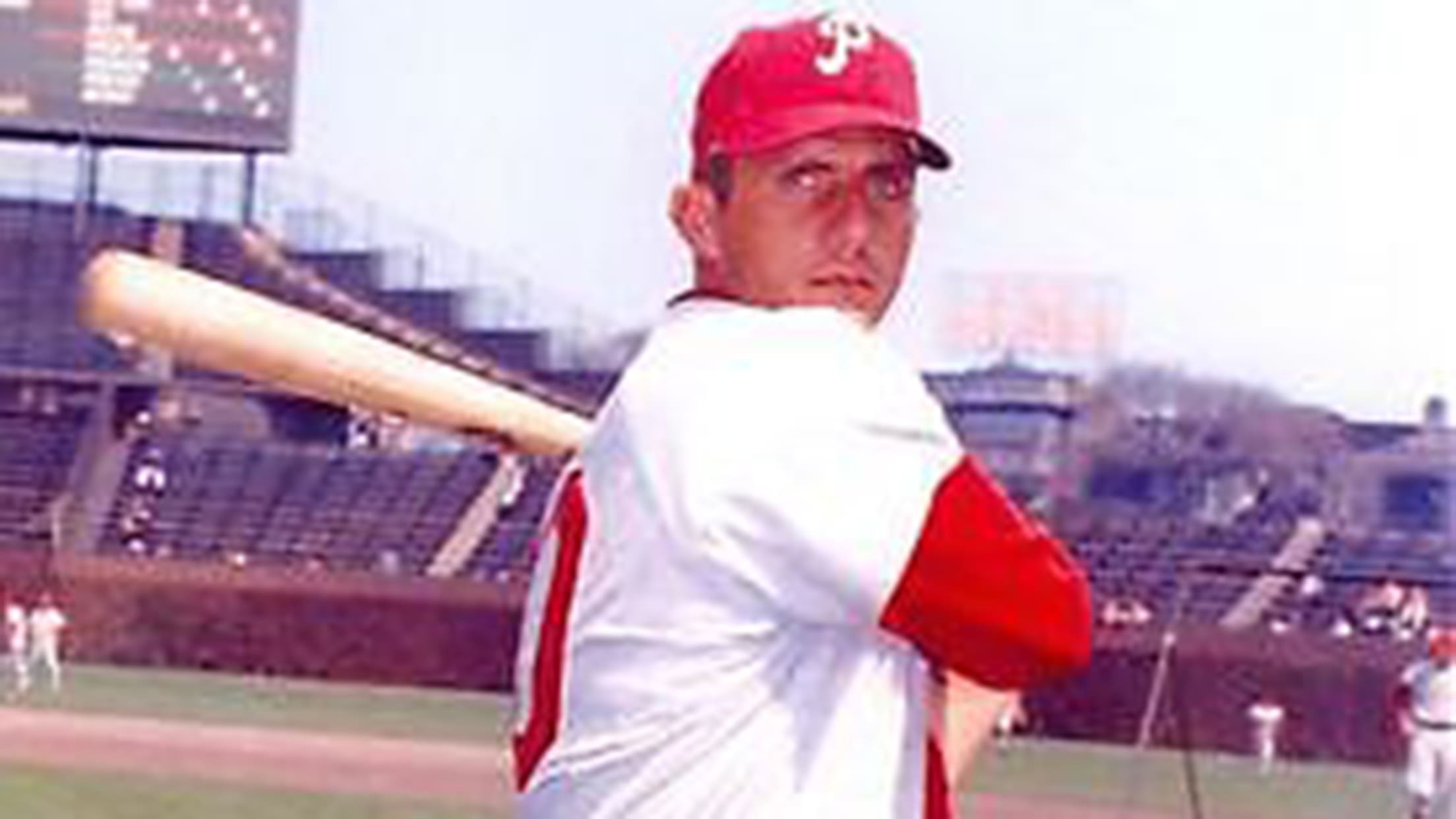 Dodgers shortstop Maury Wills was the National League's MVP in 1962, the year he set a modern record by stealing 104 bases. He was caught trying only 13 times.Bob Oldis played only 135 games in the Major Leagues scattered across seven seasons for three teams. On the night of June
Dodgers shortstop Maury Wills was the National League's MVP in 1962, the year he set a modern record by stealing 104 bases. He was caught trying only 13 times.
Bob Oldis played only 135 games in the Major Leagues scattered across seven seasons for three teams. On the night of June 4 at Connie Mack Stadium, though, none of that mattered. After Wills swiped second in the first inning, Phillies catcher Oldis threw him out at second in the second and at third in the seventh. It was the only time that year he was cut down twice in the same game.
"I did that because Maury Wills and I went out to eat the night before and I got him half-drunk," Oldis said with a laugh. "We had a good relationship the night before. So that's what happened there."
• Phillies Alumni coverage
Oldis, who joined the Phillies' nonagenarian club when he turned 90 on Jan. 5 and still does some scouting in the Upper Midwest for the Marlins, was never an All-Star or even an everyday player. But he may have led the league in having fun. And that, he says, could be part of the secret to his longevity.

Phillies Nonagenarian Club
"Probably not doing nothing," he said, laughing again. "I guess they call [this] work, but it's never been work to me. I guess baseball is a job, but it's never been a job to me. It's been more like a vacation. I've been luckier than heck.
"I haven't done much yet. Maybe I'll start doing something soon."
Well, that's not strictly true. Oldis has spent nearly seven decades in the game since being signed -- with no bonus -- by the Washington Senators before the 1949 season. He has two World Series rings. One was earned as a backup catcher for the '60 Pirates; he played in Games 4 and 5 as a defensive replacement but didn't come to the plate.
The other came with the Marlins in 2003, a year after he was voted Scout of the Year. It's estimated that he's signed nearly two dozen players who made it to the big leagues, including Shane Rawley, Bill Gullickson, Jeff Huson, Casey Candaele, David Herndon and Brad Hand.
Oldis is also a throwback to a time when players didn't make nearly the money they do now. According to the SABR BioProject, his 1960 World Series share was around $8,400. That came to about $6,400 after taxes. That, he told writer Dan Even, was "enough to buy the lot for [our] house [in Iowa City, Iowa] and start building there." He and his second wife, Mary Pat, still live there seven months a year, spending the rest of their time in Arizona.
Oldis has scouted for the Phillies and Expos. He coached for the Phillies, Twins and Expos and spent one year managing in the Minors in Montreal's system. In the offseason, he was a prep football and basketball referee, parcipated in the University of Iowa football "chain gang" for 55 years and for 14 years worked for the Iowa Highway Commission putting up snow fences, plowing and repairing potholes.
Oldis is even the subject of a book, "Bob Oldis: A Life in Baseball," by Stephen M. Bratkovich, which was released in September 2015.
On Oct. 13, 1961, exactly one year after Bill Mazeroski's famous World Series Game 7 home run helped the Pirates upset the mighty Yankees, Pittsburgh sold his contract to the Phillies. That turned out to be a good move for Oldis, and not just because he got more playing time in the last two years of his career (85 games, 165 of his 236 career at-bats) than he had anywhere else.
"I really believe I played for the smartest manager back then: Gene Mauch," Oldis said. "I really enjoyed that. I still follow the Philles. I have great memories. Because the fans, they let you know when you were playing bad, I'll tell you that."
Oldis had one home run in his career, and it came that first year with the Phils. Again, the Dodgers were the opponent. Leading off the sixth inning at Dodger Stadium, he hit one out to left field off left-hander Pete Richert.
"It went out so fast I guess it killed a palm tree outside Dodger Stadium, because the next year they had to plant a new tree," Oldis joked.
Oldis played his last game on Sept. 29, 1963, fittingly against the Dodgers. The next year, he became a coach for Mauch.
"We blew the pennant in '64, as you know," Oldis said, laughing yet again. "I was a coach that year, one of the smart coaches that blew that 6-game lead [with 12 to play]. So Philadelphia is in the back of my mind a lot."
Oldis, vigorous and still going strong, may have a .237 lifetime batting average in the big leagues. But he's clearly having the time of his life. And what a long and interesting life it's been.
Paul Hagen is a reporter for MLB.com.