Monday's top prospect performers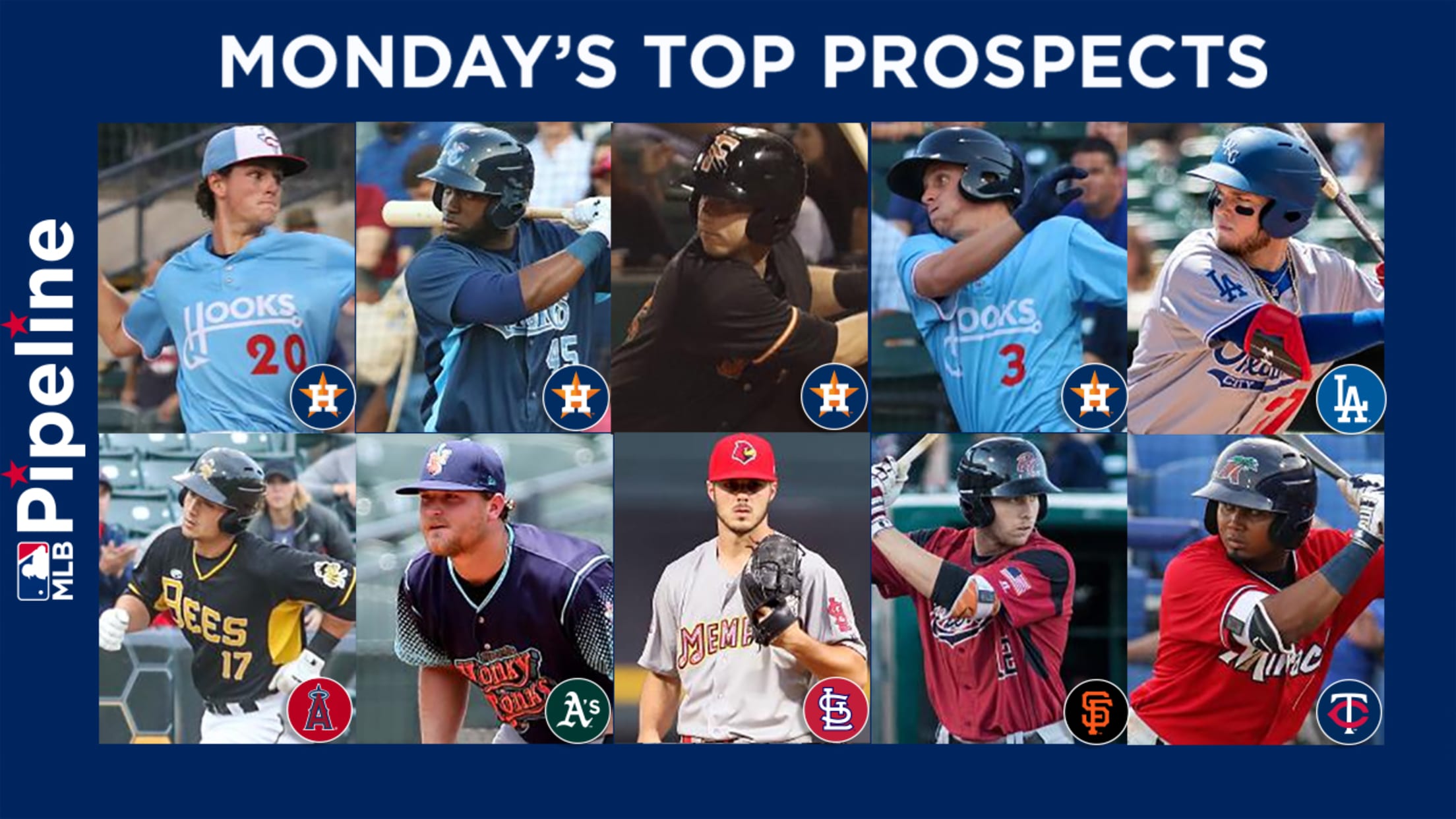 Here's MLB Pipeline's roundup of the top prospect performances in the Minor Leagues on Monday.:: Complete prospect coverage ::Making his third start of the season, Forrest Whitley once again put up zeros.Whitley, the Astros' No. 1 prospect (No. 7 overall), continued his season-opening dominance by tossing four scoreless innings on
Here's MLB Pipeline's roundup of the top prospect performances in the Minor Leagues on Monday.
:: Complete prospect coverage ::
Making his third start of the season, Forrest Whitley once again put up zeros.
Whitley, the Astros' No. 1 prospect (No. 7 overall), continued his season-opening dominance by tossing four scoreless innings on Monday as Double-A Corpus Christi blanked San Antonio, 12-0, to claim the first-half title in the Texas League South division.
It marked the third scoreless outing in as many starts for Whitley, who sat out the first 50 games of the season while serving a suspension after he failed a drug test during the offseason. He allowed two hits and one walk and struck out a season-best seven batters, throwing 51 of his 81 pitches for strikes in the performance.
The top-ranked pitcher on MLB Pipeline's Top 100 Prospects list, Whitley has now compiled 12 scoreless innings across his three starts for the Hooks. The 20-year-old right-hander has racked up 18 strikeouts in that span while permitting just five hits and three walks.
In his first full season, Whitley, Houston's first-round pick in the 2016 Draft, pitched to a 2.83 ERA with a 143-to-34 strikeout-to-walk ratio in 92 1/3 innings across three levels.
Pacing Corpus Christi at the plate on Monday was Astros No. 4 prospect Yordan Alvarez (No. 74 overall), who homered for a second straight game -- also his second game back from the disabled list -- before finishing 2-for-5 with four RBIs. The 20-year-old outfielder has gone deep eight times in 29 games for the Hooks and owns a 13-game hitting streak, dating back to April 25.
The rest of the best performances from top prospects Monday
• No. 14 overall prospect Kyle Tucker (Astros' No. 2) and Myles Straw (No. 20) collected three hits apiece as Triple-A Fresno downed Round Rock, 9-3. Straw, the Grizzlies' leadoff hitter, scored three runs and went 3-for-5, giving him seven hits in three games since being promoted to the Triple-A level. He also stole two bags in the contest to push his Minor League-leading total to 39 in 68 games. Tucker tallied three singles as part of a 3-for-5 performance from the two-hole that also extended his hitting streak to eight games. Josh James (No. 30) tossed six innings of one-run ball, mixing four hits with two walks and five strikeouts, en route to his second win in 13 outings (11 starts). He's pitched to a 2.23 ERA with 58 strikeouts in 40 1/3 innings (six starts) since his promotion to Fresno.
• No. 28 overall prospect Alex Verdugo (Dodgers' No. 1) stayed red hot with a pair of doubles and his second homer in as many games as part of a 3-for-4 game for Triple-A Oklahoma City. The multihit performance was Verdugo's fifth straight, and the 22-year-old outfielder has now tallied three hits in four of his past 11 games. What's more, Verdugo's last seven hits have all been for extra bases (5 2B, 2 HR) and come in his past three contests. Overall, he's hitting .350/.392/.522 with six homers and 13 doubles through 44 games.
MILB Video - Title: Verdugo goes yard in second straight game - Url: http://www.milb.com/r/video?content_id=2171537783
• Angels No. 8 prospect Matt Thaiss hit a go-ahead grand slam in the top of the ninth inning for Triple-A Salt Lake, only to see the Bees' bullpen blow the lead in the bottom of the frame. The home run was Thaiss' fifth in 22 games at the Triple-A level and 11th in 62 games this season including his time in Double-A. The 23-year-old first baseman finished the game with two hits, going 2-for-5 out of the leadoff spot.
MILB Video - Title: Thaiss blasts grand slam in 9th - Url: http://www.milb.com/r/video?content_id=2172185583
• A's No. 11 prospectSheldon Neuse collected exactly two hits for a fifth straight game, going 2-for-4 with a triple, but it wasn't enough to keep Triple-A Nashville from falling to Albuquerque, 3-2. The 23-year-old infielder has improved his average from .193 to .217 during the aforementioned five-game stretch but remains homer-less -- in the Pacific Coast League, too -- through 66 games this season after connecting on a career-best 16 homers in 117 games in 2017.
• Cardinals No. 3 prospect Dakota Hudson turned in his eighth quality start in 13 starts as he pitched Triple-A Memphis past El Paso, 6-1. Working six strong innings, Hudson allowed one earned run on eight hits and two walks while striking out four. He recorded eight ground-ball outs, throwing 63 of his 104 pitches for strikes. Don't be surprised if Hudson soon gets a crack at the big leagues, as the 23-year-old righty has allowed just one earned run in his last three starts (20 innings) and currently leads qualified Pacific Coast League hurlers with a 2.13 ERA.
• Giants No. 5 prospectAustin Slater hit a two-run homer in his first at-bat and later added a double to finish 2-for-4 in Triple-A Sacramento's loss against New Orleans. The home run was the 25-year-old outfielder's first of the month and fifth this season in 51 games, during which he's hitting .337/.413/.563.
• Twins No. 21 prospect Luis Arraez recorded a season-high four hits out of the leadoff spot as Class A Advanced Fort Myers edged Tampa, 6-5. The 21-year-old second baseman is hitting .448 in 15 games this month after posting a combined .205 average during the season's first two months. Arraez's overall average, meanwhile, sits at .286 thanks to his torrid stretch.