K-Rod won't let tough stretch affect his confidence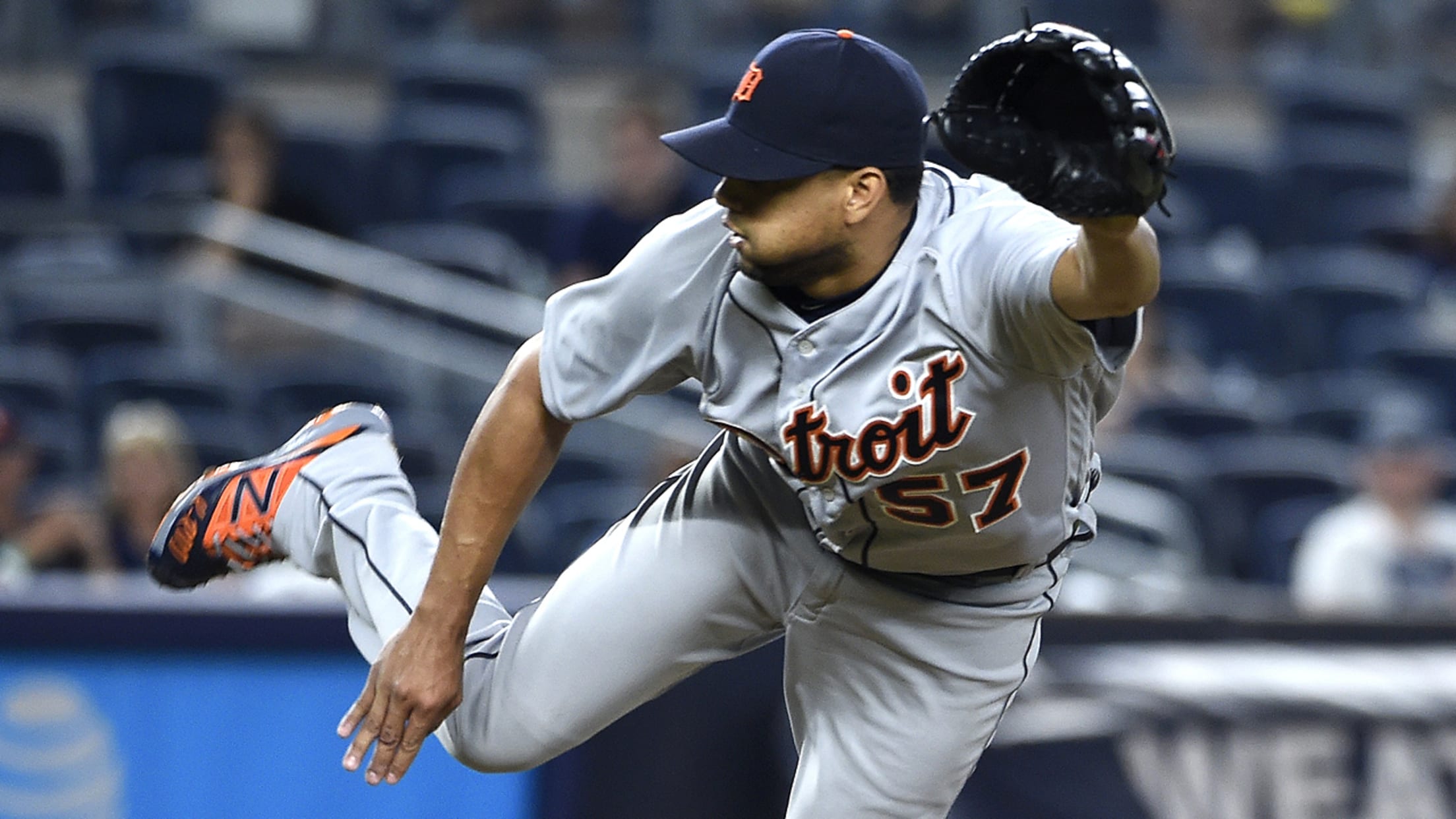 Francisco Rodriguez has taken the loss in back-to-back appearances. (AP)
SEATTLE -- Francisco Rodríguez has been in this game for far too long to let something like what transpired on Tuesday night, and into early Wednesday morning, set him back mentally."This," the Tigers' closer said, in the wake of blowing a save in a 6-5 loss to the Mariners in
SEATTLE -- Francisco Rodríguez has been in this game for far too long to let something like what transpired on Tuesday night, and into early Wednesday morning, set him back mentally.
"This," the Tigers' closer said, in the wake of blowing a save in a 6-5 loss to the Mariners in the bottom of the 15th inning, "is not my first rodeo."
Rodriguez learned this approach to closing when he came up with the Angels in the early 2000s and was mentored by Troy Percival, who had learned it from Lee Smith. And even though this latest loss was Rodriguez's second poor performance in a row, with the 34-year-old right-hander having also taken a loss against the Mets on Sunday, he said he's fine, physically and fine mentally.
It was just a bad night.
"I made a lot of mistakes, all over the plate once again," said Rodriguez, who has 32 saves but has seen his ERA climb to 3.24 from 2.66 in the course of the last two outings, which comprise a total of one inning of work. "Balls were up, and they barreled them pretty well. So now is the time for me to make the adjustments and try to find a way to turn the page and be ready for tomorrow. Simple as that."
That was the general attitude around the Detroit clubhouse on a night in which the Tigers carried a 4-1 lead into the eighth inning only to see Kyle Seager hit a three-run homer off Justin Wilson, and then retook a lead of 5-4 on Victor Martinez's homer to lead off the 15th before Rodriguez ran into trouble in the bottom of the frame.
Rodriguez got Shawn O'Malley to ground out, but that was one of only two outs he'd get. He walked Nelson Cruz, Adam Lind singled Cruz to second, Seager tied the game with a single and Lind moved to third on a fielding error by left fielder Justin Upton. Mike Zunino's sacrifice fly to center ended it.
In the wake of the grueling and stunning loss, Tigers manager Brad Ausmus talked about not having a rearview mirror, about having enough veterans on the club to realize that it's just one loss.
Rodriguez, who has 14 years in the Major Leagues, was right there with his skipper.
"It's painful, definitely," Rodriguez said. "Especially after those 15 innings and those guys battling. To not be able to come through is frustrating. It's painful.
"But I've been through it many times. One thing that I have is a short memory. I'll be back tomorrow, once again, and tomorrow's a different game, different situation. So we'll see."