Lynn's grand slam helps AL end NL All-Star streak in 1983
American League scores seven in 3rd inning in 13-3 rout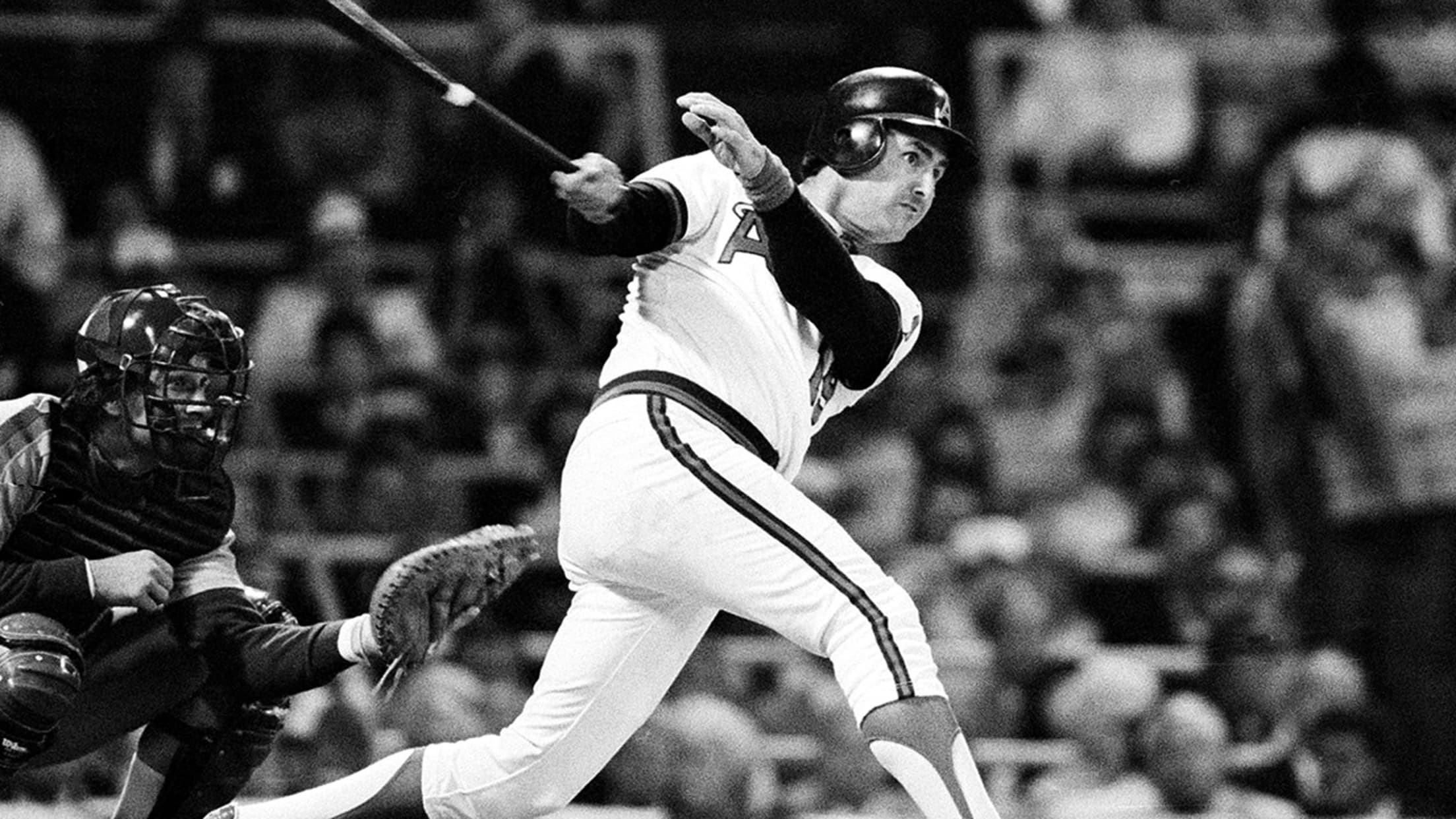 Fred Lynn's grand slam in the third inning was the first in All-Star Game history. (AP)
Bill Center, longtime sportswriter for U-T San Diego, is an employee of the Padres.Fred Lynn hit the first grand slam in All-Star Game history on July 6, 1983, as the American League ended the National League's 11-game winning streak with a vengeance.The American League scored seven runs off the Giants'
Bill Center, longtime sportswriter for U-T San Diego, is an employee of the Padres.
Fred Lynn hit the first grand slam in All-Star Game history on July 6, 1983, as the American League ended the National League's 11-game winning streak with a vengeance.
The American League scored seven runs off the Giants' Atlee Hammaker in the third inning en route to a 13-3 victory as the All-Star Game returned to Comiskey Park in Chicago to celebrate the 50th anniversary of the inaugural All-Star Game of 1933 - which was played in the same ballpark.
Lynn's unprecedented grand slam capped the third-inning, which set All-Star Game records for most hits (six) and runs by a team in a single inning. The slam also lifted the Boston Red Sox center fielder into elite company.
It was Lynn's fourth homer in All-Star Game action and raised his RBI total to 10. Four homers tied Ted Williams' American League record for All-Star Games and the 10 RBIs tied Stan Musial for second on the all-time list behind Williams' 12.
Obviously, Lynn was named the All-Star Game's Most Valuable Player.
The National League opened the scoring with an unearned run without the help of a hit in the top of the first.
Lead-off man Steve Sax reached first when American League starter Dave Stieb of Toronto threw wildly to first on a comebacker hit by the Dodgers' second baseman. Sax stole second and scored when the American League botched another comebacker to Stieb. This time, first baseman Rod Carew of the Angels couldn't field Stieb's throw on a ball hit by Montreal left fielder Tim Raines.
It was a horrible start for the American League. The National League had a 1-0 lead on two balls hit back to the mound before a hitter was retired, but the game quickly turned. Stieb struck out the side in the first and the American League scored single, unearned runs in both the first and second innings on sacrifice flies against National League starter Mario Soto of Cincinnati.
Carew opened the American League first with a single, advanced to second on a one-out walk, moved to third when Phillies third baseman Mike Schmidt misplayed a grounder by Boston left fielder Jim Rice and scored an unearned run on a sacrifice fly by Kansas City third baseman George Brett.
The American League took the lead in the second after Yankees' right fielder Dave Winfield opened the inning with a double down the line. Winfield reached third when Sax threw wildly to first on a grounder by Cleveland second baseman Manny Trillo and scored on a sacrifice fly to center by Milwaukee Brewers shortstop Robin Yount.
Then the American League blew the game open with the seven-run third that began with Rice's lead-off homer. Brett followed with a triple and scored on a one-out single by Winfield. Trillo singled Winfield to third and Carew singled home Winfield home to make it 5-1.
Lynn came up after Hammaker intentionally walked Yount to load the bases with two out. Lynn's grand slam came on a 2-and-2 offering by Hammaker.
The National League tried to rebound against Rick Honeycutt of the Texas Rangers with single runs in the fourth and fifth before the Texas Rangers' left-hander could retire a hitter, but a double play got Honeycutt out of trouble in both innings.
Montreal first baseman Al Oliver took over the fourth with a double and immediately scored on a single by Atlanta right fielder Dale Murphy, but Schmidt grounded into a double play. In the fifth, three straight, inning-opening singles by St. Louis shortstop Ozzie Smith, pinch-hitter Dickie Thon of Houston and Sax produced a run and put runners at first and second with no one out, but Honeycutt got Raines to ground into a double play.
That was it for the National League, although Padres left-hander Dave Dravecky kept the American League in check, allowing a hit with two strikeouts in two scoreless innings. The Padres other representative, catcher Terry Kennedy, did not play.
Meanwhile, the American League added two runs in both the seventh and eighth.
Chicago White Sox outfielder Ron Kittle opened the seventh with a single off Atlanta's Pascual Perez and scored on a triple by pinch-hitter Lou Whitaker of the Tigers. Kansas City center fielder Willie Wilson doubled home Whitaker with two outs.
Brett doubled to open the eighth against Lee Smith of the Cubs and moved to third on a single by pinch-hitter Cecil Cooper of the Brewers. Whitaker drove home Brett with a sacrifice fly and Cooper scored on a ground out by Oakland left fielder Rickey Henderson.
Winfield led the American League's 15-hit assault, going 3-for-3 with a double, a RBI and two runs scored. Brett and Carew each had two hits, a RBI and two runs scored. No National Leaguer had two hits.
Although he allowed an unearned run, Stieb gave up no hits with a walk and two strikeouts in three innings to get the win. Bob Stanley of the Red Sox followed Honeycutt with two scoreless innings while Matt Young of the Seattle Mariners and Dan Quisenberry each worked a scoreless inning.