1 free-agent target for every club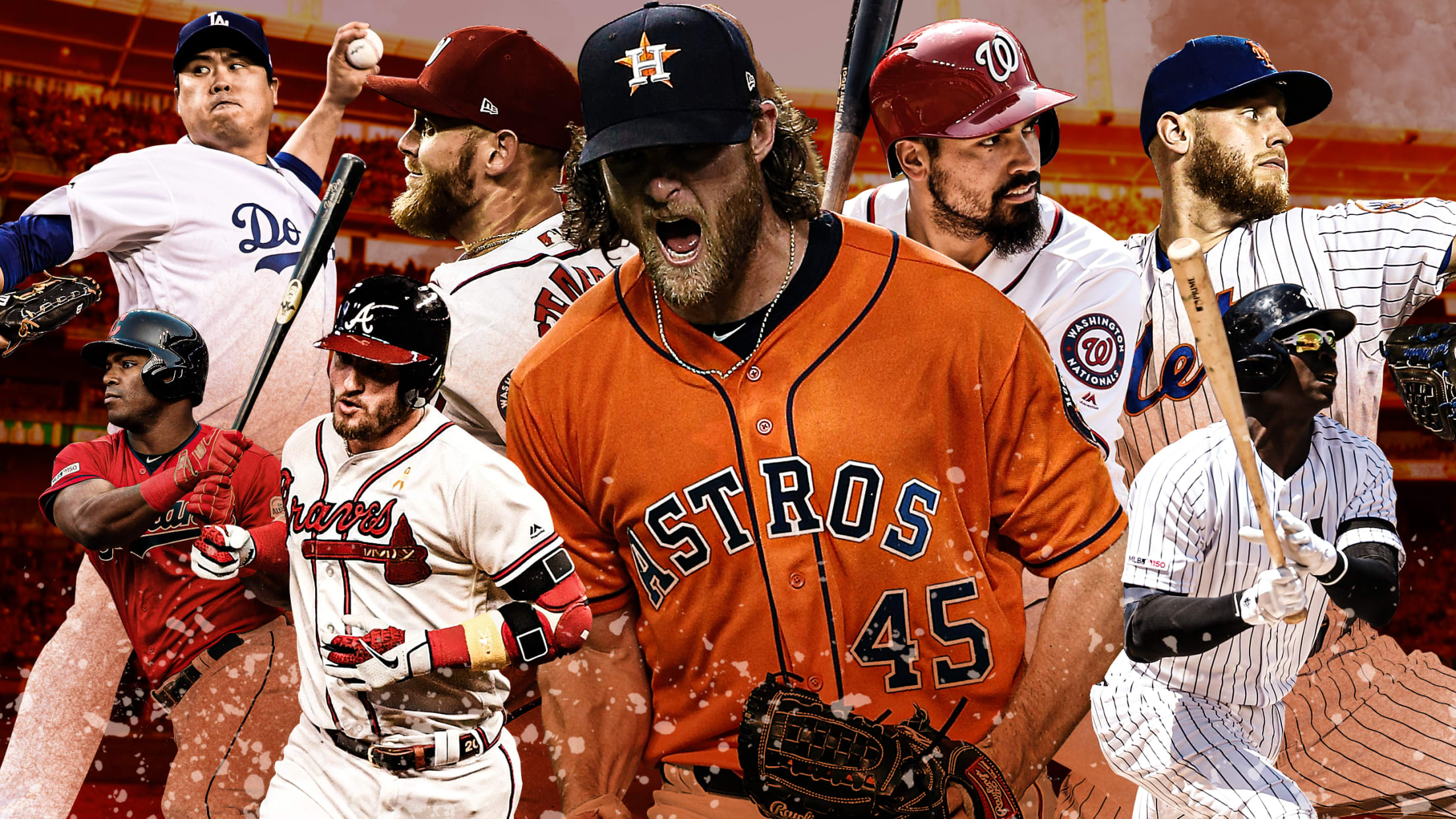 For the next few weeks, club executives and agents will begin their annual free-agent dance as teams around the Majors survey the market to see which players may fit their needs and budgets as they prepare for 2020. Most teams have multiple needs, but there's always one player that appears
For the next few weeks, club executives and agents will begin their annual free-agent dance as teams around the Majors survey the market to see which players may fit their needs and budgets as they prepare for 2020.
Most teams have multiple needs, but there's always one player that appears to be the ideal fit for each club, so we took a crack at identifying them. That's not to say these players will wind up in the suggested spots, but it's fun to try playing free-agent matchmaker, isn't it?
• Latest Hot Stove news and rumors
We had only two rules:
1. Every player had to be from another team (no incumbents).
2. Each player could only be on the list once. We know every team would happily add Gerrit Cole to its rotation, but that would make for a pretty boring list.
Now let's get to it.
American League East
Orioles: Ivan Nova, RHP
Baltimore doesn't figure to be in the mix for any high-profile free agents this offseason, but GM Mike Elias will need to add some arms to eat innings in 2020. Nova's numbers weren't always pretty, but he's a ground-ball pitcher (his 46.1 percent ground-ball rate ranked eighth in the AL) and he tied a career high with 187 innings pitched.
Red Sox: Will Harris, RHP
Dave Dombrowski chose to ignore his bullpen last offseason and predictable results followed. New baseball ops chief Chaim Bloom will be looking to reduce payroll, making it unlikely that he would go after a top closer such as Will Smith, but Harris was outstanding all season for the Astros, posting a 1.50 ERA in 68 appearances.
Yankees: Zack Wheeler, RHP
The Yanks could certainly make a big push for Gerrit Cole, but the feeling within the industry is that Cole is more likely to head home to Southern California to pitch for the Angels or Dodgers. New York is still likely to seek another starter, so why not look across town? Wheeler has already shown the ability to handle the pressure in Gotham and he put together back-to-back solid seasons for the Mets.
Rays: Robinson Chirinos, C
With Travis d'Arnaud headed for free agency and Mike Zunino lurking as a potential non-tender candidate, the Rays could be looking for a new catcher. Chirinos had a good season at the plate (.790 OPS, 17 home runs in 114 games) for the Astros and he is a solid defender, making him a viable option for catcher-needy teams.
Blue Jays: Kyle Gibson, RHP
Starting pitching should be Toronto's priority this offseason, and given the club's propensity for bounce-back candidates, Gibson could be a logical target. The 32-year-old has spent his entire seven-year career with the Twins, and although he pitched to a 4.84 ERA in 2019, his strikeout rate was a career high (9.0 per 9 IP) and his walk rate (3.2 per 9 IP) was his lowest since 2015.
American League Central
White Sox: Yasiel Puig, OF
The White Sox would prefer a left-handed bat to fill an outfield spot, but Puig offers an instant offensive boost for a team looking for one. Puig had a solid .377 on-base percentage and an .800 OPS during his 49-game stint with the Indians, including a stellar .333/.440/.476 slash line in 25 at-bats against the White Sox. Additionally, the White Sox have a long history of success with Cuban players.
Indians: Nicholas Castellanos, OF
The Tribe got an offensive jolt after trading for Yasiel Puig last summer, a deal that also landed Franmil Reyes in Cleveland. Puig is a free agent, but Castellanos -- with whom the Indians are very familiar from his years with the Tigers -- could fit into his spot, potentially forming a DH/RF combo with Reyes. Castellanos owns a .313/.361/.500 slash line in 49 career games at Progressive Field.
Tigers: Logan Forsythe, INF
Forsythe had an underwhelming season with the Rangers in 2019, but the Tigers are in need of infield help and could turn to a veteran rebound candidate to fill a spot. Forsythe, who turns 33 in January, started games at all four infield positions for Texas.
Royals: Rick Porcello, RHP
The Royals need pitching, and Porcello needs a place to pitch after posting a 5.52 ERA for the Red Sox in 2019. Porcello would benefit from the pitcher-friendly dimensions of Kauffman Stadium, while the Royals would benefit from the addition of a veteran with a good track record and an AL Cy Young Award on his mantel.
Twins: Dallas Keuchel, LHP
The rotation will be the focal point for the Twins, as Jake Odorizzi, Michael Pineda and Kyle Gibson are all free agents. Keuchel won't have a qualifying offer hampering his free agency this year, which should boost interest around the Majors. Given his strong (albeit abbreviated) season with the Braves, Keuchel showed that he can be a key rotation cog for a playoff team.
American League West
Astros: Jake Odorizzi, RHP
The Astros won't be able to truly replace Gerrit Cole, who is expected to leave via free agency (more on him in a moment), but Odorizzi feels like the type of pitcher Houston believes it can turn up a notch. Odorizzi's strikeouts were up and his walks were down, helping him make the first All-Star team of his career. The Astros have shown the ability to make a good pitcher great. Could Odorizzi be their next success story? The only wrinkle is that the Twins gave Odorizzi a qualifying offer, and the Astros might not be willing to sign a good-but-not-great pitcher if it means giving up Draft picks in the process.
Angels: Gerrit Cole, RHP
The biggest fish in the free-agent pond, Cole is going to command an enormous sum of money that should make him the highest-paid pitcher in the game's history. The Angels already have the highest-paid player ever (Mike Trout), so why not pair him up with the best pitcher in the game? Given that Shohei Ohtani won't even be arbitration-eligible until 2021, the Angels might do what's necessary to lure the Newport Beach native back home.
Athletics: Daniel Hudson, RHP
It's been less than nine months since Hudson signed a Minor League deal with the Angels, and now after being released, picked up by the Blue Jays and traded to the Nationals, the right-hander is primed to sign a multi-year deal after finishing the season as a key cog in Washington's bullpen and recording the final out of the World Series. Oakland isn't known for swimming in the deep end of the free-agent pool, but the A's have spent on their bullpen before.
Mariners: Michael Pineda, RHP
It's been more than eight years since Pineda was a rookie All-Star for the Mariners, seemingly ready to become one of the game's best starters. Two teams, two surgeries (shoulder, elbow) and two suspensions (pine tar, PEDs) later, Pineda is a free agent again. The Mariners need some arms to fill the rotation until some of their prospects are ready; could a reunion with Pineda be in the cards? One wrinkle here is that Pineda will miss the first 39 games of next season as he finishes his suspension for failing a PED test.
Rangers: Anthony Rendon, 3B
The Rangers are moving into their brand-new ballpark in 2020, so GM Jon Daniels could add a big free agent or two. Rendon is an obvious fit; six players started at third base for Texas, while its collective .699 OPS ranked 26th in the Majors at the position. Rendon is also a Texas native (he's from Houston) and has established himself as one of the game's best players.
National League East
Braves: Yasmani Grandal, C
Brian McCann retired and even though Tyler Flowers is coming back on a new one-year deal, Atlanta could use an upgrade here. Grandal is one of the better offensive catchers in the game, and while his defense has been questionable at times, he's helped take teams to the postseason in each of the past five seasons.
Marlins: Todd Frazier, 3B
OK, so perhaps this is wishful thinking. Wouldn't it be great to see Frazier receiving his new jersey from Derek Jeter more than two decades after he stood next to the shortstop on the field at Yankee Stadium after winning the Little League World Series? The move isn't without its merits, either: Miami ranked 30th in the Majors in home runs last season, so Frazier would help add a little pop to the Marlins' lineup.
Mets: Dellin Betances, RHP
The Mets' 4.95 bullpen ERA ranked 25th in the Majors, so GM Brodie Van Wagenen figures to look for some relief this offseason. Betances won't pitch for the first half of the season after sustaining a torn Achilles in September, but the four-time All-Star will be looking to show he's healthy after missing virtually all of the 2019 season. A two-year deal could make Betances a tremendous value and keep the New York native close to home after nearly a decade with the Yanks.
Phillies: Josh Donaldson, 3B
Philadephia's .725 OPS at third base ranked 24th in the Majors, with Maikel Franco's .692 OPS in 110 games accounting for the bulk of it. The Phillies could take a run at Anthony Rendon, but after shelling out a $330 million deal to Bryce Harper last year, they might prefer Donaldson, who will be seeking fewer years.
Nationals: Steve Cishek, RHP
The Nats will try to bring back their two big-ticket free agents (Stephen Strasburg, Anthony Rendon), so while they will surely try to bolster their bullpen, they might not have a ton of money to address it. Cishek had a very good season with the Cubs in 2019, pitching to a 2.95 ERA in 70 appearances, and he would be a solid addition to Washington's bullpen.
National League Central
Cubs: Marcell Ozuna, OF
The Cubs could try to bring Nicholas Castellanos back after his stellar two-month run, but Ozuna could be a solid alternative for Chicago. Although he hasn't repeated his monster 2017 season, he averaged 26 home runs and 88 RBIs in his two seasons with the Cardinals, and he is a better defender than Castellanos. Taking his bat away from the division-rival Cards would just be icing on the cake. He did get a qualifying offer from St. Louis, so Chicago would have to forfeit a Draft pick if it signs Ozuna.
Reds: Corey Dickerson, OF
Few players have enjoyed visiting Great American Ball Park as much as Dickerson, who has nine home runs and an absurd .373/.413/.813 slash line in 19 games (80 plate appearances). That's a small sample size, but the Reds are looking for offense and Dickerson -- who had a .906 OPS with the Pirates and Phillies in 2019 -- should be more affordable than Nicholas Castellanos or Marcell Ozuna.
Brewers: Didi Gregorius, SS
The Brewers' .612 OPS at shortstop in 2019 was last in the Majors by a wide margin, 43 points behind the 29th-ranked Royals and 158 points below the MLB average. Gregorius would be a major offensive upgrade, and while some believe his numbers are aided by Yankee Stadium, it should be noted that he hit far better on the road (.840 OPS) than at home (.570 OPS) last season. Gregorius showed his arm is healthy after returning from Tommy John surgery, and while he and the Yanks seem like a perfect fit, New York has a crowded infield and may not want to give its incumbent shortstop the money he's seeking. As a bonus, he did not get a qualifying offer from the Yankees, so the Brewers won't need to give up a Draft pick to get Gregorius.
Pirates: Michael Wacha, RHP
It's been four years since Wacha's lone All-Star season, and while he showed glimpses in 2018 (3.20 ERA in 84 1/3 innings), he regressed this past season (4.76 ERA in 126 2/3 innings) and may be due for a change of scenery. It's tough to say what direction Pittsburgh will take before a new GM is hired, but signing a bounce back candidate such as Wacha seems like as good a guess as any.
Cardinals: Stephen Strasburg, RHP
The presumption is that the World Series MVP Award winner will return to the Nationals after opting out of the final four years of his deal, but what if the Cardinals put on the full-court press? St. Louis has 23-year-old Jack Flaherty and 24-year-old Dakota Hudson atop its rotation, but adding a veteran ace such as Strasburg would make the Cards the favorite to repeat as NL Central champs in 2020.
National League West
D-backs: Sergio Romo, RHP
Archie Bradley will likely serve as Arizona's closer again next season, but GM Mike Hazen should look to add an arm or two in the bullpen. Romo, who turns 37 in March, pitched well for the Twins after being traded to Minnesota in late July, and aside from a hiccup or two over the years, the righty has been a solid late-inning option for most of his 12-year career.
Rockies: Brett Anderson, LHP
The Rockies' 5.87 rotation ERA ranked last in the Majors, so adding a starter or two figures to be in GM Jeff Bridich's offseason plans. Anderson -- who earned just $1.5 million last season -- led the AL with a ground-ball rate of 54.5 percent in 176 innings, making him an ideal fit for Coors Field. He'll be 32 in February, so the Rockies wouldn't have to make a long-term commitment to sign him.
Dodgers: Will Smith, LHP
The Dodgers' bullpen ranked fourth in the Majors during the regular season with a 3.78 ERA, but the unit was exposed in the postseason (6.75 ERA), making the relief corps a focus for Los Angeles this offseason. Kenley Jansen had a career-high eight blown saves, so while he is likely to remain as the closer, adding a proven late-inning arm such as Smith -- who converted 34 of 38 save opportunities while striking out 13.2 batters per nine innings -- would help bolster the back end of the bullpen.
Padres: Cole Hamels, LHP
Even with Chris Paddack's breakout season, the Padres ranked 12th in the NL with a 4.66 rotation ERA. San Diego will look for a veteran rotation piece to help mentor some of its young arms, so why not bring Hamels -- a San Diego native -- home? The lefty is no longer the top-of-the-rotation stud he once was, but he's a solid No. 3 or 4 starter who can be a positive impact on the kids.
Giants: Hyun-Jin Ryu, LHP
The Giants' 4.77 rotation ERA ranked 13th in the NL, and Madison Bumgarner is a free agent after anchoring the staff for the past decade. If the Dodgers go after Will Smith as suggested above, why not return the favor by signing Ryu to bolster the rotation? Farhan Zaidi has history with the lefty from his days with the Dodgers, so it wouldn't be surprising to see the Giants pursue Ryu, who can't be extended a qualifying offer after accepting one from Los Angeles last year.
Mark Feinsand, an executive reporter, originally joined MLB.com as a reporter in 2001.