Kapler preaches focus at camp amid rumors
Potential deal for Harper or Machado could lead to trades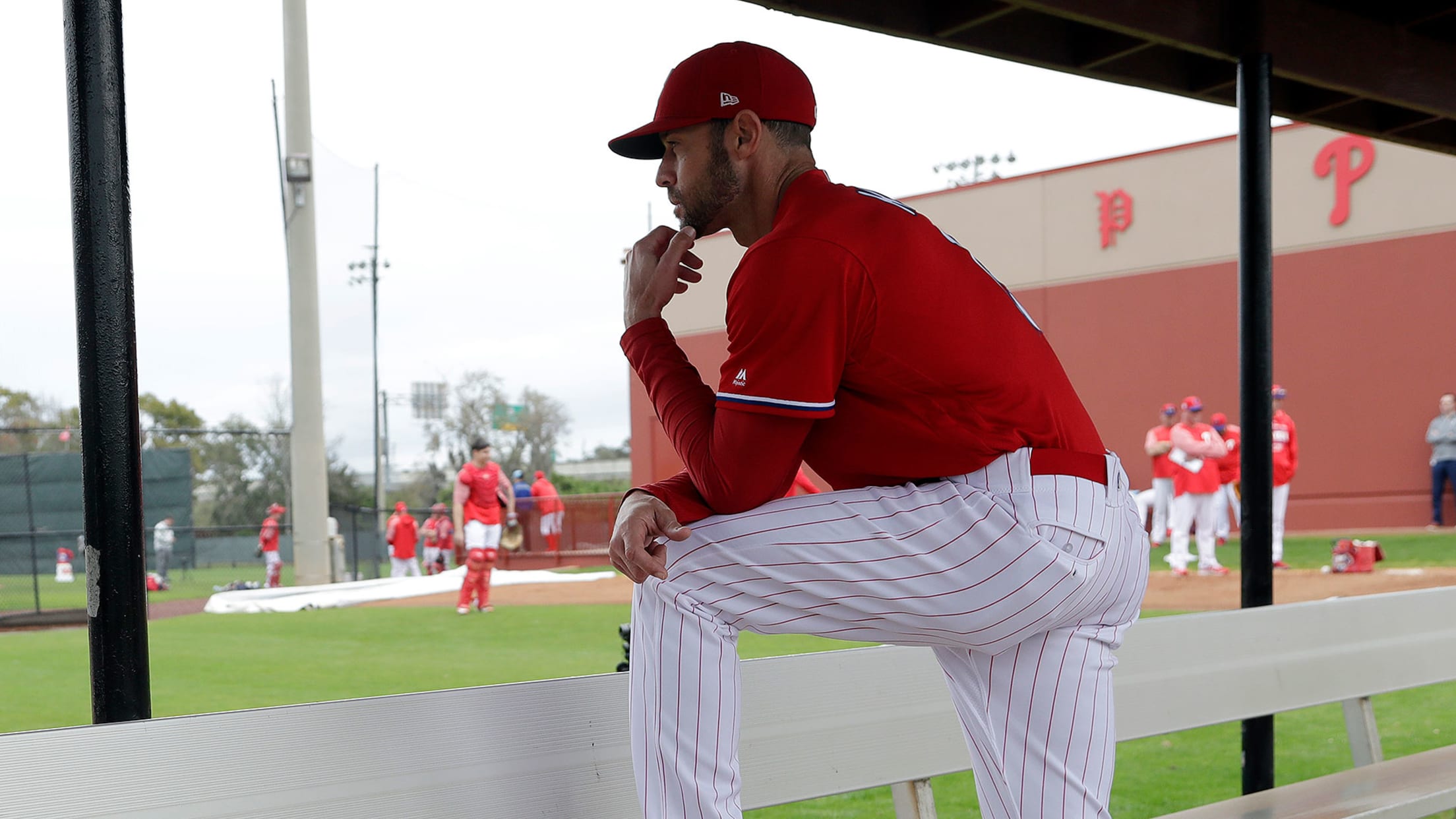 CLEARWATER, Fla. -- Phillies manager Gabe Kapler has a little advice for the players who could be impacted most if the team signs Bryce Harper or Manny Machado.Focus."Anything that takes your focus away from the batter's box, your position in the outfield, your baserunning, is not good for you," he
CLEARWATER, Fla. -- Phillies manager Gabe Kapler has a little advice for the players who could be impacted most if the team signs Bryce Harper or Manny Machado.
Focus.
"Anything that takes your focus away from the batter's box, your position in the outfield, your baserunning, is not good for you," he said following Monday's workout at Carpenter Complex. "You absolutely have no control over it, so my advice would be, stay locked into your work and the action steps that will get you where you want to go and where we as a team want to go."
Sources told MLB.com on Sunday that while the Phillies and Harper's agent, Scott Boras, have talked more regularly recently, no deal was imminent.
:: Spring Training coverage presented by Camping World ::
If the Phillies sign Harper, they would have a logjam in the outfield and could look to trade Nick Williams or Odúbel Herrera to clear room. If the Phillies sign Machado, they most likely would trade Maikel Franco.
Kapler said the notifications on his cellphone started popping up fast and furiously Sunday evening as reports about the Phillies' interest in Harper intensified.
"At some point you just say, 'What does any of this mean?'" Kapler said.
Standouts
• Kapler said recently that right-hander Edgar Garcia has impressed him early in camp because of his "nasty" slider. Garcia, 22, went a combined 7-3 with a 3.64 ERA and eight saves in 52 relief appearances with Double-A Reading and Triple-A Lehigh Valley last season. He struck out 72 in 64 1/3 innnings. The Phillies placed him on the 40-man roster late last year, protecting him from the Rule 5 Draft.
• Kapler said Sunday that right-hander Enyel De Los Santos has caught his eye. De Los Santos, 23, went 1-0 with a 4.74 ERA in seven appearances (two starts) with the Phillies. He is working on fastball command and trying to improve his slider, which has blended with his curveball in the past.
"Everybody is wondering what the difference is between the really good De Los Santos and the one that was just a little bit more pedestrian last year, and we're all trying to solve that puzzle," Kapler said.
De Los Santos is expected to open the season in the Triple-A rotation.
Behind the plate
J.T. Realmuto and Andrew Knapp are expected to be the team's two catchers on the Opening Day roster, but Kapler took a moment to praise catcher Deivi Grullon, who's in camp as a non-roster invitee. Grullon, 23, hit .273 with 21 home runs, 59 RBIs and an .825 OPS at Double-A.
"A lot of the characteristics that [former Phillies catcher Jorge] Alfaro brought he has, the raw power, the ability to hit the ball out to right-center field, the ability to dominate the baseball, the aptitude and willingness to dig in on the framing side," Kapler said. "There had been a little bit of information presented to me that his concentration level waned from time to time. I have not seen that. I have actually seen the concentration super high."
Grullon was in Philadelphia last month as part of the team's prospects seminar. The Phillies are high on him.
"This is a guy that from a raw talent perspective, our player-development staff has been excited about for a couple of years," Kapler said.
Injury update
Non-roster invitee Sean Rodríguez has a knee issue and is being checked out Monday. He entered camp as a candidate to make the team as the last player on the bench because of his ability to play multiple positions.