Kapler tunes out early noise, has Phils in hunt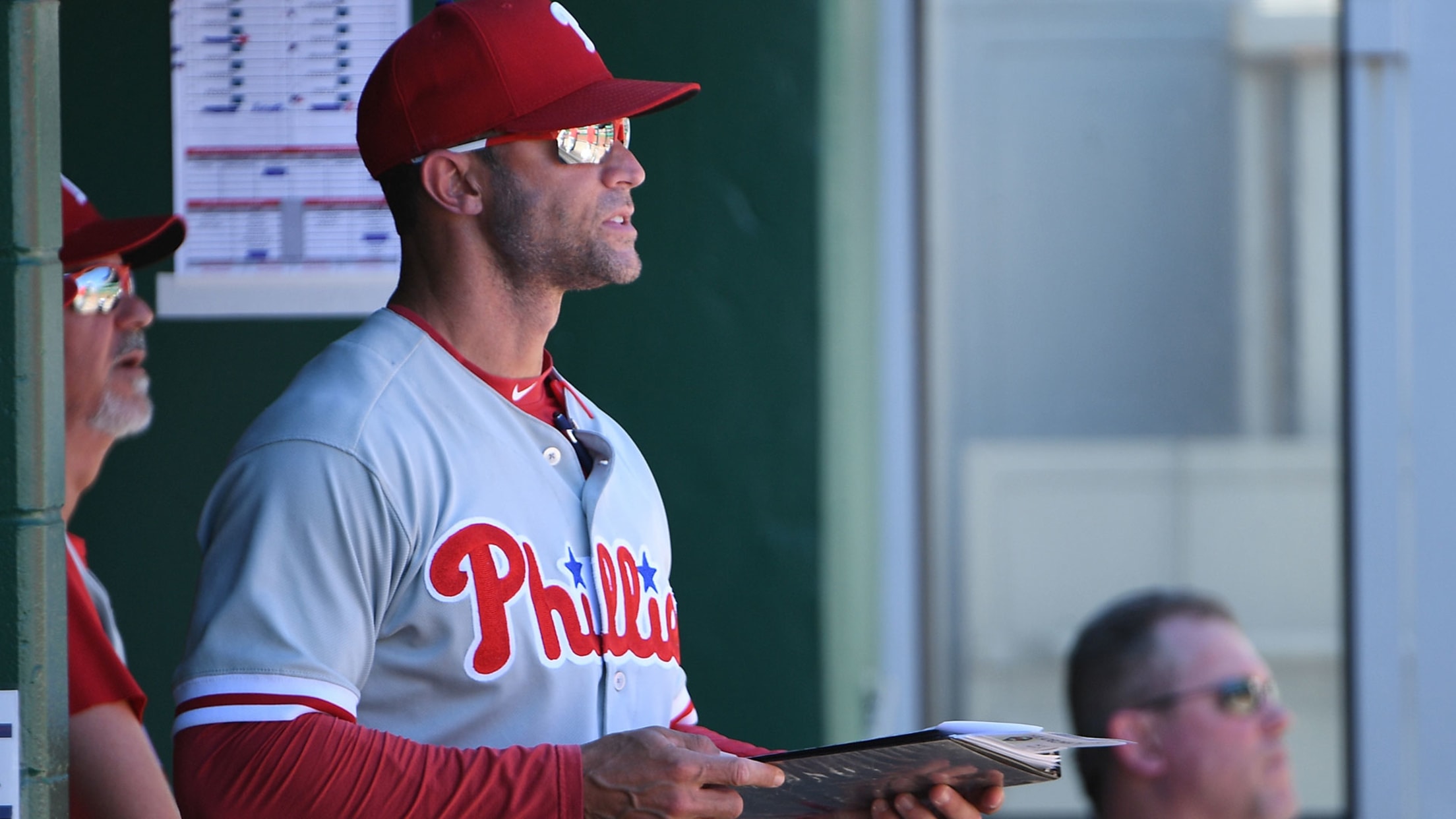 NEW YORK -- The famous old line about sports in Philadelphia is the one about how the fans booed a kid dressed up as Santa Claus at an Eagles game. But this is the one about how a rookie manager for the Phillies, Gabe Kapler, got booed at his baseball
NEW YORK -- The famous old line about sports in Philadelphia is the one about how the fans booed a kid dressed up as Santa Claus at an Eagles game. But this is the one about how a rookie manager for the Phillies, Gabe Kapler, got booed at his baseball team's home opener, 50 years after Eagles fans were in a such a bad mood because they were sitting in bad weather watching a bad football team.
Kapler had only managed five games in the big leagues at that point. But he had pulled his Opening Day starter, Aaron Nola, against the Braves even though Nola had a shutout going in the sixth. A couple days later, he took one of his pitchers out of the game without another one ready to replace him. Finally, the onions on top of the cheesesteak sandwich, he ended up pitching a position player (Pedro Florimon) at the end of a 15-2 blowout loss.
So by the time the Phillies got home to Philadelphia, they were 1-4, having lost a couple to the Mets at Citi Field, something that was a lot harder to do in the first week of April than it is now. So Kapler, not even on the job for a week, heard it from his new hometown fans, which didn't just seem to be a record for Philadelphia, but almost anywhere.
Here is how Kapler handled things after that game. He sat there and said he was going to work hard for the fans.
Now on Monday afternoon, back at Citi Field, Kapler stood in the visitors' dugout a little after 1 in the afternoon, three hours before the Phillies began a doubleheader against the Mets, who are as bad right now as the Phils were just one year ago. Kapler stood there as the manager of a surprising team in a virtual first-place tie in the National League East with the Braves, against whom everything started for Kapler as a big league manager, badly.
And as he answered questions from us, Kapler reminded you a bit of another famous line, this one from Mark Twain:
"When I was a boy of 14, my father was so ignorant, I could hardly stand to have the old man around. But when I got to be 21, I was astonished at how much the old man had learned in seven years."
Even in a tough sports town like Philly, apparently not softened up at all by being home to the pro football champions of the world, there must be people astonished about how much the Phillies' manager has learned in 3 1/2 months.
I asked him about the noise around him on his first official week on the job, and if it surprised him, even in a world of nonstop noise.
Kapler smiled. It was not the first time he had been asked about everything that happened on the way to his team starting 1-4, everything he had to have read and heard.
"I expected noise and I got it," he said. "I expect criticisim, and I expect noise and criticism going forward. It's part of the business."
There happened to be a plane going over Citi Field in that exact moment, because this was a time of day when the place can sound like a runway at LaGuardia Airport. Kapler smiled again and looked up at the plane that looked close enough to land in center field and said, "More noise."
It is, of course, the Phillies making noise in the NL East. A mostly young team that finished an even 30 games under .500 last season, 66-96, went into Monday's doubleheader at 11 games over .500, with the third-best winning percentage in the NL. And it's six games better in the loss column than the Washington Nationals, who were supposed to run away with things in the division.
I asked Kapler if, when he took the job, he believed his team was capable of playing the kind of baseball it has played so far. He said he did.
"And I don't think it is a naïve belief," he said.
Kapler's belief, clearly, has become his team's belief, even if none of his young guys have had a big, crazy, breakout year. But Odubel Herrera, who is such big fun to watch, has 15 home runs and 51 RBIs and a .281 batting average, and he could easily have made the All-Star Game. Rhys Hoskins has 14 homers and 55 RBIs, and Cesar Hernandez, the second baseman, leads the team in runs scored with 61. Maikel Franco, the third baseman, has 10 homers and a .269 average. Out of all of them, the oldest is Hernandez, still just 28.
And even though the Phillies' big free-agent buy, Carlos Santana (14 homers, 51 RBIs) is only at .219, Kapler lavished praise on him Monday afternoon, for his presence in the middle of his order and in the clubhouse. The Phils' manager had been asked a question about Santana's role as a mentor to the young Spanish-speaking players on the team and said, "He's been a mentor to the entire clubhouse."
Kapler's starting rotation, with Nola and Zach Eflin and Jacob Arrieta at the top of it, is another reason why the Phillies are where they are. The Mets started so fast, 11-1, and now they're gone. It's the Phils who are at the top of the division with the Braves.
"We've been able to weather our storms," Kapler said.
No one more than the manager, whose first week on the job was a perfect storm. Look at him now. Look at how much he's learned since April. Practically Christmas in July for Phillies fans.
Mike Lupica is a columnist for MLB.com. He also writes for the New York Daily News.