Hampson, Owings an 'advantageous' duo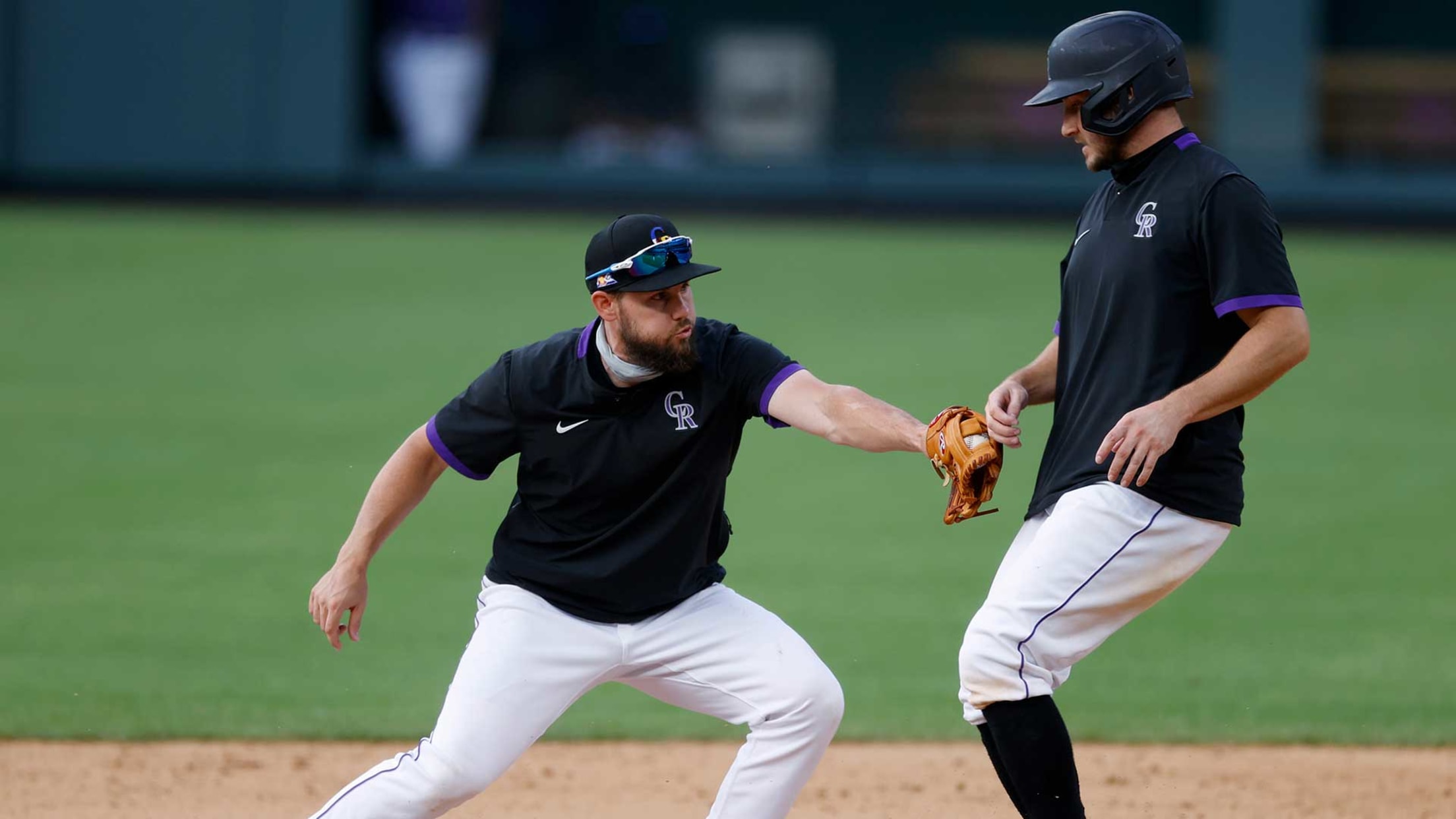 DENVER -- Last September, Rockies utility man Garrett Hampson provided speed, versatility and occasional power. It was so nice that the Rockies figured two players like that are better than one. Enter Chris Owings, who turns 29 on Aug. 12 and who used to be a problem for the Rockies
DENVER -- Last September, Rockies utility man Garrett Hampson provided speed, versatility and occasional power. It was so nice that the Rockies figured two players like that are better than one.
Enter Chris Owings, who turns 29 on Aug. 12 and who used to be a problem for the Rockies while playing for the D-backs from 2013-18. Owings struggled in '18 with Arizona, slashing .206/.272/.302, and last season with the Red Sox and Royals, with a .139/.209/.233 line combined, but he showed up strong for the Rockies in Spring Training.
Hampson, 25, struggled last season and was optioned to Triple-A Albuquerque twice. In September, he batted .318/.368/.564 with five home runs, two doubles, a triple and nine stolen bases. Owings had 76 doubles and 17 triples from 2015-17, with current Rockies hitting coach Dave Magadan working with him much of his time in Arizona, when Magadan was the D-backs' hitting coach.
With a 30-man roster for the first two weeks of the 60-game regular season, the Rockies can comfortably carry both Hampson and Owings. But manager Bud Black noted that even if the sport wasn't shut down on March 12, the Rockies were considering having both on the Opening Day roster.
"You have two weapons -- two good weapons," Black said. "You have the speed weapon. You've got a sneaky power weapon. You've got two guys that play the game the right way.
"They can be pests, per se, to the opposition. So it's nice to have two of them. As the game rolls on, whether they're both starting whether one of them starting whether they're both on the bench. With the 30-man roster, it's advantageous. ... And for a 26-man roster, they might be advantageous, also."
Intrasquad impressions from the Purple squad's 6-3 victory over the Pinstripes
• The best of outcomes occurred for the Rockies: Righties Chi Chi González and Jeff Hoffman, competing for the No. 5 starter spot, or at least a share of it, each threw three scoreless innings.
González (39 pitches) fanned two, walked one and generally kept opposing contact weak. Hoffman (44 pitches) struck out three, walked two (lefty hitters Ryan McMahon and Raimel Tapia) and gave up a hit. But after the McMahon walk, Hoffman worked Brendan Rodgers into a double play.
• When the rotation gets beyond the top six (Gonzalez and Hoffman included), there is a dearth of Major League experience. In fact, the only starter among that group who has ever appeared in an MLB game is righty Wes Parsons, and he won't join the team until the satellite camp starts in Albuquerque after the 30-man roster is solidified.
But a few righties who dealt with injuries last season have impressed. The latest is José Mujica, who missed last season while in the Rays organization because of Tommy John surgery. In his first inning, Mujica filled the zone with strikes against Trevor Story and Daniel Murphy, and it took an excellent at-bat by McMahon to draw a walk. Mujica had a step-off/pickoff of McMahon, and he finished with one strikeout, one hit and one walk over 39 pitches in three innings.
• The other nice camp story is Ryan Castellani, who missed much of last season at Triple-A because of surgery to remove loose particles in his right elbow. He had a 2.16 ERA with 20 strikeouts in 16 2/3 innings in the Arizona Fall League. Also impressing is righty Ashton Goudeau, who turns 28 next Thursday and had been in the Royals and Mariners organizations before signing with the Rockies last season and posting a 2.07 ERA in 78 1/3 innings.
• Rodgers, the Rockies' No. 1 prospect by MLB Pipeline, singled twice, once each off Mujica and Carlos Estévez. Rodgers is trying to earn playing time, but he's not overswinging. Both hits were simple liners up the middle.
• The Rockies have been talking about deep catching. Tony Wolters is coming off a solid defensive year as the primary backstop, and it seems catchers behind him are having solid camps. On Wednesday, Dom Nuñez doubled in two runs off the wall against Tyler Kinley. Drew Butera homered in the first two intrasquad games and threw out McMahon (who pushed on the basepaths) on a steal attempt. Elias Díaz, who started camp late after arriving from the Dominican Republic, has crammed to catch up physically, and Black believes Díaz has caught on quickly with pitching philosophy.
Also, Chris Rabago doubled in a couple runs as his bat shattered against lefty prospect Ryan Rolison.
"I think we do have depth at that position -- I don't know that every Major League team can say that," Rockies bench coach and catching instructor Mike Redmond said. "Having these guys around has been exciting."