Rain dampens Floyd's rotation audition
Veteran righty simulates game indoors after Minor League assignment cut short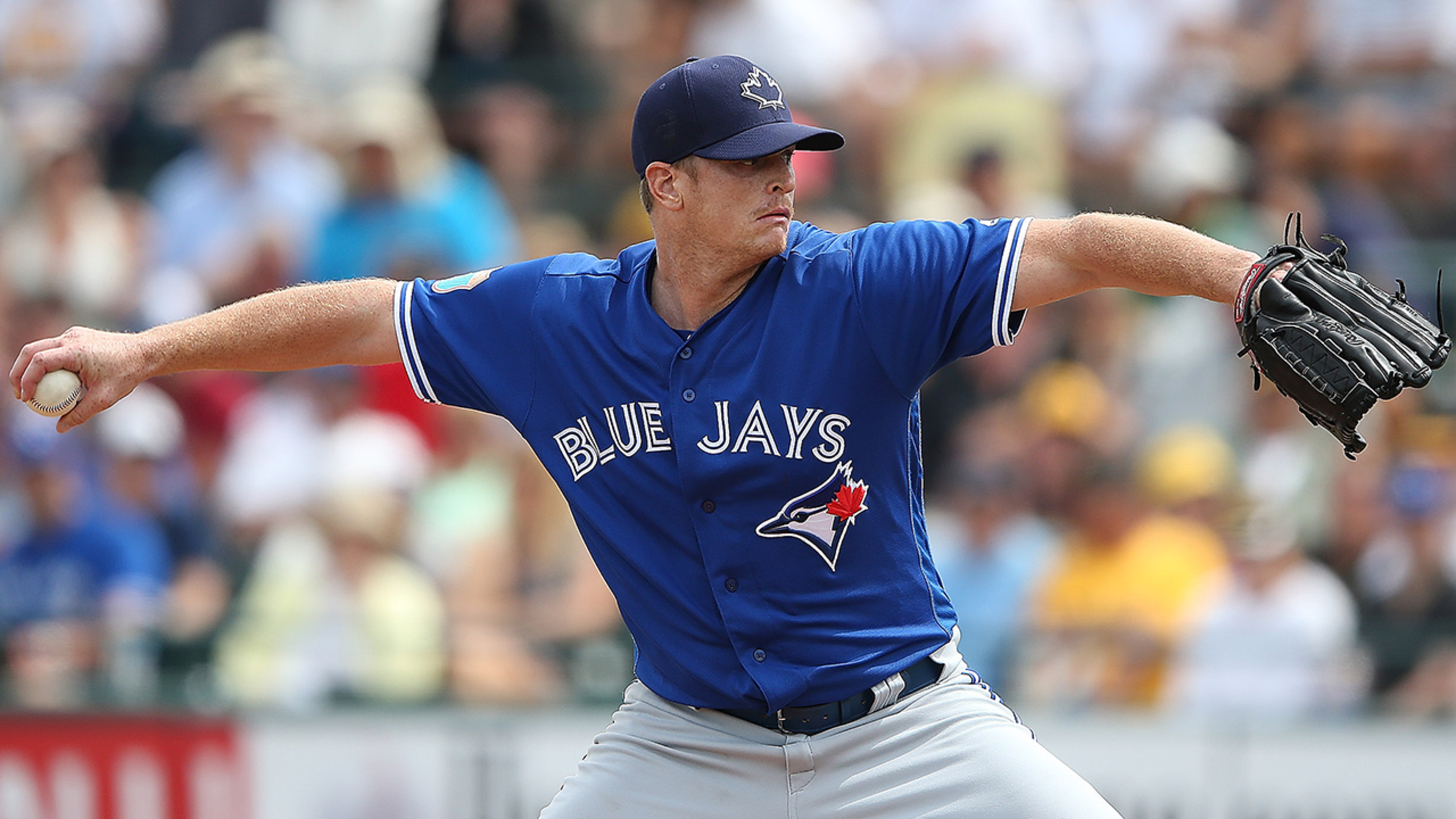 The weather cost the Blue Jays another opportunity to get a firsthand look at Gavin Floyd, who is has a 2.19 ERA in four spring games. (Getty Images)
CLEARWATER, Fla. -- The sky was dark, and in the background everybody could hear the thunderstorm that was quickly on its way to the Bobby Mattick complex, but right-hander Gavin Floyd tried to make his best out of an otherwise dreary day.Floyd was scheduled to make his latest, and perhaps
CLEARWATER, Fla. -- The sky was dark, and in the background everybody could hear the thunderstorm that was quickly on its way to the Bobby Mattick complex, but right-hander Gavin Floyd tried to make his best out of an otherwise dreary day.
Floyd was scheduled to make his latest, and perhaps final, audition for the final spot in the Blue Jays' starting rotation. The plan was to pitch six innings in a Minor League game, but instead his outing was cut short after just four batters because of the inclement weather.
• Spring Training:Schedule | Tickets | Gear
The day wasn't as productive as he'd hoped, but it wasn't a total loss. Instead of pitching on the field, Floyd went into a covered bullpen and tried to simulate game conditions by tossing approximately 80 pitches against four batters, who took turns stepping into the box.
"It definitely threw some loops in there," Floyd said. "We knew it was going to rain, so we went out there and got as much work as we could on the field. Our Option B was to finish, continue to work on stuff [in the bullpen]. I felt it was some quality work that I was able to get in."
The rain was an unfortunate development as it cost the Blue Jays another opportunity to get a firsthand look at Floyd as he competes for a rotation spot with Aaron Sanchez and to a lesser extent Drew Hutchison and Jesse Chavez. Even so, the Blue Jays likely know who they're going to pick at this point; it's just a matter of letting everybody know and waiting for a proper time to announce.
Floyd has tossed 12 1/3 official innings this spring while allowing three earned runs on nine hits and three walks with 11 strikeouts. The Blue Jays have been keeping an eye on him all camp, plus they have his body of work over 12 seasons to make some realistic projections. When healthy, as he appears to be now, there really isn't anything the Blue Jays don't know about him that they would have found out Friday.
"We've seem him a lot down here, and he has been very good," manager John Gibbons said in reference to any concerns about the canceled outing. "So we know what what he can do."
When that final announcement will come remains uncertain. Not even the pitchers involved seem to have much of an idea about what or when the club ultimately will decide.
"I'm just going out there, continuing to do what I do," Floyd said. "When they tell us, they tell us but I haven't heard anything yet."